Hidden Hunger Int'l Review: Micronutrient Packs?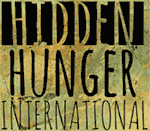 Hidden Hunger International launched in mid 2013, operating out of the US state of Texas.
Hidden Hunder International (HHI) is headed up by founders Ruel and Angel Morton. According to the Morten's HHI corporate bio:
Ruel and Angel have been together for almost 20 years and have 3 children; 2 daughters and a son. Together they have worked in several companies over the past 20 years.
Ruel Morton's biggest success in the MLM industry appears to have been as an affiliate with Fortune High-Tech Marketing (FHTM), in which he credited himself as 'the #1 Top Money Earner'.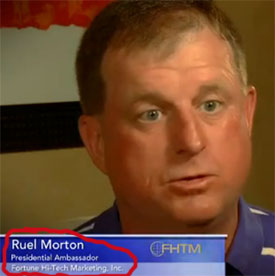 Morton regularly appeared in official corporate FHTM marketing material (right), in which he was credited as a "Presidential Ambassador" of the company.
Fortune High Tech Marketing was shutdown earlier this year by the FTC and three US State Attorney-Generals for being a pyramid scheme.
The FTC and attorneys general for the states of Illinois, Kentucky, and North Carolina have moved against Fortune Hi-Tech Marketing (FHTM), alleging it is a pyramid scheme.

A federal judge in the Northern District of Illinois has appointed a receiver and ordered an asset freeze.

"This is the beginning of the end for one of the most prolific pyramid schemes operating in North America," said Kentucky Attorney General Jack Conway.

"This is a classic pyramid scheme in every sense of the word. The vast majority of people, more than 90 percent, who bought in to FHTM lost their money."

A top FTC official called FHTM a "rigged game."
At a FHTM conference held just before the company was shut down, Morton declared Fortune High Tech to be
the most lucrative financial opportunity in the history of the country.
Following the closure of FHTM I did read some chatter that Morton moved onto Shaklee (health, nutrition, personal care and weight loss), however I was unable to confirm this information.
Read on for a full review of the Hidden Hunger International MLM business opportunity.
The Hidden Hunger International Product Line
Hidden Hunger International has no retailable products or services. Instead, affiliates join HHI and then purchase "Child Micronutrient Packs" for $9.90.
Hidden Hunger International claim that they use '30 cents on the dollar to fuel the cause'. Somewhat ironically, "the cause" mentioned in the compensation plan refers to HHI's commission payouts, with the remaining 70 cents in every dollar being purportedly spent 'for the CHILDREN'.
The Hidden Hunger International Compensation Plan
The Hidden Hunger International compensation plan revolves around affiliates joining the company and then purchasing Child Micronutrient Packs for $9.90 each.
HHI members can earn 5% to 25% on every Child Micronutrient Pack.
Commissions in HHI are paid out using what appears to be a unilevel style compensation structure. A unilevel compensation structure places an affiliate at the top of a unilevel team, with every personally recruited affiliate placed directly under them (level 1).

If any level 1 affiliates go on to recruit new affiliates of their own, they are then placed on level 2 of the original affiliate's unilevel team. If any level 2 affiliates recruit new affiliates they are placed on level 3 and so on and so forth down a theoretically infinite number of levels.
Commissions are paid out using the above unilevel compensation structure as a percentage of the money each affiliate in a unilevel team pays each month for Child Micronutrient Packs.
How much of a percentage of each affiliate's monthly spend is paid out depends on a HHI affiliate's membership rank:
HHI Member (buy 10 Child Micronutrient Pack subscriptions and recruit 2 new affiliates who also buy 10 Child Micronutrient Packs) – 5% (49.5 cents per pack)
25K World Changer (as above but have a downline that have communally purchased 25 Child Micronutrient Packs) – 10% (99 cents per pack)
100K World Changer (buy 15 Child Micronutrient Pack subscriptions, have a downline that have communally purchased 100 packs and have three personally recruited 25k World Changer affiliates in your downline) –  15% ($1.48 per pack)
500K World Changer (no qualification criteria provided) – 20% ($1.98 per pack)
50,000K World Changer (no qualification criteria provided) – 25% ($2.47 per pack)
Joining Hidden Hunger International
Affiliate membership to Hidden Hunger International appears to be free, however affiliates must purchase Child Micronutrient Packs if they wish to qualify for commissions.
Conclusion
Members sponsor children through the purchase of HHI's Child Micronutrient Packs and find other people and/or organizations who want to do the same thing.
There's a reason charity based MLM business opportunities are taboo and it's because they blur the lines between sales and charitable donations.
Assuming Hidden Hunger International do what they say they do, there's absolutely nothing wrong with taking 70 cent donations from affiliates and using it to help kids.
The remaining 30 cents being shuffled around amongst affiliates though? That's where the problems is.
With no retail activity you can pretty much boil down the commission side of Hidden Hunger International to affiliates buying in at $9.90 per position,  and then earning between 5-25% of every buy-in made by recruited affiliates (directly recruited or otherwise).
Combining this with a charitable component does not justify the lack of a retail offering and shuffling around of affiliate money, any moreso than if Hidden Hunger International bundled affiliate buy-ins with another product or service.
Then of course there's the question of is anything being bought and sold altogether. Affiliate's supposedly buy micronutrient packs, yet receive nothing for it. The identifiable end-user (those receiving the packs) are receiving them as gifts, which doesn't translate over too well into MLM where you need to have retail customers purchasing a readily identifiable product and actually using it.
Tax wise I'm not sure what the implications are with HHI's Micronutrient Packs but that's something else to consider too.
In summation:
Charity = good. MLM charity that pays out 100% of its commissions with affiliate money = not so good.