Helping Hands pyramid scheme training Nigerian police officers?

At one time there was a charity bearing the same name as the Helping Hands International pyramid scheme.
So when I read a firm named Helping Hands International recently held a training event for Nigerian policeman, I assumed it was an initiative of the charity.
Nope, turns out Nigerian policemen are being "trained" by the pyramid scheme.
Dubbed a "Nigerian network marketing firm" by local media, Helping Hands International is a simple enough pyramid scheme.
Helping Hands International affiliates pay $40 and then, through a series of matrix cyclers, get paid to recruit others who do the same.
Alexa traffic estimates for the Helping Hands International website show the scheme is on life support.
Nigeria is pretty much the only reason Helping Hands International hasn't collapsed yet, with the country accounting for 67% of all traffic to the company website.
It is against this backdrop that Helping Hands International's Ambassador Obitex sought to "promote dexterity amongst Nigeria Police men and women".
Helping Hands International Concept has conducted vocational training for 100 policemen to enable them acquire skills that will compliment their income and in turn discourage corruption such as bribery, extortion and other vices.
No, you're not reading that wrong. A pyramid scheme has access to and is training law enforcement in Nigeria.
Skills acquired included, soap making, paint production, leather application (shoes & bags) and disinfectants manufacturing.

It was with admiration that, the fence of the police station was painted with the paints produced from the exercise, an event marking a memorable end to the programme.
So um what, instead of investigating and shutting down pyramid schemes like Helping Hands International, Nigerian police officers are going to be crafting soap, paint and leather goods?
And it's not even like this was some sort of clever ruse. Ambassador Obitex used the seven-day event to openly promote Helping Hands International… literally in front of Nigerian authorities.
Ambassador Obitex said that the network marketing firm, will also extend such to other states in the nearest future.

He assured of commitment to nation building, by giving their own quota, through empowerment and other initiatives for wealth creation amongst the populace.
And if that didn't trip your WTF meter, things get even more bizarre when you visit the Helping Hands International website.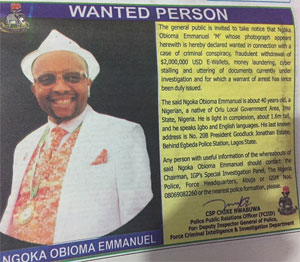 According to Helping Hands International itself, Ngoka Obioma Emmanuel (aka Ambassador Obitex), is wanted by the Nigerian Criminal Intelligence & Investigation Department (FCIID)
in connection with a case of criminal conspiracy, fraudulent withdrawal of $2,000,000 USD e-wallets, money laundering, cyber stalling and uttering of documents currently under investigation and for which a warrant of arrest has since been duly issued.
To put the above into perspective, according to the FCIID website the agency is 'the highest investigating arm of the Nigerian police'. So basically the FCIID is the Nigerian FBI.
Any person with useful information of the whereabouts of said Ngoka Obioma Emmanuel should contact the Chairman, IGP's Special Investigation Panel, the Nigeria Police, Force Headquarters, Abuja.
So to recap, Ambassador Obitex is wanted by the Nigerian FBI because he scammed pyramid scheme scammers out of $2 million dollars.
Obitex has an arrest-warrant out but hasn't been apprehended, because he's too busy holding seven-day training events for Nigerian police on avoiding corruption… which were also used to further promote the pyramid scheme.
And all of this is out in the open and has been documented by one of Nigeria's most widely read news publications. Yet Ambassador Obitex remains at large.
…
Stay classy Nigeria.