GSPartners corporate dumped 2 billion G999 tokens?

At the core of every MLM token Ponzi scheme is the big stash of admin tokens.
These tokens are created out of thin air and dumped to extract funds out of the scheme.
If analysis of G999 blockchain is accurate, GSPartners had dumped over 2 billion G999 tokens to date.
Not so much a leak as data analysis, our source material is a GitHub project created in the last 24 hours.
Based on official data from G999's blockchain, the GitHub spreadsheet details transactions across a series of G999 wallets created prior to the public October 15th, 2020 launch.
We can verify the launch date courtesy of an October 7th GSB Gold Standard Banking Corporation AG press-release;
It should be mentioned that G999 will be available on the open market from 15 October 2020.
Given the public didn't have access to G999 prior to this date, the hypothesis is any account created prior to October 15th belonged to GSB corporate.
Based on spreadsheet data spanning Jan 1st to April 1st 2021;
603.725 million G999 was dumped in January 2021
705.094 million G999 was dumped in February 2021
593.123 million G999 was dumped in March 2021
129.691 million G999 has been dumped in April 2021 so far
The total G999 dumped by corporate wallets comes to 2.03 billion tokens.
Upon debuting on dodgy public exchanges in early February, G999 pumped to 2.39 cents.
Since early March G999 has been in dump decline. It is currently trading at $0.0039 (0.39 of a cent).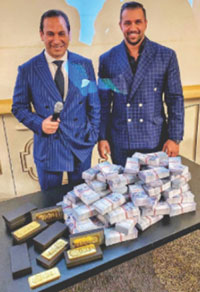 GSB was launched as the MLM opportunity GSPartners.
The company is run by Josip Heit (left in the photo right), who is believed to be the primary benefactor of G999 corporate dumping.
While the trading value of G999 might seem low, the number of G999 tokens being dumped still returns a tidy profit.
Across March 2021 G999 dumped from 1.9 cents to ~0.8 cents.
If we average that out to 1 cent, GSPartners corporate made ~$5.9 million (slightly more or less depending on when exactly tokens were dumped during the month).
Regardless of exactly how much was made, what's important is that the only person profiting off G999 is owner Josip Heit.
BehindMLM reviewed GSPartners in late February.
According to Alexa, mid March or so traffic to GSPartners' website went into decline.
Alexa's traffic analysis suggest the majority of GSPartners affiliate investors are from the US (43%), followed by South Africa (13%) and India (9%).
Update 9th June 2021 – Following G999's flop, GSPartners is gearing up to launch a new JONE shitcoin.