Global Tech & Innovation caps withdrawals, begs for new recruits

Coinciding with the announcement they were "resetting" their collapsed crypto Ponzi scheme, Global Technologies & Innovation has capped affiliate withdrawals.
As per an announcement sent out just before Easter, GTI affiliates will only be able to withdraw up to €3000 EUR a month.
Bemoaning "whales", GTI affiliates who are owed large sums of money, Global Tech team writes;
We have seen some of the former leaders, who have disappeared since last year, return only once a week and withdraw their bonus (maybe that's why some members call them the "Whales"), some have requested extremely high amounts.

It has always been the intention of GTI to pay out such high bonuses, but after the Reset, when you would expect that everyone would get back to work motivated, we see that many members remain in "waiting mode".

This means that nothing happens and that the Whales block the entire queue.

It could be that these Whales only think of themselves, but the management thinks of all members.

Therefore, we will limit cash withdrawals to a maximum of EUR 3,000 from Tuesday, April 6.
Who do these investors think they are?
We allowed you to run up monopoly money balances in your backoffices. Nobody said anything about being able to withdraw it!
Anticipating an angry reaction to the announcement, GTI claims
if you earn EUR 3,000 per month, that is already a good income for someone who works 40 hours a week.
How long the GTI withdrawal queue is is unclear.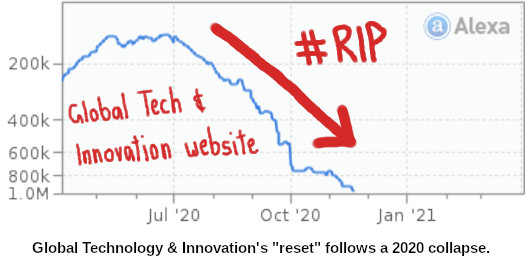 Recruitment of new affiliate investors appears to have dried up though, prompting the company to suggest the queue isn't going anywhere till new investors are recruited.
If every member in the queue were to register 1 new member, there wouldn't even be a queue now.

So maybe you can ask yourself the following question, analogous to a famous saying: "Don't ask what GTI can do for you, ask yourself what you can do for GTI." (which basically boils down to doing something for yourself if you think about it further!)

Even the Leaders / Whales should give this some thought.
Further complicating matters is the introduction of GTI's GTPlus shitcoin, the value of which GTI is desperate to continue manipulating.
We can also release the queue all at once, but that would lead to an immediate crash of GTPLUS.

We obviously want to avoid this, keep the balance, and at the same time eliminate the queue.

This exercise is more difficult than it looks.
Stay tuned as we continue to cover Global Technologies & Innovation's collapse.