Okhotnikov responds to SEC's Forsage lawsuit… with products?

In a new August 17th MetaForce video, Forsage owner Vladimir "Lado" Okhotnikov states;
In this video I will talk about the actions that MetaForce is taking to defend its position in the context of the SEC.
Figuring this meant Okhotnikov had responded to the SEC's August 1st securities fraud Complaint, I pulled up the case docket.
Nope.
So um, what's Okhotnikov banging on about?
Despite being based on pages and pages of evidence, Okhotnikov maintains the SEC's complaint  is full of "unfounded claims" that are "not based on anything".
Okhotnikov claims the SEC doesn't understand "how the blockchain works".
It should be noted the SEC has sued Forsage and Okhotnikov for committing securities fraud and operating as a Ponzi scheme. How "the blockchain" does or doesn't work is irrelevant.
Addressing Forsage's purported response to a 2020 securities fraud investigation and warning by the Philippine SEC, Okhotnikov states;
We replaced the word "reinvestment" … so that there would be no word "invest", "investment" etc., so that no one confuse Forsage with any investment project.

We have also changed many other words on the site and in our materials, to avoid misunderstandings.
This is known as pseudo-compliance (similar to when a YouTube scammer tells you "this is not financial advice").
When regulators investigate suspected scams, they look at marketing but primarily examine the business model. Hiding investment terms doesn't mean anything if you're running a fraudulent investment scheme.
Okhotnikov continues;
Although the word "reinvest" is known to everyone in network marketing and has always been considered an appropriate word, this would never imply that we are talking about investment program.
This must be some bizarre form of Russian logic I'm not following.
Okhotnikov goes on to state how the securities fraud cease and desist Forsage received from Montana left him "confused". He seems to be having trouble grasping securities fraud being illegal in both the Philippines and the US.
He (Montana) did not even bother with a superficial study of Forsage and simply copied everything from the Philippines SEC.

For some reason (Montana) think that I and everyone must follow the information on his site. And it is not very clear what was meant by the requirement to stop.
Okhotnikov maintains that because they regulating Forsage for securities fraud, both the Philippine SEC and Montana CSI are "incompetent".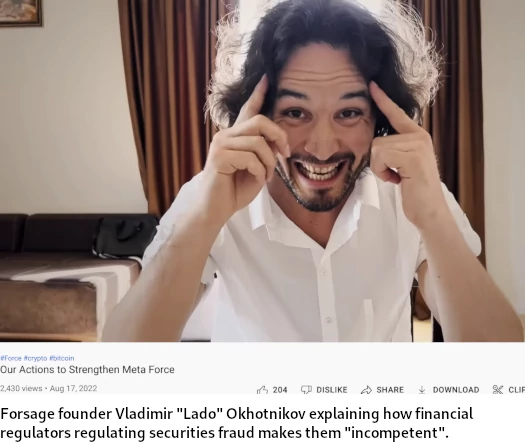 In August it became known about the claims already, from the US SEC. They have shown the same level of incompetence in matters of blockchain, network marketing and in general the subject of the dispute.

And I not only respond them but am also considering our approach to everything.
Again BehindMLM can confirm that, at time of publication, Okhotnikov has not filed a response to the SEC's complaint against him.
Instead of filing a response and proving Forsage wasn't a $300 million dollar Ponzi scheme in court, Okhotnikov is pushing ahead with MetaForce.
MetaForce is the sixth reboot and current iteration of Forsage.
We are strengthening our position … we are changing the structure. This is a real revolution in our field.

You will not find in MetaForce, not only direct but even indirect scenes of a financial pyramid.

Marketing is based on products. We are preparing several series of products. These are tokenized things, both real and features of the metaverse.
Needless to say adding products to a Ponzi scheme doesn't change the business model. Like adcredits of old, MetaForce's metaverse products won't change the flow of money within the company.
And regardless of what Okhotnikov does or doesn't do with MetaForce – the SEC's lawsuit has already been filed. $300 million in financial fraud across two and a half years can't be undone.
Pending an actual filed response from Okhotnikov or more meltdown videos, we'll keep you posted.