Fola Global committing FamilyMart franchise securities fraud?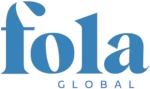 Fola Global came up for review today.
As I began to research the company, which launched only a few month ago, I realized they don't provide compensation details on their website.
This in and of itself is a red flag. Intentionally withholding compensation information is reason enough to avoid an MLM opportunity.
Normally I'd leave a review there, but then Fola Global's "franchise opportunity" caught my eye.
On the surface Fola Global is a Philippine MLM company that operates in the nutritional supplement niche.
Unlock your body's potential and live life to the fullest with Fola's science-based solutions.
To that end the company markets a range of "health boosters" and "skin nutrition".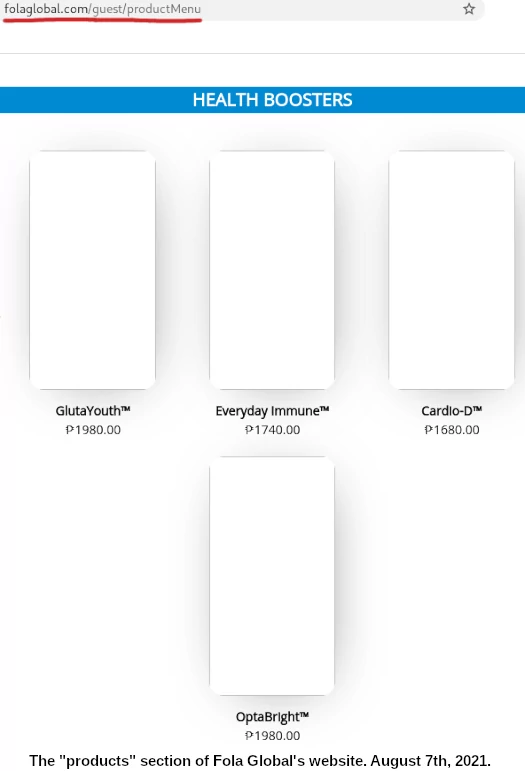 Note that I haven't manipulated the image above, that's how the "products" section of Fola Global's website is currently rendering.
Heading up Fola Global is CEO Charles David Lui.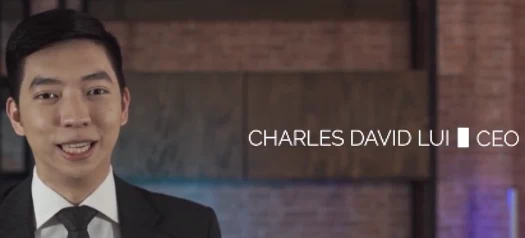 Lui's Fola Global corporate bio suggests he's a recent graduate with no MLM corporate experience.
Holder off an MBA from the prestigious Asian Institute of Management, David is determined to create a platform that offers people the chance to build a meaningful and long-lasting vehicle that gets them to their personal goals.
In addition to withholding compensation documentation, what differentiates Fola Global from other nutritional MLM companies is its franchise program.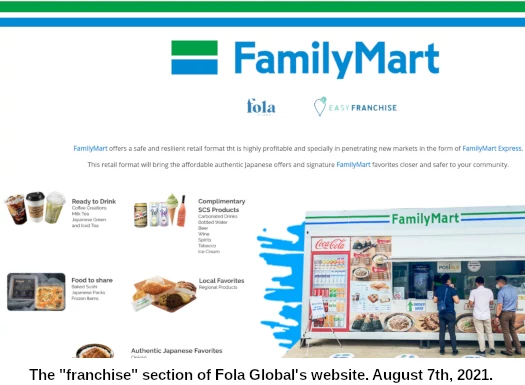 As per the representation above, Fola Global's FamilyMart franchise ownership is offered through EasyFranchise.
EasyFranchise is another Philippine company. Whether there is any executive cross-over between Fola Global and EasyFranchise is unclear.
I went looking for FamilyMart on EasyFranchise and found one listing for FamilyMart Express.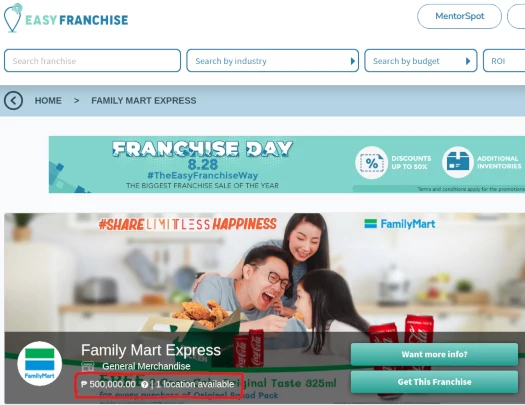 EasyFranchise wants 500,000 PHP plus a 15% royalty fee. Fola Global is offering part ownership in what they represent is an equivalent franchise for 15,500 PHP.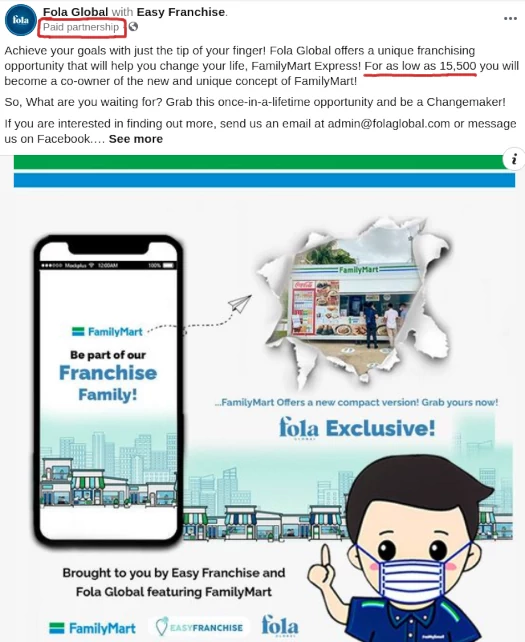 Franchising is now made flexible through Fola Global Inc.!

You have the option of owning a fraction of FamilyMart Express locations constructed through this offer.

Each branch is divided into slots and you can purchase as little or as many slots as your budget allows.

In addition, franchising is now made headache-free with Easy Franchise, experts in Franchise Management!

They will handle everything from location research, documentation with business permits, and day-to-day operation of the FamilyMart Express branches that will be constructed through this offer.
To be clear, there's nothing illegal about unregistered franchise opportunities. That's not what Fola Global is offering though.
From the marketing pitch above, Fola Global affiliates hand over money and collect a passive return. This is a securities offering.
Whether Fola Global pays commissions on collected franchise investment positions is unclear.
Regardless, neither Fola Global or EasyFranchise represent they have registered their securities offering with the Philippine SEC.
FamilyMart is a Japanese company. Whether they're aware of their brand being used to market unregistered securities in the Philippines is unclear.
If I didn't know any better, I'd say the nutritional supplement side of Fola Global is just a front for investment fraud.

One final note is Fola Global having a TikTok channel. TikTok banned MLM on their platform last December.
This means that Fola Global using TikTok to market their MLM opportunity is a violation of their TOS. This doesn't seem to bother Fola Global.
Between securities fraud and failing to provide compensation details, Fola Global is best avoided in its current state.