Family First Life settles Suescum robocall fraud lawsuit

Family First Life has settled another robocall fraud lawsuit filed against it, this time in Florida.
Plaintiffs Reynaldo Suescum and Francisco Baserva filed a proposed class-action against Family First Life in October 2021.
Reynaldo and Suescum, who have no ties to Family First Life, alleged the MLM company sent them unsolicited marketing SMS' a few months earlier.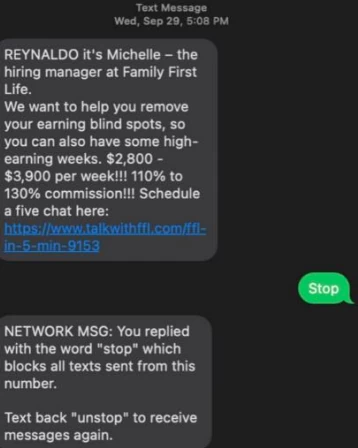 On May 31st, Baserva filed a notice informing the court a settlement had been reached.
Plaintiffs, Reynaldo Suescum and Francisco Baserva … hereby give notice that the parties have reached a settlement
with respect to Plaintiffs' individual claims.

Plaintiffs and Defendant are in the process of finalizing their settlement agreement.
The settlement appears to have been finalized by early June, prompting the court to dismiss the case with prejudice on June 7th.
Details of the Suescum case settlement have not been made public but is presumed to have a monetary component.
Family First Life has been sued multiple times for fraud over the past year.
In addition to the now settled Suescum class-action, Family First Life was
There have now been multiple instances of alleged robocall fraud made against Family First Life in three separate civil cases. Whether the FCC or FTC take federal action remains to be seen.