F2 Trading corp exit-scams Mexican investors

F2 Trading Corp investors living in Mexico woke up to find they've been blocked by the company.
Instead of letting them log in to see their monopoly money balance, F2 Trading Corp is showing the following to Mexican investors: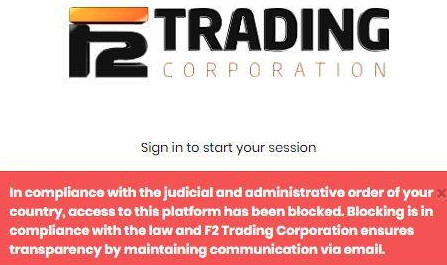 It is unclear whether Mexico is the only country affected. F2 Trading Corp is headed by Philip Han and primarily targets Brazil.
F2 Trading Corp's exit-scam message cites a "judicial and administrative order", but fails to provide any details.
Some Mexican investors have commented on being blocked through F2 Trading Corp's official Facebook account:

I am a F2 investor. Today I can't log in my account anymore. It all shows as below. Has been blocked. Who can help me about this issue??

**

In Mexico we received an email saying that my account was blocked due to the change in the law and the urgent court decision granted by the country itself.

No further explanation was given. It is so frustrating. I cannot reach anyone.

I don't have a contact phone number to call to and emails are not being replied.

**

Good morning. My account has been blocked just like many users for what I see.
Another screenshot I've received from a different F2 Trading Corporation affiliate shows a slightly different message: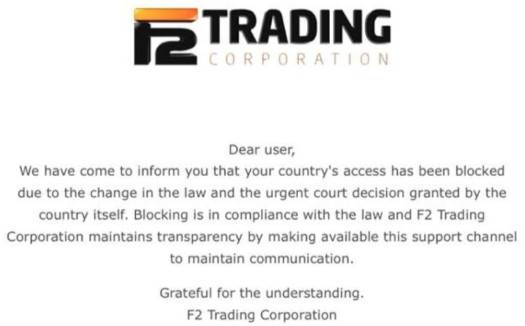 This time an "urgent court decision" is referenced, but again no specific details are provided.
Securities are regulated in Mexico and as far as I'm aware, there hasn't been any changes to Mexican securities law recently.
It seems Philip Han just decided to keep everyone's money and start blocking investors.
If we hear anything further we'll let you know in an update.
Update 6th December 2019 – Within a few hours of this article going live, F2 Trading Corp deleted its official Facebook page.