CFTC's EminiFX fraud case stayed pending crim proceedings

The DOJ has secured a stay of the CFTC's civil EminiFX fraud proceedings.
The DOJ moved to stay the CFTC's EminiFX case back on July 25th.
Although the DOJ still has to file for a stay in each individual case, civil regulatory proceedings being stayed pending the outcome of parallel criminal proceedings is standard procedure.
The primary reason for this is to prevent defendants abusing civil discovery to circumvent rules governing criminal proceedings.
To that end EminiFX owner and defendant Eddy Alexandre objected to the stay, arguing that civil discovery outside of depositions be permitted.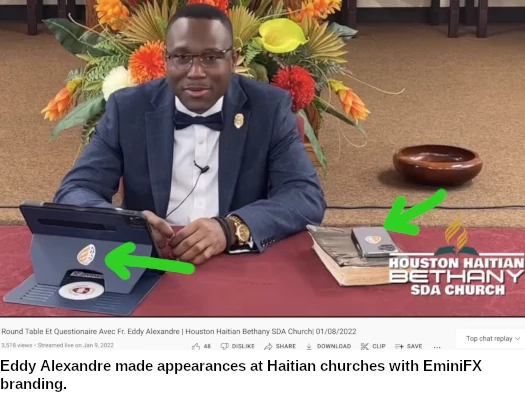 The court granted the DOJ's stay motion on September 6th. This freezes both the CFTC's case and appointed EminiFX Receivership.
The Court GRANTS both motions and STAYS all discovery in this case.

As the Government noted, the criminal case against Defendant Alexandre is scheduled to be tried on March 27, 2023.

Thus, this stay is for a limited period, which will not prejudice any of the parties in the civil case; to the extent there is any
prejudice, it is outweighed by considerations of judicial efficiency.
There is the possibility Alexandre's EminiFX criminal case gets punted into delay hell. Unfortunately this has been a trend over the past few years with MLM criminal cases (OneCoin is perhaps the best example of this).
If Alexandre's EminiFX criminal trial is delayed beyond March 2023, the court has given him the option of reapplying for a lift on discovery. That directive comes with the proviso that Alexandre himself is not responsible for the trial delay.
The DOJ has been directed to provide the court with a criminal proceedings status update on December 1st.
There's also a brief update on Christopher and Maureen Beil's attempt to secure a $535,000 Alexandre paid them as a deposit.
The Beils intended to sell Alexandre a residential property. Alexandre satisfied the deposit with ill-gotten EminiFX investor funds, which the Receiver was able to claw back.
After being denied special treatment by the court on two separate occasions, the Beils sought to force the EminiFX Receivership into arbitration proceedings.
The court, whilst sympathetic to "to the situation that the Beils find themselves in", denied their arbitration action from proceeding on September 2nd.
The Beils will be able to file a claim with the EminiFX Receiver once a claim process has been established. As of yet there is no timeline for this process.
Update 13th February 2023 – Eddy Alexandre has pled guilty to one count of commodities fraud.