Global InterGold: EmGoldex Ponzi scheme rebrands itself

August 2014 – Massachusetts Securities Division begin investigating EmGoldex
Ocober 2014 – Civil fraud charges filed against top US EmGoldex investors
February 2015 – Philippines SEC issues regulatory warning against EmGoldex
April 2015 – Central Bank of Malaysia places EmGoldex on investment blacklist
June 2015 – Dubai Multi Commodities Centre warn EmGoldex not registered to trade in gold in the UAE
As the regulatory noose continues to tighten around EmGoldex's anonymous owner(s), the scheme has opted for a classic out of the scam 101 playbook.
As of about a week ago, EmGoldex changed its name to Global InterGold.
Other than the change of name to escape the EmGoldex brand's association with a Ponzi scheme, there appears to be no other significant changes to the business model.
Of course the Global Intergold compensation plan is not provided on the company's website, but every Global Intergold affiliate presentation I viewed marketed the EmGoldex 540 EUR a pop Ponzi scheme business model.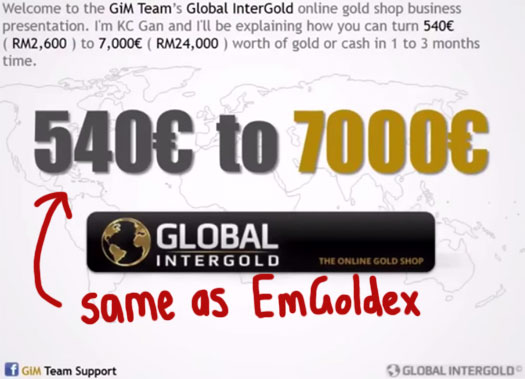 You pump 540 EUR in a matrix position, and once enough new positions have been invested in Global InterGold pay you out of subsequently invested funds.
The ruse has slightly changed this time around, with Global Intergold positioning their Ponzi investment offering as the purchase of gold with a twelve month delay on payment.
You hand over 540 EUR, with the idea being that you can make it back within a year (via recruitment of new investors). If not, I suppose Global InterGold will hand you back your initial 540 EUR.
Gold is still the vehicle of choice to push the scheme, with it only coming into play if a Global InterGold affiliate opts to receive their ROI in gold instead of cash.
This doesn't happen save for a token amount of gold, which is often used as a marketing aid to lure new investors into the scheme.
As with EmGoldex, who's running the show is not disclosed.
The Global InterGold website domain was registered on the 12th of January 2015, however the domain registration is set to private.
Notable Global InterGold have dropped the whole EmGoldex "we are based in Dubai" facade, and now claim to be a "regulated EU Company".
Who exactly Global InterGold are regulated by is unclear.
Recently Global InterGold held a "grand opening" event in Saint Petersburg, Russia. In attendance were top Global InterGold investors, but whether or not management and owners were there is unclear.
This particular individual seems to have done most of the talking on stage: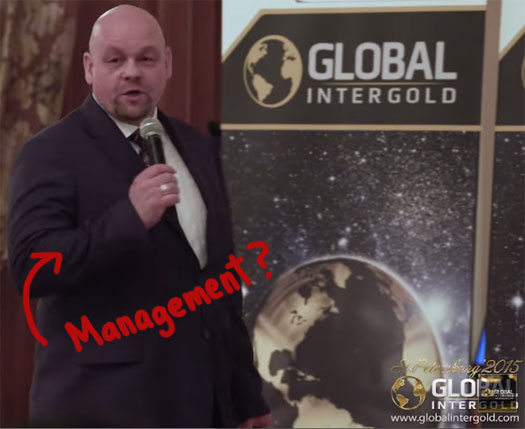 Unfortunately the man is not credited in the video, so for now I'm unsure as to who he is.
At 1:02 the unidentified man speaks with a distinctively eastern European accent. A woman in the video is also identified in Russian, fueling growing speculation that EmGoldex (and now Global InterGold) is being run by Russian scammers.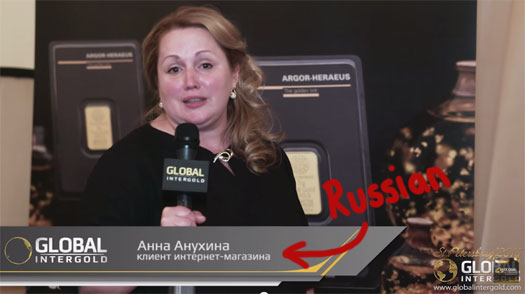 Alexa currently estimate Russia to be the largest source of traffic to the Global InterGold website at 15.3%. The Philippines is a close second at 15.1%.
In any event from an MLM business opportunity perspective, Global InterGold is the same scam EmGoldex was. The only source of revenue is affiliate investment (nobody is buying gold from the site), with ROI payouts to affiliates dependent on continued new investment.
A change of company name has no effect on the business model, nor will it throw off any regulators continuing to investigate the scheme.
Footnote: The Global InterGold promotional video referenced in this article is titled "Global InterGold Grand Opening in Saint Petersburg".
The video was uploaded to the YouTube account "Global InterGold TV" on July 1st 2015, and can be viewed below in its entirety:
(Ozedit: video 404 as of March 2020)
Update 15th April 2020 – As of late 2019 Global InterGold has collapsed. The Ponzi scheme has since been rebooted as GIG-OS.