Philippines SEC issues EmGoldex investment warning

With attempts to solicit US investors into the EmGoldex Ponzi scheme thwarted by regulators last year, the scheme's affiliates (who are mostly based out of Europe) have begun to target Asian countries.
Currently listed as the fourth largest source of visitors to the EmGoldex website is Malaysia (11.7%).
Where Philippines sits on that list I'm not sure, but promotion of EmGoldex in the country hasn't gone unnoticed by Filipino regulators.
In an investor alert issued by the country's SEC on the 13th of February, the agency warns that
EmGoldex Philippines is not a registered corporation or partnership.

Likewise, such entity is not authorized to solicit investments from the public as it did not secure prior registration and/or license or permit to solicit investments from the Commission.

In view thereof, the public is hereby advised to excercise self-restraint from investing their money into such high yield-high risk investment scheme (sic), and to take the necessary precautions in dealing with the above-named entity.
Those familiar with the US SEC will recognize the above warning as identification of EmGoldex offering unregistered securities in the Philippines.
Last August saw the Massachusetts Securities Division launch an investigation into EmGoldex in the US. Civil fraud charges were then filed against top US EmGoldex investors in October.
Whether the Philippines SEC warning will result in local arrests remains to be seen. The SEC's warning itself appears to have come about after the agency received
reports that Facebook netizens are being invited or enticed to invest their money in EmGoldex Philippines "Pinoy Style Patak Patak" for a promise of huge profit/high returns.

An investment of one thousand Pesos will earn profits ranging from five thousand to ten thousand Pesos, or a placement of thirty-five thousand will yield one hundred eighty thousand to three hundred sixty thousand Pesos.
This is in line with EmGoldex's business model, which is the same globally and sees the company pay existing investors with newly invested funds.
A Google search of "Pinoy Style Patak Patak" revealed multiple advertisements for EmGoldex:
Somewhat disturbingly, clicking on one of those listing leads to a Facebook posting from Jonah Royo – where a child holding up Filipino Pesos is used to advertise EmGoldex: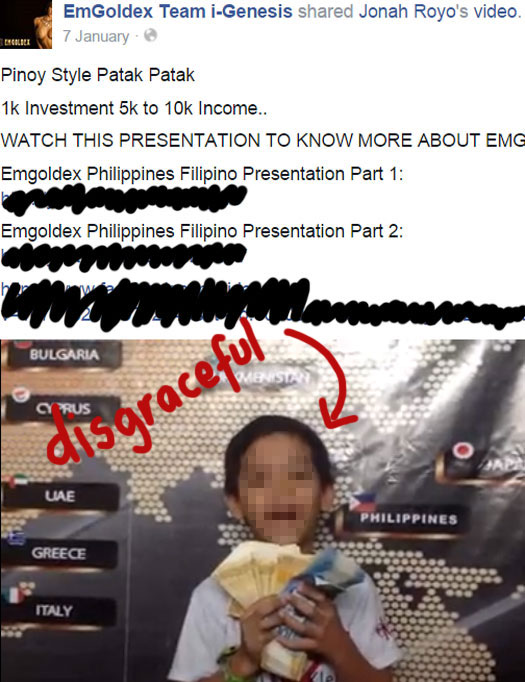 Evidently identifying the local ringleaders soliciting EmGoldex is easy enough.
Whether the SEC's warning results in further action being taken against any of them however remains to be seen.