Civil fraud charges filed against US EmGoldex investors

A review of EmGoldex earlier this year revealed it to be a seemingly European based Ponzi scheme.
Investors bought in for 540 EUR and EMGoldex promised them a 3500 EUR once enough new investments had been made by subsequent investors.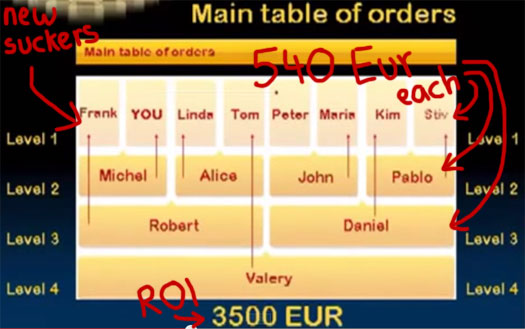 As is common with European based Ponzi schemes, gold was used to front the scheme. The reality however is that gold had nothing to do with the scheme, with EmGoldex simply taking new investor funds and using it to pay off existing investors.
Shortly after we published our EmGoldex review, the Massachusetts Securities Division announced they had launched an investigation into the scheme.
The state Securities Division "has an open investigation and is actively looking at the issuer and individuals associated with it,'' said Brian McNiff, a spokesman for Galvin. He declined to provide details of the probe.
That "probe" yesterday culminated in civil fraud charges being laid against four individuals involved in the promotion of EmGoldex in the US.
The Administrative Complaint names five defendants; EmGoldex Team USA, Inc., Matthew Michael D'Agati, James Vincent Piemonte, Jonathan Herman Siegler and Joseph Zingales.
The Enforcement Section alleges that Respondents, acting individually and collectively, fraudulently offered and sold unregistered and non-exempt securities
in the Commonwealth.

The Enforcement Section further alleges that the offers and sales of securities were part of a pyramid scheme and Respondents' promotion of such scheme defrauded Massachusetts investors.
The four named men are together co-founders of EmGoldex Team USA.
Specifically, the complaint focuses on their promotion of EmGoldex within Massachusetts.
Respondents offer investment opportunities in a pyramid scheme called EmGoldex. Respondents are the most visible and active promoters of EmGoldex in the Commonwealth and have recruited hundreds of investors into the scheme.

EmGoldex is an illegal pyramid scheme disguised as a legitimate multi-level marketing company targeting investors both in Massachusetts and around the world. EmGoldex is purportedly registered in and maintains an administrative office in, the Seychelles, an island nation off the eastern coast of Africa.

While representing itself as an internet-based store specializing in the sale of gold, EmGoldex has no discernable retail sales activity and relies on new investor funds as its primary source of income.

The substantial returns promised by EmGoldex to investors are based exclusively on the recruitment of new investors into the pyramid scheme.

Investors have no incentive to sell EmGoldex's purported product, gold bars. Instead, investor efforts are focused on recruitment, which guarantees profits in excess of 1,105%.
What of particular interest in this case is that neither D'Agati, Piemonte, Siegler nor Zingales run or own EmGoldex, but rather they are promoters of it in the US.
EmGoldex do not disclose who owns or runs the company, with their offshore owners remaining at large. Nonetheless, in what is hopefully a trend set to continue, promoters of Ponzi schemes are now actively being targeted by US regulators.
Respondents are at the forefront of recruiting efforts in the Commonwealth through an elaborate marketing and social media blitz. Respondents have ensnared hundreds of new investors from the Commonwealth into the EmGoldex scheme, with promises of fast, easy, and risk-free profits.

While' holding itself out as a "training center" to help investors understand and succeed in the EmGoldex network marketing program, Respondents are in reality a major cog in the EmGoldex marketing and recruitment machine.

Through the use of websites, social media, and live events, Respondents have created a complex web entangling investors throughout the Commonwealth. The extensive recruitment efforts of Respondents serve to benefit Respondents, who eam substantial passive income by recruiting new investors.

Respondents have built their own empire within the EmGoldex pyramid scheme. Respondents' investor empire can earn Respondents even more passive income through the EmGoldex leadership program, which rewards investors based on the recruitment successes of downline investors.

Through the creation of their vast team of downline investors, Respondents are eligible to receive massive returns.

Respondents receive these massive returns at the expense of later investors, who will be left with considerable losses when the EmGoldex pyramid scheme inevitably collapses.

Respondents advertise and promote the EmGoldex pyramid scheme using promises of quick riches, with little to no risk involved. Some advertising materials created by Respondents are emblazoned with bags of cash, gold, and phrases such as "NOW YOU GET PAID!!!"

Investors are even encouraged by Respondents to buy positions for their children in the pyramid scheme.

At one point Respondent Team USA's webpage boasted, "Yes, even your children can get paid!!" The Team USA webpage also includes pictures of smiling investors, holding cashier's checks issued by Respondents.
The purchasing of multiple positions under family member's names is a common practice in the online scam world.
As to the gold smoke and mirrors EmGoldex use to market their Ponzi scheme,
The focus of the EmGoldex pyramid scheme.and Respondents is, and has always been, solely on recruiting. Respondents built their own lucrative financial pyramid within the EmGoldex pyramid scheme through their recruitment efforts.

Profits are paid to investors in the pyramid from the significant membership fees of new recruits.

Respondents make no effort to sell or advertise any product, and marketing materials fail to mention any possible compensation earned through retail sales.
Seemingly aware that he was participating in a Ponzi scheme,
On April 25, 2014, Respondent D'Agati sent an email to EmGoldex support services asking how Team USA should respond to questions regarding whether EmGoldex was a pyramid or Ponzi scheme.

Specifically, Respondent D' Agati asked about the fact that EmGoldex is unable to actually send its product to participants in the United States, which makes EmGoldex's alleged marketing program essentially just an exchange of money.

The reply from EmGoldex makes no sense, containing little more than legal jargon and citations to European internet commerce laws regarding enforceability of electronic contracts.
No doubt those running EmGoldex didn't care, because they figured nobody in the US was able to hold them accountable and "enforce" the bogus contracts they were selling investors.
Here at BehindMLM we're forever combating the nonsensical replies and justifications Ponzi proponents concoct in defense of their schemes.
Despite Respondent D' Agati's concerns and EmGoldex's evasive, non-responsive reply, Respondents continued advancing their own personal financial interests by recruiting investors all over the Commonwealth.
Shocking. D'Agati and his cohorts knew they were involved in a Ponzi scheme, yet still they continued to recruit new investors into the scheme.
And wait till you read the extent these fraudsters went to to circumvent the obvious road bump of EmGoldex not being able to ship their fictional product to the US:
Investors trade payouts received in the EmGoldex online system for activation codes, which activate membership positions in the pyramid scheme. Respondent Team USA purchased activation codes directly from investors and sold them to new recruits.

Respondents have in essence created an uncontrolled secondary market where investors can freely exchange fraudulent EmGoldex securities.

Instead of wiring money to EmGoldex, new investors simply paid Respondent Team USA directly to get involved in the EmGoldex pyramid scheme.
Here the whole "we sell gold" smoke and mirrors totally falls apart, with the revelation that EmGoldex are indeed selling nothing more than matrix position codes.
Buy a code, wait till enough codes have been purchased after you and get paid. Just don't forget to make up a bunch of bullshit about selling gold if anyone dares question the company's legitimacy.
Luckily this time around, the damage to investors wasn't all that much:
D'Agati established bank accounts in his name d/b/a EmGoldex Team USA to further facilitate this process. As of July 14,2014, over $473,000 has been deposited in Team USA bank accounts, while over $282,659 has been wired to EmGoldex financial institutions overseas.

In a four month period from March 2014 through mid-July 2014 Respondents facilitated over 370 investments in the EmGoldex pyramid scheme.
While hundreds of thousands of dollars is nothing to sneeze at (especially when you consider a standard EmGoldex buy-in is 540 EUR ($682 USD), it's a far cry from the hundreds of millions figures we've seen when some of the bigger MLM Ponzi schemes have gone bust.
A major contributing factor to that is Massachusetts Secretary of State William F. Galvin and his Securities Division's quick initiation of an EmGoldex investigation and resulting charges being filed.
Full points to Galvin and his team for that. I only wish other US states were as diligent and fast acting.
The bottom line?
As an illegal pyramid scheme, EmGoldex is destined to collapse, harming investors all over the Commonwealth.

With this action, the Enforcement Section seeks to stop Respondents Team USA, D' Agati, Piemonte, Seigler, and Zingales from offering and selling fraudulent securities in the Commonwealth, thus preventing further financial harm to Massachusetts investors.
A job well done.
For their part in facilitating the promotion of the EmGoldex Ponzi scheme, Matthew Michael D'Agati, James Vincent Piemonte, Jonathan Herman Siegler and Joseph Zingales have been charged with violations of the Massachusetts Uniform Securities Act".
The Massachusetts Securities Division has requested they, in relation to their participation in EmGoldex,
cease and desist their fraudulent activities
provide an accounting of all proceeds received
disgorge all proceeds and other direct or indirect remuneration received
offer remuneration to fairly compensate all investors who suffered losses
The Division has also requested the court 'impose an administrative fine', the amount of which will be determined at a later date.