Elysium Capital closes trading accounts, blames Equiti Group

Elysium Capital has informed investors it has closed its trading accounts.
In an email sent out to investors, Elysium Capital blamed its broker Equity Group.
Elysium Capital named Equity Group as its trading broker mid last year.
Supposedly Elysium Capital uses Equity Group to run its trading bots through, which in turn generates external revenue to fund returns.
Naturally there's no evidence of Elysium Capital having trading bots or generating external revenue of any kind.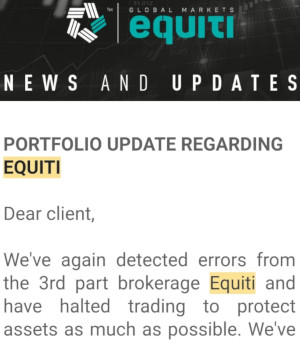 As per a May 17th sent out by "EA Desk";
Dear Client,

We've again detected errors from the 3rd part [sic] brokerage Equiti and have halted trading to protect assets as much as possible.

We've just receive a message from Equiti that they are investigating.

We will keep yhou informed and soon you can expect a full report on details.
The following day another email was sent out, detailing the trading account closures.
Please note there was no other option than closing the accounts to prevent further draining of the accounts and preserving the remaining capital.

We understand you are worried but please know we are doing everything in our power to solve this as soon as possible with Equiti.

Apart from the past 2 weeks Equiti Friday technical issue [sic], we noticed that the Equiti accounts were diverging a lot in comparison with our other accounts of other brokerages, though they have the same setup.

So the movement of the equity on our accounts was always more negative for the Equiti accounts.

A bit could be possible due to the high spreads and swaps for Equiti, but a difference this big is not common.
As I understand the issue remains unresolved.
In the meantime Elysium Capital has transitioned to crypto fraud. The company still pretends to generate external revenue via crypto trading.
Elysium Capital purportedly trades cryptocurrency through the broker MultiBank.
Elysium Capital owner Fred Stege is also now selling crypto trading signals, complete with a referred compensation plan (review pending).
Update 22nd July 2021 – BehindMLM revisited Elysium Network for an updated review in July 2021.
Update 14th August 2021 – Equiti Group has disputed Fred Stege blaming them for Elysium Network affiliate losses.