Dubli threaten WUKAR's Matt Trainer with a lawsuit

Whether or not they reached out to Dubli or not is unclear, but yesterday BusinessForHome published an interesting "statement from Dubli corporate".
The statement is in response to a YouTube video featuring WUKAR's Matt Trainer, published last week.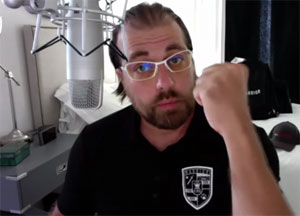 In the video Trainer (right) alleged a number of representations were made to him by Dubli corporate, none of which materialized. Trainer asserted that Dubli management were liars.
In their response via statement to BusinessForHome, Dubli corporate countered with the following:
As a company, DubLi will respond in the best interest of its shareholders, Business Associates, customers and employees to protect and preserve its reputation against unmitigated attacks.

Fictitious stories concerning  DubLi's business model or its management team will be challenged.

As such, DubLi will be filing suit against Matt Trainer in response to his fabrications put forward in a video last week.

In keeping with its status as a public company under U.S. Securities and Exchange Commission guidelines, DubLi has a strict corporate policy against commenting on or forecasting conversion rates or any other financial benchmark.

The company has never, not to Mr. Trainer or anyone else, made any statements as to expected conversion rates.

Nor has the company mentioned how DubLi may or may not convert in Mr. Trainer's personal marketing system that he has attempted to sell to other DubLi Network Business Associates.

As for statements regarding DubLi-owned property in the Cayman Islands, we encourage anyone to review our filings with the US Securities & Exchange Commission for more details on our property there.

The ownership of this property has been described for several years throughout our public filings.Furthermore, it has been a widely known fact that the leadership of DubLi Networks owns stock in the company.

DubLi's Cashback amounts are available for public viewing on our website: www.dubli.com. The Cashback amounts DubLi gives to customers are fully transparent.

DubLi has an experienced team of managers. As a company policy, it does not employ the services of independent distributors to run or manage the DubLi business.

The company appreciates the guidance and insight of its independent business associates but it does not make company decisions based on these individual opinions.
Trainer himself has responded to Dubli's statement via comment on BusinessForHome, claiming that
AT LEAST 100 people that heard the same things I did many, many times directly from Micheal Hansen the former CEO of Dubli.
Two other commenters have also expressed similar sentiments:
That is funny. I have seen Michael Hansen speak personally 4 different times. EVERY time he told rooms full of people that 85% of free customers upgrade.

He also said that as Dumbli Business Associates that we get 25% of every frontline customers cash back.
I was in that room of 100 and heard Michael Hansen give out expected conversion rates. Should Dubli pursue a lawsuit, Matt Trainer will have 100+witnesses against one liar. Are they really this stupid?
Did Dubli corporate provide exact conversion rate percentages to their affiliates?
No idea. But should Dubli file this lawsuit – I think either way we're going to find out. And what that means for Dubli as "a public company under U.S. Securities and Exchange Commission guidelines" could be very interesting indeed.
And if the don't file the lawsuit, well – what does that say about Trainer's comments then?
Bit of a wall you've backed yourself against there fellas…