E-ntrepreneur, SaveMate & Mad Rewards: The death of Dubli

BehindMLM last checked in on Dubli back in 2019.
Following tens of millions in losses over the years, five out of parent company Ominto's board members resigned in mid 2018.
A year later it was revealed the SEC had been investigating the company for securities fraud. Ominto settled the allegations.
Dubli founder Michael Hansen stayed on, desperate to keep the business going.
Over the following years, amid record online spending due to global lockdowns, Dubli drifted into obscurity.
The business recently popped up on my radar, but not as Dubli.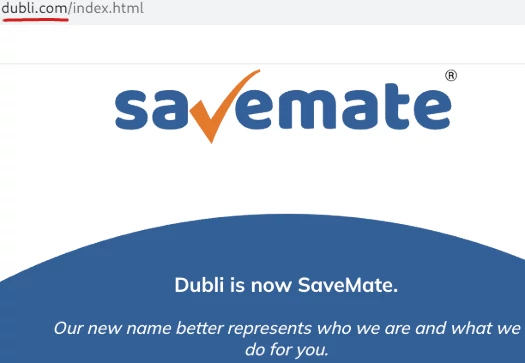 Dubli now goes by SaveMate, and today we're revisiting the MLM opportunity for a status update.
A visit to Dubli's website domain is supposed to automatically redirect to SaveMate's website. That functionality wasn't working.
Dubli isn't mentioned anywhere on SaveMate's website. Neither is parent company Ominto.
SaveMate's website social links are… a bit odd:
SaveMate's YouTube link points to Dubli's YouTube channel, which hasn't been updated in 5 years.
SaveMate's Instagram link takes you to the account of "savemate.de". The profile hasn't been updated in 4 and a half years and the domain is no longer active.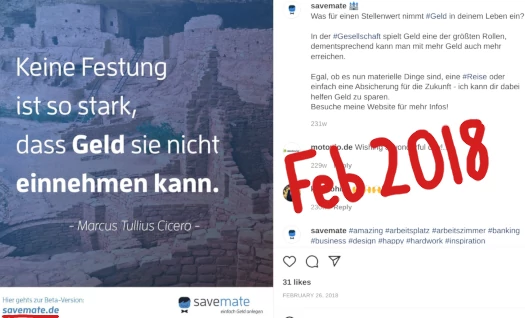 SaveMate's Pinterest link takes you to an abandoned Ominto SaveMate branded profile.
SaveMate's Twitter link points to what appears to be a personal profile of some random person.
And SaveMate's FaceBook profile points to a non-existent page.
Hmm.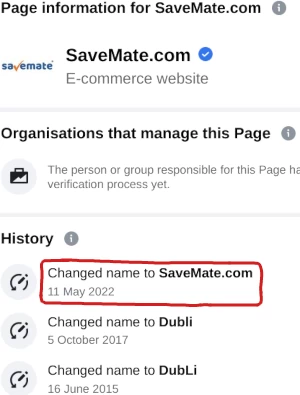 Clicking on the "about us" section of SaveMate's website reveals a marketing pitch. Who owns SaveMate is not disclosed anywhere on the website.
In the footer of SaveMate's website we learn "SaveMate is a registered Trademark of MAD Rewards Ltd."
Mad Rewards operates from its own website domain. It appears to be a white label cashback platform:
Grow your customer base worldwide with your very own branded MAD REWARDS Cash Back site
Other than a corporate address in Dubai, who owns or runs Mad Rewards is also not disclosed.
I don't know what exactly Dubli has been up to since securities fraud, but Dubai is the MLM crime capital of the world.
Any MLM company representing ties to Dubai instantly raises a red flag.
Beyond that, Mad Rewards is a dead end. If you visited SaveMate's website, other than the abandoned YouTube channel link, you'd have no idea it's Dubli rebranded. And you'd certainly have no idea who's running the company.
An MLM company being a faceless corporation is not a good look.
Armed with knowledge of Michael Hansen's ownership of Dubli0 and Ominto, a Google search led me to this FaceBook page: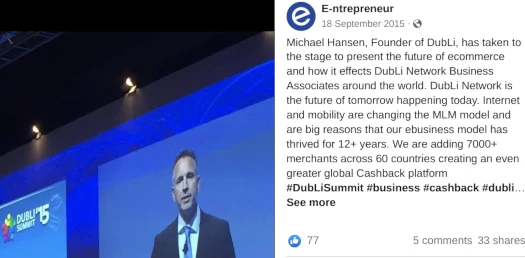 Ominto appears to now be operating as "E-ntrepreneur".
Founded in 2003, e-ntrepreneur is a global marketing company that offers people from all walks of life the opportunity to build a career or second-income business by generating earnings from the products and services that people buy online every day.
However you're supposed to pronounce E-ntrepreneur, it's not a great name.
A visit to E-ntrepreneur's website (the name is not exactly great to type out either), reveals Villads Vest-Hansen is CEO of the company.

Vest-Hansen is a former Dubli affiliate. The surname isn't lost on me, but I don't know if there's any relation to Michael Hansen.
Oddly enough there's no mention of Michael Hansen on E-ntrepreneur's website. If you run a search for "michael hansen e-ntrepreneur" though, this pops up: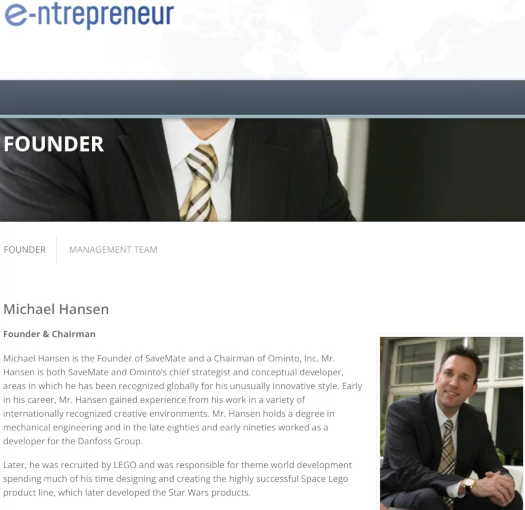 Looks like E-ntrepreneur recently redesigned their website, dropping any mention of Hansen. But for some reason they left the old website pages available.
Michael Hansen is the Founder of SaveMate and a Chairman of Ominto, Inc. Mr. Hansen is both SaveMate and Ominto's chief strategist and conceptual developer.
In any event looks like Hansen is still running the show, leaving Vest-Hansen to play puppet CEO.
There is no mention of Mad Rewards on E-ntrepreneur's website. I'm still unclear on how that fits in.
The next thing I wanted to do is confirm E-ntrepreneur and SaveMate are still running an MLM opportunity. This proved difficult.
There is no reference to MLM on SaveMate's website. E-ntrepreneur's current website has one paragraph:
E-ntrepreneurs offers flexibility as well as scalability: Independent Business Associates (BAs) set their own schedule and work as many hours as they deem necessary to meet their financial goals.

BAs earn an income by sharing the benefits and savings opportunities of the various products and services available on the SaveMate consumer shopping website.
E-ntrepreneur and SaveMate compensation plan details are not available anywhere.
Through some searches to access E-ntrepreneur's old website, I was able to dig this up:
Applicants must purchase a Business License ("Business Package") for US$ 99 upon signup.

An annual Business License renewal of $39 (or equivalent in other currencies) will be charged starting from the second year of your membership.

I understand that as a E-ntrepreneur Independent Business Associate ("BA"):

-I have the right to offer for sale SaveMate.com products and services in accordance with these Terms and Conditions.

-If qualified, I have the right to enroll persons as BAs in the E-ntrepreneur.

-If qualified, I have the right to earn commissions pursuant to the E-ntrepreneur Compensation Plan.
Sounds like E-ntrepreneur is the same pyramid scheme Dubli was running.
Dubli's business model generated tens of millions in losses. Changing the company names again and again doesn't fix a broken business model.
Nor does obfuscating who's running the company, the compensation plan and the fact that E-ntrepreneur, SaveMate and Mad Rewards are part of the same MLM opportunity.
As to the current status of E-ntrepreneur, here's SimilarWeb's current stats:
Mad Rewards' website is dead;
E-ntrepreneur's website is dead; and
SaveMate's website traffic switched over from Dubli in May 2022. The site is currently at about ~13,000 visits a month, mostly from Ghana (28%), Italy (20%), the US (12%) and UAE (11%).
Most of E-ntrepreneur's recruitment is taking place over FaceBook and WhatsApp.
The last thing I'll leave you with is precisely why Dubli and now SaveMate aren't viable.

We live in an age where cashback apps can be installed for free at the click of a button. And these apps, which started off as browser extensions, have been a thing for at least a decade.
Then there's Dubli and SaveMate, charging $49 a year for "VIP Rewards". Sure there's a gimped free cashback option, but why bother when you can get a better deal from competitors for free?
The current cashback market leader is Honey. As tracked by SimilarWeb, Honey's website receives 150,000+ visits a month.
Honey's cashback app has over one million installs
Honey's browser extension has over ten million installs
As previously mentioned, SaveMate receives about 13,000 visits a month to its website. SaveMate doesn't appear to have an app, and its browser extension currently has 158 installs:
The current economic climate aside, online retail absolutely exploded globally over the past few years. How do you mess up this badly?
Dubli wasn't viable. And neither is SaveMate. Charging for discounts that can be obtained elsewhere for free makes as little sense today as it did when Dubli launched in 2003.