Force demands continued access to frozen funds, blames lawyers

As of September 7th, Michael Force and Mary Dee have been paid combined living and medical expenses of $42,367 and $48,504 respectively.
Citing "significant changed circumstances", the FTC now want to stop these monthly payments – and Michael Force isn't too happy about it.
In their August 31st motion, the FTC argues that while Force and Dee's access to frozen funds might have initially been justified, "that access is not unlimited".
Initially, Force and Dee were granted access to frozen funds to 'ensure (they) and their families' health and safety were not adversely affected'.
As the FTC point out, that was six months ago.
(Force and Dee) have had plenty of time to find new sources of income.

Yet, when this issue recently came before the Court … their showing was alarmingly hollow.

(Force and Dee) failed to put on any evidence to show that they have been looking for work or other new income, but had been unable to obtain any.

They likewise failed to put on any evidence that their spouses ahd no available assets or income.

Put simply, (Force and Dee) failed to show that they could not pay their own bills.
The "issue" the FTC refer to is a previous request for $100,000 in frozen funds to cover attorney fees, which was denied.
Specific examples of access to alternative funds cited by the FTC include numerous trips taken by Dee.
In the past four months, Defendant Dee has been traveling the world.

By her own admission to FTC counsel, she has been to London, Croatia, Hawaii (twice), New York, California, and Chicago.

Dee has represented to the FTC that at least some of her travels—including to New York City, and to Hawaii— were paid for by her husband and other family members.

Thus, she has at least some other source of funds to pay her monthly bills—the money that flew her to New York could have bought her groceries instead.

Much of Ms. Dee's travel was ostensibly for work—yet she says she received no payments for her efforts.

At least one trip, in May, included Ms. Dee appearing at a conference, for which, it appears, attendees had to purchase
tickets.

Ms. Dee told FTC counsel that, despite speaking at this event, she was not paid.

Ms. Dee has represented that other travel, including to London, Croatia, and California, was paid for by Mad Love Agency, a company she is working for. But despite all this time and effort spent on Mad Love Agency's behalf, Ms. Dee has represented to FTC counsel that she has not received any income.

It is hard to see how, when money was available to fly Ms. Dee to London and Croatia, put her up in hotels, and buy her meals, still none was available for even a modest payment for her time and efforts.
Perhaps more pertinently, when you're facing a serious FTC lawsuit, is it wise to be flying around all over the place whilst simultaneously expecting your victims to continue to fund your lifestyle?
And what is this employment Dee has where she is flown around the world, speaks at events and yet receives no payment for it?
Right. Totally nothing suss going on there.
Ms. Dee has represented that she is continuing to solicit work in the speaking and event planning space, and that at least one event is on the calendar for the end of October 2018.

She has said she does not currently anticipate receiving any income until after that event, at the earliest.
As a defendant of a federal FTC lawsuit, perhaps employment of a more stable nature is in order.
Ms. Dee clearly has skills and resources, including her spouse's undisclosed assets and earning capacity.

It is past time she stop living off money fraudulently taken from consumers.
McDonald's, night fill at a supermarket, the local car wash… just sayin'.
There's no specific examples for Michael Force given, due to the fact he's 'made no efforts to find new employment or income'.
On September 5th the court directed Force and Dee to file any opposition they had to the FTC's motion by September 14th.
As at the time of publication, Mary Dee has failed to file any opposition. Michael Force filed his opposition a few hours ago.
Seemingly unaware ignorance isn't a legal defense, in his filing Michael Force does take responsibility for running Digital Altitude, but only after vehemently blaming "former attorneys" for failing to 'advise us of any risks of this FTC action due to any laws (or) compliance issues'.
Andrew Gordon was our attorney nearly twelve months before this action and claimed he had FTC enforcement experience, but not only did he not do what we requested, he also didn't even advise us proactively of any laws we may have been violating to ensure compliance.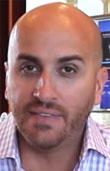 As to why he didn't know making false income representations to consumers was illegal, Force (right) states;
The continued financial hardship I'm experiencing due to this FTC action seemingly derived from a couple of dozen complaints out of hundreds of thousands of customers and a claim on a website we rarely used and none of our top affiliates ever used and most of our members never saw.

My staff or I would have changed it immediately to be compliant had we known we violated any laws.

As I said, our former FTC enforcement experienced attorney never advised us despite us asking.

From my experience, this kind of verbiage spin is used on most blogs, news, clickbait ads, magazines and or to express any advocates point of view.

Versus being taken in a literal absolute truth or fact form as it's used merely to attract eyeballs to websites, and Google & Facebook approve these ads and wording daily so marketers assume they are legal as why would they take the risk of all this for us if it violated any laws.

Way too many marketers are entirely unaware of these laws as most haven't been through any FTC compliance certification as it isn't mandatory like a drivers license.
Everybody else was breaking the law, so why couldn't we?
While Force's claim that income claim fraud is rife throughout the MLM industry might hold merit, it's neither a justification or valid legal defense.
What is or isn't or did or didn't happen outside of Digital Altitude has no bearing on the FTC's lawsuit.
The rest of Force's argument is made up of marketing tropes that ignore the fact that the vast majority of Digital Altitude members lost money, the business model itself was fraudulent and that stated commissions were paid only to a handful of top recruiters.
I never realized a couple of dozen complaints out of hundreds of thousands of customers would assume all customers were unhappy and would yield a cost of fifty-four million dollars in damage when we paid out nearly thirty million in commissions and tens of millions in expenses for running the business and it's live event trainings worldwide.

Profit is a small percentage of that number and as I said 99% never complained.

This FTC action cost hundreds of people that depended on Digital Altitude for their livelihood.

It was never my intention to hurt anyone. I only ever wanted to be compliant and give others the valuable online expert education and training that changed my life during the advent of the internet.

I realize as the owner I will be the one to take full responsibility for all those that profited as well and I will… but it fills me with regret that I put my own family and others at this level of risk trusting our attorneys.

I now understand these laws more clearly as it seems I may have been naive and perhaps placed trust in people I shouldn't have.
Cue sonata featuring the world's smallest violins.
Force claims the FTC's litigation has "disabled" him from seeking alternative employment. He also claims "only having a GED" is hampering him "navigate career paths".
Referencing unspecified "online statistics", Force states 'it can take over one year to replace a six-figure a year income'.
In the meantime, Force claims he's doing 'all (he) can to expedite a settlement in this case'.
We know the FTC have been trying to settle the case since at least July.
Force's legal troubles aside, unreasonable expectations of what a settlement over fraudulent business operations entails is likely the reason one has yet to be reached.
According to Force,
a fair and reasonable settlement …  would include more than leaving my family with no choice, no house, no vehicles, no savings, no assets, no businesses, no reputation, and no future opportunities utilizing my twenty five years of expertise and experience.
Yeah. Force still thinks he's going to walk away from this with assets and funds obtained through fraudulent business operations.
Might want to check out Matt Lloyd's recent MOBE settlement hey.
Despite his seemingly unrealistic expectations, Force believes he'll reach a settlement with the FTC "within the next 90 days".
Accordingly he's requesting Digital Altitude victims continue to fund his lifestyle through to the end of December.
A decision on the FTC's motion is pending. Stay tuned…
Update 22nd September 2018 – On September 19th Michael Force and Mary Dee were cut off from claiming monthly living expenses.