Decentra securities fraud warning from Philippines

Decentra has received a securities fraud warning from the Philippines.
As per the SEC's June 14th warning;
DECENTRA and its representatives, agents and individuals and groups of individuals acting on its behalf have been found to be offering
unregistered securities to the public without the necessary authority or license issued by the Commission.
The SEC cites Decentra's 120% ROI "staking" investment opportunity, as well as a "Dubai Promo".
(Decentra) through its representatives, agents and presenters further claims that a member can recruit as many as he can, receive 50,000 USD, not from his pocket but from the hard work of recruiting other people, and earn even without doing anything.
Decentra is a reboot of the collapsed Xifra Lifestyle Ponzi scheme.
Founder Jonathan Sifuentes fled Mexico to Dubai earlier this year, following a crackdown by Mexican authorities. Sifuentes is also facing regulatory action in the US.
Decentra was launched as a Dubai based Ponzi scheme last month. Dubai is the MLM crime capital of the world.
In view thereof, the public is hereby advised to exercise self-restraint from investing their hard earned money in such high-yield, high-risk investment scheme and to take the necessary precaution in dealing with individuals representing the above-named entity and NOT TO INVEST or STOP INVESTING in said entity.
A prominent promoter of Decentra in the Philippines include Michael Anderson: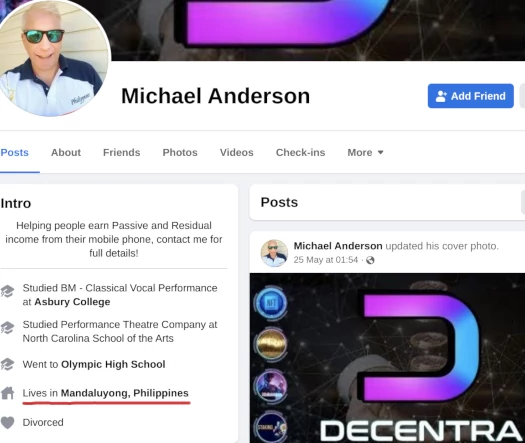 The SEC warns promotes of Decentra in the Philippines face a PHP 5 million fine (~$93,733), or up to twenty-one years in prison.
Update 16th June 2022 – Michael Anderson and eighteen other Decentra promoters in the Philippines have been arrested.