Cloud Token launches Rogue unlicensed lottery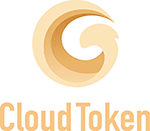 Cloud Token has started branding itself as "Cloud 2.0". As part of that branding effort, the company has recently launched "Rogue".
Attempting to clear up confusion among affiliates as to what Rogue is, Cloud Token admin (and suspected co-owner), Ronald Aai, took to Facebook earlier today to explain.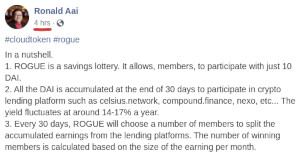 As per Aai's explanation,
Rogue is a savings lottery. It allows members to participate with just 10 DAI.
DAI is a cryptocurrency stablecoin, pegged at $1 USD. There does not appear to be any direct links between DAI and Cloud Token.
All the DAI is accumulated at the end of 30 days to participate in crypto lending platform such as celsius network, compound finance, nexo, etc…

The yield fluctuates around 14-17% a year.

Every 30 days Rogue will choose a number of members to split the accumulated earnings from the lending platforms.

The number of winning members is calculated based on the size of the earning per month.

Every 30 days, when a prize is awarded all the interest that has been earned since the last prize is given to the winners divided equally.
To summarize, Cloud Token sells lottery tickets to affiliates starting at 10 DAI.
Each month Cloud Token selects a number of Cloud Token affiliates to award Rogue lottery winnings to.
As the pool expands, more winners will be added in each draw helping more members.
The catch is that Rogue lottery winnings are paid in CTO, which Cloud Token generates at little to no cost on demand.
On the regulatory front, lotteries are illegal in Malaysia unless a permit is sought from the Minister of Finance.
Section three of Malaysia's Lotteries Act states
Any lottery promoted or conducted without a permit granted by the Minister of Finance under this At or otherwise than in accordance with this Act shall be unlawful.
To date neither Cloud Token or Ronald Aai have provided any indication their Rogue lottery has a permit from the Minister.
Not withstanding international lottery laws and regulation, at a minimum Cloud Token's Rogue appears to be illegal in Malaysia.
Perhaps of lesser significance given Cloud Token's core Ponzi business model, but worth pointing out nonetheless.