CashFX Group using KYC to continue not paying withdrawals

CashFX Group has advised affiliates they will not be able to withdraw unless new KYC requirements are met.
The announcement was made via a corporate email sent out a few hours ago.
As per the email, affiliates wishing to withdraw money CashFX Group doesn't have to pay them, they'll need to supply:
a driver's license, national identification card or passport (scanned back and front);
a video recording to be used for "biometric facial recognition"; and
a utility bill, no older than 90 days, showing an address that corresponds with the address used to sign up to CashFX Group.
CashFX Group affiliates who signed up as companies will be required to provide identification documents pertaining to company formation.
Be it individual documents or that of a company, the list reads like an identity theft merchant's wet dream.
Ponzi schemes implementing KYC is typically a precursor to a collapse. CashFX Group's implementation of KYC follows months of on and off withdrawal payments.
What will probably happen now is continued non-payment under guise of "processing".
A few KYC applications might go through to create the illusion of progress, but that should be about it.
Having disabled withdrawals for so long CashFX Group is likely sitting on just enough money to pay just enough people to flood the internet with "bUt I'm GeTtInG pAiD!" rebuttals.
Unless recruitment picks up though, that's not going to last long. Even with the majority of affiliate investors locked out of withdrawals through KYC.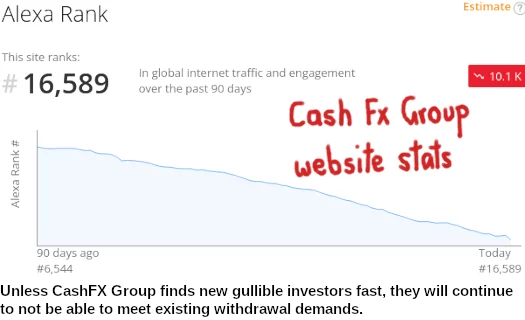 Alexa traffic estimates suggest CashFX Group is currently active in Nigeria (23%), Australia (17%) and the US (11%).
One last point I want to address is CashFX Group claiming KYC will allow it to meet "anti money laundering requirements".
At the time of publication CashFX Group has received securities fraud warnings across fifteen jurisdictions. The latest of which was Ireland just last month.
There is no way known this level of regulatory activity hasn't caught the attention of banks and authorities.
Update 6th August 2021 – CashFX Group's KYC implementation has hit a hurdle.
The KYC software provider CashFX Group was using cut off their dodgy shell company.