CashFX Group making fake selective withdrawal payments

Blockchain transactions suggest CashFX Group is making fake selective withdrawal payments to top investors.
Research by members of the "CashFX (in association with EverFX) Scam – Now What!?" FaceBook group, reveal CashFX Group made a payment to Wesley Loewen on April 4th.
The amount, 0.75 BTC, can be tracked on the blockchain from a CashFX Group wallet to one of Loewen's.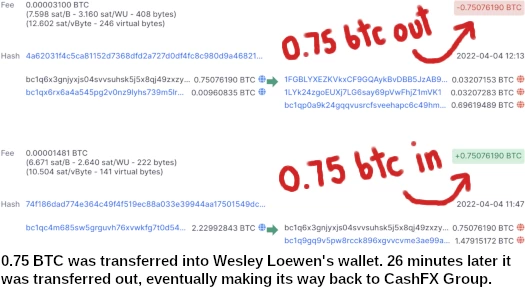 According to a post from Dag Hansen;
Wesley Loewen (is) from Paraguay, who's brother-in-law is Paul Dueck from Canada and is in the "President's Club".

Wesley has numerous "stacked accounts" with CashFX and this is Wesley's main address where he routes his funds from his various CFX accounts.

He received a payment from CFX on 04/04/22 of 0.75076190 bitcoin which is currently worth $30,253.87 – it was strange because it didn't come from the regular address CFX are using to send out their "batch" payments (payments from new deposits/upgrades).

Interestingly you can follow the 0.75076190 bitcoin going out where it goes through each transaction to one or more CFX single use deposit addresses and then the change to a new address, the long and short of it is it went to 17 different CFX deposit addresses, quite strange until you see the transaction history of his address showing he has at least 13 accounts.
Why would CashFX Group send out bitcoin only to receive it back again?
(Loewen) obviously made a deal with Huascar that his "for show" withdrawal will be sent straight back to them for upgrades/new accounts.

He's claiming he got a withdrawal, but the bitcoin is back with CFX in their pooling address ready to pay out the next load of withdrawal requests, but unfortunately these pay outs are get even more sparse regardless of the amount of bitcoin that gets recycled through.
Evidently, marketing.
The wallet addresses involved can be verified against the CashFX Group wallet master list (over 1 million tracked entries). I believe this list is tied to ongoing research that surfaced in January.
In February that same research revealed CashFX Group's withdrawal liability had spiraled to over $100 million. At the time the Ponzi scheme was only bringing in $5 million a week.
That's not insignificant but withdrawal liabilities were growing by ~$14 million a week.
Since February traffic to CashFX Group's website has overall declined. Recruitment in Australia, Liberia and the US appears to have collapsed.
Alexa currently reports top sources of traffic to CashFX Group's website as the UK (15%), Nigeria (10%) and South Africa (10%).