Brokers Ads Review: Colored panels and Ponzi packages

There is no information on the Brokers Ads website indicating who owns or runs the business.
The company's website domain ("brokersads.com") was registered on the 15th of April 2014, however the domain registration is set to private.
Whether or not Brokers Ads has any US presence is questionable, but the company does state in its Terms and Conditions that
These Terms and Conditions shall be governed by the federal law of the United States of America and the state law of Nevada.
The Brokers Ads compensation plan material states that the company owns a PO Box in Belize, a known tax-haven.
Indicating likely ownership in neither Belize or the US though is the language used on the Brokers Ads website.
Here's one example from a "news" item dated July 2nd:
Dear Affiliates, On the time of Technical Problem, Many Members buy Brown panel and now Brown panel Capped ratio is too much slow, Because 100's Brown Panels buy from each and evry (sic) user,

So very soon we are giving you roll up option so you have to be roll up your brown panel and follow company rules, all Others Panel working smoothly, but brown panel will be capped very slow now,

Thanks
B.A Team
Alexa reveals the domain brokersads.com has a whopping 42.4% visitorship from Pakistan, making it the likely candidate for residency of the owner(s). The UK is second on the geographic list with 17.9% of the domain traffic, so that's a possibility too.
Further supporting this is the citing of "Mark Alfred" and "Mark Charlie" as Directors of the company in the Brokers Ads compensation plan material.
The use of fake generic Anglo-Saxon names is consistent with dubious schemes being operated out of India and its neighboring countries, or Indian/Pakistani nationals operating out of the UK.
As always, if a MLM company is not openly upfront about who is running or owns it, think long and hard about joining and/or handing over any money.
The Brokers Ads Product Line
Brokers Ads has no retailable products or services. Instead, affiliates join the company and invest in "panels". Brokers Ads advertise these panels as costing between $5 – $1000.
These panels are initially sold in "packages", which range in price from $15 to $1960. After an affiliate has joined and purchased their initial package, they can then invest in panels individually.
A series of impression credits are provided with each package, which can be used by an affiliate to advertise a website to the rest of the Brokers Ads affiliate-base.
The Brokers Ads Compensation Plan
The Brokers Ads compensation plan revolves around affiliates joining the company and then investing in package positions.
Each package investment position is made up of a combination of the following "panels":
Brown – $5
Yellow – $10
Purple – $30
Blue – $90
Green – $270
Red – $500
Black – $1000
Affiliates are then charged "traffic fees', which are required to "qualify panels". Traffic fees range in price from $25 to $100.
Advertised ROIs per package investment are as follows: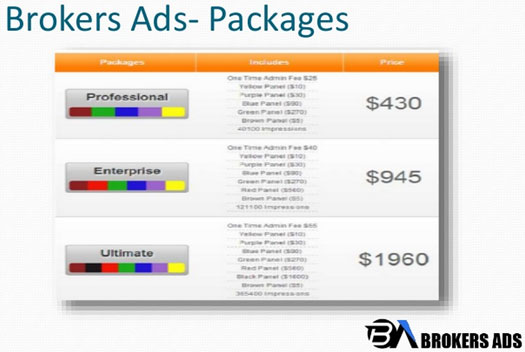 Starter ($15) – $40
Bronze ($25) – $60
Basic ($55) – $180
Business ($155) – $540
Professional ($430) – $1620
Enterprise ($945) – $3620
Ultimate ($1960) – $7620
No specific ROIs for individual panels are provided, however the Starter package contains only a yellow panel ($10 plus $5 admin fee). Paying out $40, we can deduce that the Yellow panels pay out a 400% ROI.
No timeframe is provided for Brokers Ads' ROIs, with the company only stating:
All panel times are based on traffic coming to publisher site. Broker Ads does not give specific times.
Given that traffic doesn't generate cash for Brokers Ads to pay affiliates ROIs with, a more accurate statement would be that panel ROIs are dependent on new packages and panels being invested in.
A "traffic commission" is apparently also payable on recruited affiliate's investments:
Dear Affiliates.

If you are getting problem in receive Traffic commission from referral then Please send us support ticket,

Thanks
B.A Team.
Dear (sic)

Thanks for your Trust we have now 5000 + Affiliates in a days, Hope we shall success more, Thanks for your Co operation, we highly Recommend That our affiliates should have more and more referrals. You will earn fast and More money via leaders Program.

Thanks
B.A Team
However I was unable to find any specifics about the "leaders program" on either the Brokers Ads website or in their compensation plan material.
Joining Brokers Ads
Affiliate membership to Brokers Ads is tied to an initial package purchase. This pegs Brokers Ads affiliate membership costs between $40 to $1960.
Note that additional investment in panels will add to this cost.
Conclusion
We have done 5 years Plan Initially and we shall Give You Non Stop Income Long long Long time, So you have to wait and watch our Program then Decide who is Scam. Hope you will understand.

Time will proof that Our Members who Join us we Guarantee 10,000 USD to each and every Affiliate. So Just watch how it will be done,

Thanks
B.A Team
The above is taken from the Brokers Ads "news" page and suggests the company is "guaranteeing" that every affiliate will earn $10,000 – irrespective of how much they invest or how many new affiliate-investors they recruit.
Good for a chuckle but ultimately just a reflection of the pie-in-the-sky promises schemes like Brokers Ads push.
Under the guise of generations impressions and assigning imaginary value to said impressions, Brokers Ads simply takes new affiliate money and uses it to pay off existing affiliate-investors.
This is tracked via packages and color-coded panels, which obviously have no monetary value outside of the scheme itself.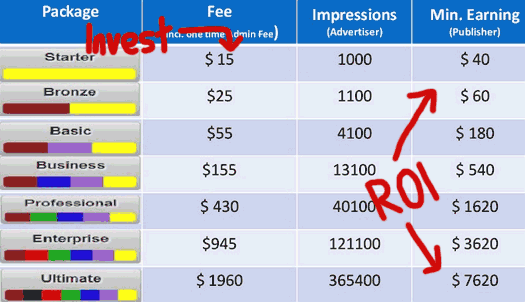 The secrecy of the leaders program is also cause for concern, as it indicates likely backroom deals taking place between the company and its top investors.
Once you get past all the "we are a legitimate advertising platform nobody has ever heard of" marketing rubbish, the actual business model Brokers Ads uses is pretty obvious.
As with all Ponzi schemes, once affiliates stop investing new money or re-investing in panels, Brokers Ads will find itself cash-strapped to pay out existing investors.
When that happens, kaboom!
At that point you could try to send an email to Marks Alfred or Charlie, but I wouldn't hold your breath waiting for a reply. You'll probably have better luck tracking down the real owners in the UK or Pakistan.