BrandOnline365 Review: JubiRev without the Ponzi

There is no information on the BrandOnline365 website indicating who owns or runs the business.
The company does have an "about" section on their website, however it only provides a short marketing spiel. No information about the company itself or its management is provided.
The company's website domain, over at "brandonline360.com" was registered on the 30th of January 2014, however the domain registration is set to private.
Further research reveals that in the BrandOnline365 compensation plan video embedded into the company website, J. Joshua Beistle introduces himself as the President of the company.
Why Beistle's name does not appear anywhere on the BrandOnline365 website is unclear.
Long-time readers of BehindMLM will immediately recognize Beistle as the (former?) CEO of JubiRev. JubiRev launched in launched in early 2013 as a Zeek Rewards Ponzi reload scheme.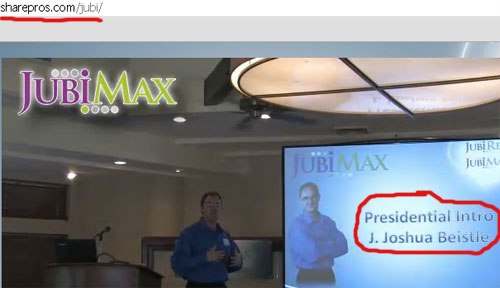 The idea behind JubiRev was to meld Zeek's Ponzi points business model together with a mishmash range of cheaply produced products under the brand "JubiMax".
The company launched in March but, as most reload scams do, failed to attract the momentum of the company it was modeled on. By June 2013 JubiMax had all but run out of funds to pay investors with, and consequently announced they were abandoning their passive revenue-sharing model.
A new compensation was launched shortly after that, however the attempt to push a retail customer focused business model onto an affiliate-base who were initially attracted to passive investment failed.
The details of how JubiRev collapsed remain sketchy, with J. Joshua Beistle going into hiding shortly after the compensation plan change. I myself don't recall ever seeing any clarification on the status of the company in the months that followed their comp plan change.
Today the JubiMax website is still live, however if one tries to visit JubiRev the account comes up suspended: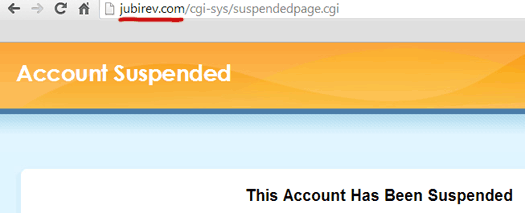 As I understand it, affiliates who invested in JubiRev were simply left in limbo.
Prior to JubiRev, Beistle launched Dream Style Vacations Club with Randal Williams in 2009. Providing access to third-party travel discounts, Dream Style Vacations was a recruitment driven scheme that paid affiliates based on how many new members they brought into the scheme.
Beistle also markets lead generation services through his company MyPhoneRoom, which he launched in 2009 (non-MLM).
Read on for a full review of the BrandOnline365 MLM business opportunity.
The BrandOnline365 Product Line
BrandOnline365 doesn't appear to have any retailable products or services.
BrandOnline365 advertise a mobile app generator on their website, which is bundled with affiliate (promoter) membership:

BrandOnline365 signature product is our simple to use "Point-n-Click" Android, Apple HTML5 mobile app builder and a proprietary mobile game designs that enable our customers to leverage the power of mobile apps and mobile games to increase their brand awareness online 365 days a year, generate leads, grow their customer base and businesses online, in a simple yet affordable way.
The app builder is included with an affiliate subscription called "The Ultimate":
The Ultimate includes our Brand365 Mobile APP Live Trainings that walk you step by step building your own Mobile APP, access to our Simple Point-n-Click APP365 APP Builder that allows you to build 1 HTML5/Android Mobile APP plus submission to Google Play Store and our branded Mobile APPS & Games.
The Ultimate retails for $30 a month plus a one-off $11.95 "admin fee".
The other affiliate subscription is called "The Pro Add-on" and costs $100 a month (presumably with the same admin fee).
The BrandOnline365 Compensation Plan
The BrandingOnline365 compensation plan rewards affiliates for recruiting new affiliates and getting them to purchase packages. Two advertising revenue funded revenue-sharing pools are also available.
Recruitment Commissions
BrandOnline365 affiliates earn a 50% recruitment commission, paid out of the fees personally recruited affiliates pay each month.
At the $30 "The Ultimate" subscription level, this works out to $15. Affiliates paying $100 a month on a "Pro Add-on" level generate a $50 recruitment commission.
These commissions continue to be paid out monthly, for as long as recruited affiliates continue to pay their monthly affiliate fee.
Package Commissions
When a BrandOnline365 affiliate purchases a package, a commission of up to $750 is generated:
Promoter ($30 affiliate fee, no package purchase) – $10
Senior Promoter ($100 affiliate fee, no package purchase) – $25
Premium ($297) – $70
Premier ($697) – $140
Platinum ($1497) – $375
Game Changer ($2997) – $750
The commissions above are paid out to the direct upline, according to their affiliate membership rank. Note that affiliates who have not purchased a pack can only earn $10.
If the immediate upline is qualified to receive the entire payable commission, they are paid out. If there is a leftover commission, the system then searches the upline for qualified affiliates until the entire commission payable has been paid.
Eg. If a Game Changer affiliate recruits a new Premier affiliate, they will be paid $140.
If a Premium affiliate recruits a Game Changer affiliate, they will be paid $70, the system will then check the upline to pay out the remaining $680. Let's say the next upline is a Premium, they are skipped (the Premium portion of the commission has already been paid out).
If the next affiliate is a Platinum they will be paid $375, and then the system will continue to search the upline for a Game Changer affiliate to pay the remaining $305 too.
Note that the system only pays out higher ranked affiliates. Lower ranked affiliates than the last paid out affiliate are skipped.
App365 Daily Bonus
BrandOnline365's App365 Daily Bonus is made up of "40% of the 3rd party advertising revenue" generated via use of BrandOnline365's apps and games.
The bonus is distributed daily to affiliates via points, which are earned via installs of BrandOnline365 apps and games.
One point is equal to one share in the daily bonus pool. With the more downloads tracked to an affiliate, the higher their share of the daily bonus.
Additional point shares can be awarded via recruitment of new affiliates and their purchasing of packages.
Points earning a share in the App365 Daily Bonus expire over time. How long a point lasts depends on a BrandOnline365 affiliate's membership rank.
Membership ranks are tied into how much an affiliate spends when they join the company: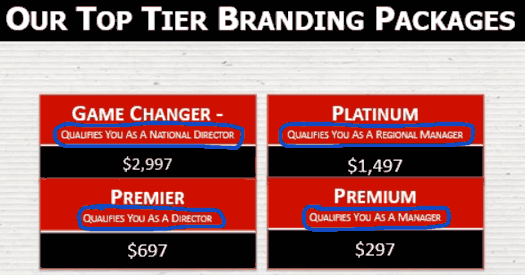 When a BrandOnline365 affiliate joins the company, they can purchase an "optional" pack which is tied to rank promotion. These packs range in price from $297 to $2997.
Matching Bonus
BrandOnline365 offer affiliates a 50% check match on the earnings of personally recruited affiliates.
Lifestyle365 Leadership Bonus
The Lifestyle365 Leadership Bonus pays out certain cash bonuses based on an affiliate achieving specific qualification criteria.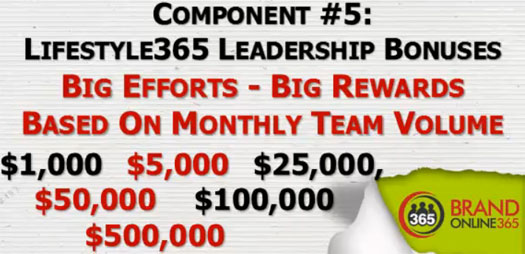 Unfortunately in the current Lifestyle365 compensation plan material this qualification criteria is not provided.
Executive Bonus Pool
The Executive Bonus Pool is made up of 20% of the advertising revenue generated by BrandOnline365's games and app usage.
The bonus is paid out to Vice-President or higher ranked affiliates via a system of points (separate to the App365 Daily Bonus Points):
Vice-President – recruit 5 affiliates who have recruited 5 affiliates who have recruited 5 affiliates (3 levels of 5 affiliates recruited on each level)
President – recruit 5 affiliates who have recruited 5 affiliates who have recruited 5 affiliates who have recruited 5 affiliates (4 levels of 5 affiliates recruited on each level)
Icon – recruit 5 affiliates who have recruited 5 affiliates who have recruited 5 affiliates who have recruited 5 affiliates who have recruited 5 affiliates (5 levels of 5 affiliates recruited on each level)
An affiliate earns points via rank promotion, with an affiliate able to have a maximum of 12 points. 1 point equals 1 share in the bonus pool.
Joining BrandOnline365
Affiliate membership to BrandOnline365 is either $30 or $100 a month, plus an $11.95 admin fee.
"Optional" packages add to the cost of affiliate membership, adding an additional $297 to $2997 to the cost.
Given that affiliate ranks and commission payouts are affected by these ranks, it is likely that an affiliate will purchase an "optional" pack along with their affiliate membership.
Conclusion
The biggest issue facing BrandOnline365 is the lack of a retail offering. Everyone who signs up for either $50 or $100 is an affiliate.
In actuality it is affiliate membership being purchased, leaving the question of retail viability. I think it's painfully obvious that nobody would pay BrandOnline365 thousands or even hundreds of dollars for their "branding packs".
With said packs tied into affiliate ranks (which are in turn tied into commission qualification), the packs exist simply to facilitate the transfer of new affiliate money to existing affiliates. In addition to this, being tied to affiliate ranks they also serve as a fee to earn higher commissions.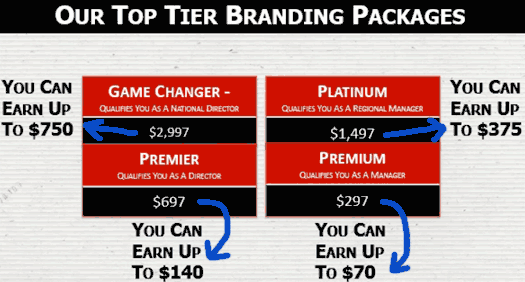 This is otherwise known as "pay to play".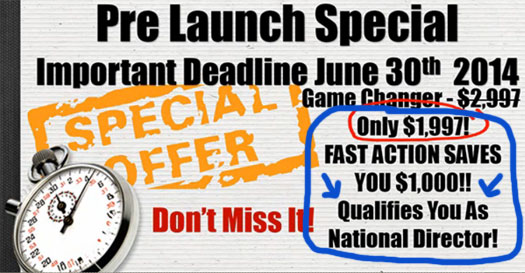 Affiliates in BrandOnline365 are primarily paid out on two determining factor, how many affiliates they have recruited (directly and indirectly) into their downline and how much money they have pumped into the company.
And BrandOnline365 themselves wholly encourage this, urging affiliates to buy in at the Game Changer level (National Director) at any given opportunity: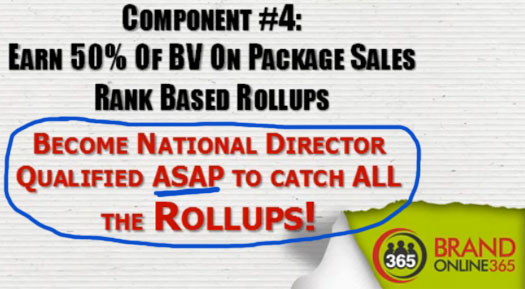 In this sense the company clearly qualifies as a pyramid scheme. Affiliates most notably are directly recruited for each and every affiliate they bring into the scheme (a 50% commission), and through the matching bonus earn on their downline (technically 25% on level 2, 12.5% on level 3, 6.25% on level 4 and so on).
This is nothing more than the shuffling of money to those who bought in first from later participants, with nothing being bought or sold to retail customers in the process.
This and the Lifestyle365 bonuses strongly resemble what JubiRev tried to morph itself into once they ditched the Ponzi points business model.
Despite have two revenue-sharing components however, the Ponzi nature of JubiRev is avoided due to the daily payout being sourced from third-party advertising revenue. Unfortunately what with shares in the pool tied to the recruitment of affiliates and their buying of packages, the pools are still intertwined with the pyramid scheme aspect of the business.
In one marketing video I noted advertising from Google Play mentioned, which is presumably the intended source of third-party advertising revenue (Google Mobile Ads). How stable this might be, given BrandOnline365's compensation plan, is uncertain.
I look at it a bit like Paypal and MLM. Sure you might get away with it for a while but sooner or later it's going to catch up with you, often without any prior notice.
Here's one example from Google's AdMob publisher "dos and don'ts" that might see BrandOnline365 run foul:
Users should not be encouraged to click on ads

Phrases such as "click the ads" or similar language are not allowed. Any compensation or other incentives to click ads are strictly prohibited.

Additionally, incentivizing users to click on links and/or non-AdMob ads is also prohibited, as it will train users to perform actions that cause invalid activity.
BrandOnline365 (one would hope) won't encourage users to click ads from within their provided apps themselves. But does paying out a revenue-share to affiliates, based on advertising generated through AdMob platform constitute "incentivization" or "compensation"?
When one considers that the vast majority of BrandOnline365 app users are likely to be affiliates (as was demonstrated with Rippln), BrandOnline365 adhering to AdMob's dos and don'ts becomes even more of a challenge.
Not withstanding the fact that the MLM app niche doesn't exactly have the brightest of track records.
In any event, whatever happens on the advertising revenue side of things, BrandOnline365 still suffers from recruitment dependency mentioned earlier – and that alone is enough to sink the opportunity on the compliance front.
It's entirely possible to just focus on the recruitment of affiliates and get paid 50% of their monthly affiliate fees. 25% of their recruited affiliate's fees, 12.5% of their recruited affiliate's fees etc, etc.
BrandOnline365 has cut the Ponzi aspect of JubiRev, but unfortunately it's retained much of the pyramid scheme nature that made up the hybrid business model. I'm thinking this is because JubiRev tanked when Beistle began forcing affiliates to sell JubiMax products to retail customers.
It's not quite a clone but there's definitely a strong sense of dejavu here.