Bolivian Pay Diamond scammers arrested in Argentina

Two Bolivian Pay Diamond scammers have been arrested in Argentina.
Following arrest warrants issued through Interpol, mother and son duo Brian Gutierrez (27) and Nilda Coque (47) were arrested in Buenos Aires.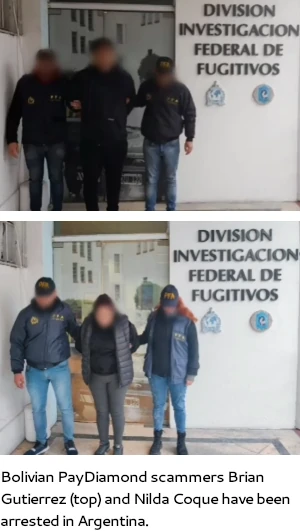 Footage of Gutierrez's and Coque's arrest was shared on Twitter by Ignacio Gonzales Prieto.
The detainees were placed at the disposal of the Argentine National Criminal and Federal Correctional Court 6 … pending their extradition to Bolivia.
As part of their investigation, authorities established that Gutierrez and his mother had established another "financial company" in Argentina.
Assets tied to their Pay Diamond scamming, including buildings, supermarkets, apartments, high-end vehicles and homes, were also identified.
Pay Diamond was a 5% a week MLM Ponzi scheme that launched in 2015. The scam originated in Brazil, leading eventually to several arrests in 2019.
While they didn't found Pay Diamond, Gutierrez and Coque set up a "branch" of Pay Diamond in Capinota, Bolivia.
It was a branch of a pyramid that started in Brazil, but was also in Peru, Portugal and Paraguay and, according to Bolivian media, it moved to Hong Kong when they began to report that they did not have authorizations to operate investments.
Gutierrez's and his mother's branch of PayDiamond scammed approximately 30,000 Bolivian migrants in Argentina out of around $60 million.
The key to attracting clients was the leaders of the Bolivian community.

They had offices in the Flores neighborhood and organized mass events where they promised financial education for members of the organization who contributed capital.
In February 2020 Bolivian authorities arrested Luis Miguel M.A. Miguel is alleged to be a "founding partner" of Pay Diamond in Bolivia.
Miguel went on to launch at least two more Ponzi schemes after Pay Diamond collapsed.
In addition to regulatory action in Bolivia, Brazil and Argentina, a Pay Diamond criminal case was opened in Paraguay in 2017. Canadian authorities also issued a Pay Diamond securities fraud warning in 2017.