Blissophere Review: CEO 2012 joined with rev share

Blissophere launched in July 2013 and appears to be based out of Bangkok in Thailand.
Management wise the company names a Jay Tanathip Sinrachtanant as CEO and Founder.
With 4 years of marketing experience and an ambitious vision of delivering premium health products while creating an income opportunity that elevates the quality of people's lives around the world, Jay founded Blissophere in May 2013.

Jay is also a certified distributor and strategic partner in a health company known as CEO Corporation 2012.

Together with CEO 2012, he aims to reach new heights of the network marketing module by building not only "business" but also "people".
CEO 2012 is further credite as the 'product manufacturer and strategic partner for Blissophere', with the same products used in both opportunities.
Launched in December 2012, CEO 2012 is primarily targeted at a Thai speaking market, offering affiliates a binary based compensation plan that revolves around the sale of the company's personal care, coffee and weight loss products.
Additionally in the Blissophere FAQ states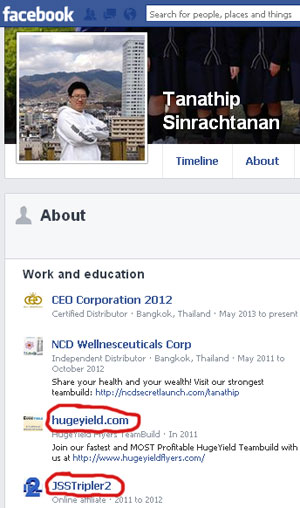 Although Blissophere is not yet a registered company, Blissophere is a registered legal e-commerce identity. We are a certified distributor and strategic partner for a registered CEO Corporation 2012.
CEO 2012's CEO, Manij Warapak is featured on the Blissophere website but other than CEO 2012 being named a "strategic partner" of the company, the extent of Warapak's personal involvement in Blissophere (if any) is not clarified.
MLM history wise, as above, Sinrachtanant credits himself with four years of marketing experience. On his Facebook page (where he omits the "t" from his surname for some reason), Sinrachtanant claims participation in something called NCD Wellnesceuticals (no longer exists), the Ponzi scheme JSS Tripler2 (Frederick Mann) and short-lived pyramid scheme Huge Yield (2012).
I don't know about four years but these three companies, including CEO 2012 as of May 2013 appear to be the extent of Sinrachtanant's involvement in the MLM industry.
Read on for a full review of the Blissophere MLM business opportunity.
The Blissophere Product Line
As noted in the introduction to this review, Blissophere use an identical product line as CEO 2012, that being a range of personal care products under the CEO 2012 brand.
These include –
Katsuyo Superior White Foam – $59.99
Katsuyo Superior White Sunscreen Cream – $59.99
Artemis ("health care solution" for women) – $79.99
Vita Colla Bright (kiwi extract drink) – $119.99
Grape Seed D-Talk (detox solution) – $69.99
S-Line Shape (weight loss solution) – $79.99
CEO Coffee Premium – $29.99
The Blissophere Compensation Plan
Blissophere offer what they refer to as "three revenue streams" within their compensation plan.
Revenue Stream A – Distributor
Become our certified reseller and distributor

We are encouraging affiliates to enthusiastically share our products with people they know outside of Thailand, as well as encourage them to participate in our Certified Reseller and Distributor Program.

Upon signing the contract, you will be eligible to receive a massive discount on products near wholesale price, and can earn a huge income stream by retailing our products in your country.
If I didn't know any better, I'd suggest Revenue Stream A was infact just signing up under Sinrachtanant as a CEO 2012 wholesale customer. This would grant access to CEO 2012's products at wholesale prices, with those who sign up then free to resell the products to customers.
Revenue Stream B – Revenue Sharing
Dubbed the "health points system", Blissophere offer three packages for affiliates to invest in, with the more money invested resulting in a higher ROI paid out.
Little Seedlings Package – $50 cost, 135% ROI
Little Buds Package – $350, 150% ROI
Little Blossom Package – $1000, 165% ROI
Blissophere do not provide a timeframe for an affiliates ROI to be paid out, however they do state that "up to 6.5%" can be earnt every week, calculated each Friday.
Note that payment of additional affiliate membership fees (tri-monthly) are mandatory for participation in Blissophere's revenue sharing scheme:
Bronze – $9.99
Silver – $49.99
Gold – $99.99
Platinum – $199.99
Emerald – $259.99
Diamond – $399.99
Blissophere state these additional membership fees are required in order to
create another stream of revenue as well backs-up funds used in cases of emergency.
Referral Commissions
Subject to an affiliate's membership rank as above, Blissophere pay out referral commissions on all revenue-sharing points generated by recruited affiliates, paid out up to five levels of recruitment.
Level 1 (personal recruits) – 7% (Silver, Gold, Platinum, Emerald and Diamond affiliates)
Level 2 – 5% (Gold, Platinum, Emerald and Diamond affiliates)
Level 3 – 3% (Platinum, Emerald and Diamond affiliates)
Level 4 – 1% (Emerald and Diamond affiliates)
Level 5 – 1% (Diamond affiliates)
Note that this is not a cash commission, but rather points that are used in the revenue-sharing scheme.
Leadership Bonus
The leadership bonus is paid out as cash on investments made by recruited affiliates, paid out down two levels of recruitment:
Level 1 – 10%
Level 2 – 5%
The Leadership Bonus is open to all affiliate membership levels.
Joining Blissophere
Affiliate membership to Blissophere is available at six levels:
Bronze – $9.99
Silver – $49.99
Gold – $99.99
Platinum – $199.99
Emerald – $259.99
Diamond – $359.99
Note that affiliate fees in Blissophere are not monthly but rather are payable tri-monthly (every three months).
Conclusion
As is the case with pretty much every MLM opportunity that adopts the Ponzi points business model, all of the red flags present in Blissophere originate in the revenue-sharing side of the business.
Revenue Stream A appears to be nothing more than signing up under Jay Tanathip Sinrachtanant as a CEO 2012 wholesale customer. As a stand-alone opportunity there's still the issue of no true retail available (affiliates can only buy the products themselves from the company), however that's to be expected when you're simply reselling another company's product line.
Any red flags there are of course dwarfed by the blatant affiliate-funded Ponzi scheme inherent in Revenue Stream B.
Affiliates invest in one of three packages and over time (as new investments are made) receive a >100% ROI, paid out of new affiliate investments.
This is evidenced in Blissophere's refund policy, which states:
All payments are non-refundable, including product purchases.
Naturally Blissophere can't refund you if they've used your money to pay off existing investors as soon as you hand it over.
Oh and they're not to keen on disgruntled affiliate investors taking their own action against the company either, warning them that
all chargebacks or reversed transactions made on your payments will lead to an immediate account suspension.
Given Jay Sinrachtanant's past involvement in both a pyramid scheme (Huge Yield) and Ponzi (JSS Tripler2), it's pretty obvious he knows exactly what he's doing here, despite all the "we are not an investment scheme" mumbo jumbo disclaimers on the Blissophere website.
This is further evidenced by an email Sinrachtanant himself sent out to affiliates shortly after launch:
Hello Blissophers!

This is the first newsletter for my first campaign and thank you for all your support during the launch period. Today, I'm glad to announce that Blissophere has officially launched.

Starting next week, you'll be earning your weekly income of up to 6.5% weekly. But before all, I would like to give you an update on the revised compensation plan and how it offers you all better benefits.

1. Package revision:

We've increased the R.O.I for each packages for more profitability:

1. Little Seedlings Package – 135%

2. Little Buds Package – 150%

3. Little Blossom Package – 165%

With the increased ROI, you should now enjoy more benefits Blissophere can offer you all.

Thank you,

Tanathip Sinrachtanant
Maybe if you stick a few periods between the letters "ROI" the acronym stands for something else entirely.
"But Oz, with all that's gone down over the past year in the MLM industry, wouldn't you have to be bananas to launch yet another Ponzi points scheme?"
Great question! For those who are willing to ignore the fact that Blissophere is nothing more than a Ponzi scheme with some third-party company products tacked onto it, Sinrachtanant has you covered.
Whack on a disclaimer and fahghettaboudit:
F) Legality

1. Blissosphere is a private business transaction exempt from the U.S. Securities Act of 1933 and all amendments, The Securities Exchange Act of 1934 and Regulations, as well as The Investment Company Act of 1940 and the Rules & Regulations thereof.

2. We are not registered with any recognized body as financial advisors or dealers in securities per The Investment Advisers Act of 1940.

3. You acknowledge and agree under penalty of perjury that you have not relied on any of these Acts or ANY OTHER related regulations from any other jurisdictions.

4. You acknowledge that you are acting as an individual and not on behalf of any other entity or any authority. We are not a licensed bank or security and we do not offer securities.

5. Visitors to this site must understand that most of what they receive here will be of a private nature and is not available to the general public, and is therefore exempt from the Securities Act of 1933 and all amendments.
What's that? The SEC are beating down our doors?! Don't panic!!! Everybody just hold your index finger up to your mouths and blow quietly.
All together now, "Sssssssh!". What we do here is private and if we just explain that to the SEC they're bound to leave us alone.
Nevermind the fact that having a publicly available website with which you offer your investment scheme to the general public kinda kills the whole "private nature" claim.
Right you are Mr. Sinrachtanant, right you are.
As with all Ponzi schemes, once affiliates stop investing in the packages Blissophere offer the revenue available to pay out existing affiliate investors will dry up. Membership fees charged will cover the ROIs for some time, but as more and more investors climb on board sooner or later the liabilities are going to exceed the money coming in.
And when that happens, kaboom!