Blessing Gold Club Review: $45-$110 cash gifting

Blessing Gold Club claim to have launched in June 2013. A PO Box contact address in the US state of Pennsylvania is also provided, however this is little more than a forwarding address for mail.
Blessing Gold Club provide a list of trustees and "admins" on their website, however no formal corporate executive structure is defined. Admin names are supplied with Facebook profiles and Gmail email addresses, indicating that this is an informal group of top affiliates rather than executive management.
The Blessing Gold Club website domain was registered on the 17th of June 2013 and lists a Joseph Whitnell as the owner. An address in the US state of Michigan is also provided.
Joseph Whitnell's name does not appear on the admin or trustee pages of the Blessing Gold Club website, so his exact role and/or relationship with the company is not clear. His name on the domain registration however does suggest that he owns the company.
On Whitnell's Facebook page, he lists the website "EzDailyProfits" in his contact information.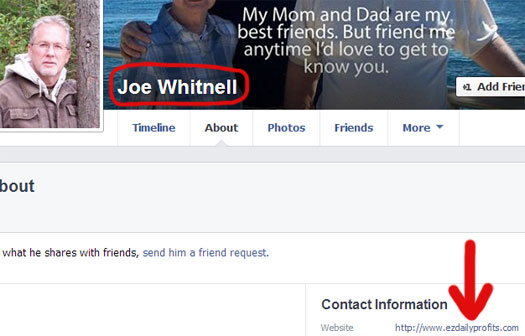 A visit to the supplied website reveals an affiliate link for MyAdvertisingPays, an advertising credit based Ponzi scheme. Whitnell would appear to be a MyAdvertisingPays affiliate.
Read on for a full review of the Blessing Gold Club MLM business opportunity.
The Blessing Gold Club Product Line
Blessing Gold Club has no retailable products or services. Affiliates of the company are only able to market affiliate membership to the company itself, which comes with a position in the compensation plan.
Silver Blessing Gold Club affiliate memberships positions are $45. Gold membership positions are $110.
The Blessing Gold Club Compensation Plan
The Blessing Gold Club compensation plan revolves around affiliates sending in membership fees in exchange for positions in the compensation plan. For each position purchased, Blessing Gold Club promise members a >100% ROI.
These ROIs appear to be paid out via a matrix system, which differs slightly depending on whether or not an affiliate purchases a gold or silver position.
Silver Membership
Silver membership is $45 a position with Blessing Gold Club promising an eventual "$160 in cash".
Affiliates buy into the scheme for $45 and are placed at the top of a 2×1 matrix. A 2×1 matrix places an affiliate on top of two positions, both of which must be filled in order for a commission to be generated.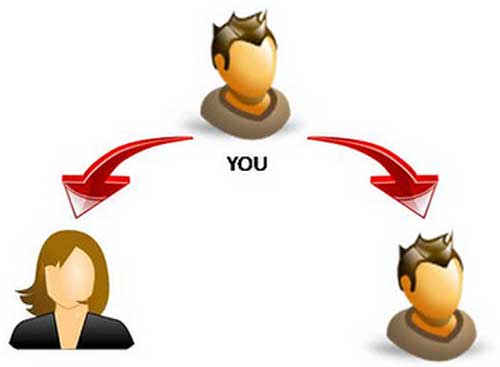 Positions are filled by Blessing Gold Club affiliates purchasing new Silver membership positions.
When both positions are full, the position at the top of the matrix cycles out into another 2×1 matrix. From here the process repeats itself and then once again, with the affiliate receiving a $160 payment on their third cycle.
On the third cycle, the affiliate is also given one Gold membership position.
Gold Membership
Gold Membership payments operate in a similar fashion to the Silver level, with the exception that 1×3 matrix systems are used instead of 1×2. This adds an extra position that needs to be filled at all three matrix levels.
Otherwise, the mechanics of the commissions structure are the same. The first and second matrix cycles each pay out $100, the third $400, the fourth $600, the fifth $1700, the sixth $2600, the seventh $8000 and the final eighth cycle $24,600.
At this point the affiliate must purchase additional Silver and/or Gold membership positions if they wish to continue to earn commissions.
Joining Blessing Gold Club
Affiliate membership to Blessing Gold Club is either $45 for a Silver membership position or $110 for a Gold membership position.
Conclusion
Is Blessing Gold Club legal?

Blessing Gold Club is a Private Membership Association; we are registered in the United States of America, by the state of P.A and 100% legal.
Despite the above reassurance of legality found on the Blessing Gold Club website, the scheme can pretty much be boiled down into a simple cash gifting system.
Joseph Whitnell, who is obviously the owner, charges participants $5 at the Silver and $10 at the Gold level in exchange for a gifting position. Then, once enough participants have bought in after a position has been purchased, the owner of that position receives a 100% affiliate-funded gift payment.
Nothing is bought and sold and all monies are sent directly to Whitnell and Blessing Gold Club.
No doubt aware of the actual legality of cash gifting schemes in the US, Blessing Gold Club try to address the above with psuedo-compliance name-changes:
Is Blessing Gold Club a business opportunity?

Blessing Gold club is a Private Membership Association. We are in no way shape or form considered neither a business nor a get rich quick scheme. We are about helping others in their time of need.
Riiiiiiiiiight.
In using an MLM matrix compensation system and using affiliate money from new participants to pay old participants, Blessing Gold Club not only fits the definition of a cash gifting scheme, but is also quite obviously a "business" and "get rich quick scheme".
As with all cash gifting scheme, once new participants stop buying positions, this will stall the system and collapse it. Existing members can purchase additional positions but this is only a temporary fix, as they will simply be withdrawing from eachother's existing funds.
No new position funds? Kaboom.
Footnote: Anyone interested in some additional reading should check out the 13 page long Blessing Gold Club RealScam forum thread.