Bitles securities fraud cease and desist from Texas

Bitles has received an emergency securities fraud cease and desist from Texas in the US.
The Texas State Securities references Bitles Limited, Janis Lacis, C3 Data Services and Edward Carter.
The TSSB identifies Bitles as a UK incorporation. Said incorporation records cite Janis Lacis as Bitles' Director, Chief Developer and CEO.
As per BehindMLM's published Bitles review, the UK incorporation is likely bogus (think Control Finance).
As per the TSSB's cease and desist, Bitles is engaged in securities fraud.
Bitles are recruiting sales agents for the purpose of selling the fraudulent cryptocurrency trading investments and these sales agents are promised opulent prizes and a generous monthly income.

However, Bitles are not disclosing the source of funds used to pay for the prizes and they are not disclosing their business plans and strategies for paying investors lucrative monthly profits of at least 30%.

Respondents are also concealing highly material information, such as the identity of their financial professionals and managers, developers, and technology experts.
C3 Data Services is part of Zeta Wize LLC, which appears to be owned by Texas resident Edward Carter.
The TSSB alleges Carter, through C3 Data Services' website, was promoting Bitles to Texas residents through Craigslist.
The C3 Data Services Website promotes various investment opportunities, including "AI investment Bots" from Bitles.

It contains hyperlinks to the Bitles Website.
C3 Data Services' website is still online at the the of publication, however references to Bitles appear to have been scrubbed.
Prior to getting into cryptocurrency fraud, Edward Carter was promoting nutritional supplements through Zeta Wize Nutrition.
Zeta Wize Nutrition appears to have been rebranded as Kalyx at some point.
Neither Bitles, Janis Lacis, C3 Data Services or Edward Carter are registered to offer securities in Texas.
Respondents are engaging in fraud in connection with the offer for sale of securities.
Texas has ordered Bitles, Lacis, C3 Data Servies and Carter have been ordered to "immediately cease and desist"
selling securities
offering securities
acting as a securities dealer and
engaging in fraud
As stated earlier, BehindMLM reviewed Bitles in April 2020. Based on its business model we concluded Bitles was a Ponzi points scheme.
As with all MLM related UK incorporation data, we believe Bitles UK incorporation is bogus.
Since publication of our review, Bitles has hired this actor to play Janis Lacis: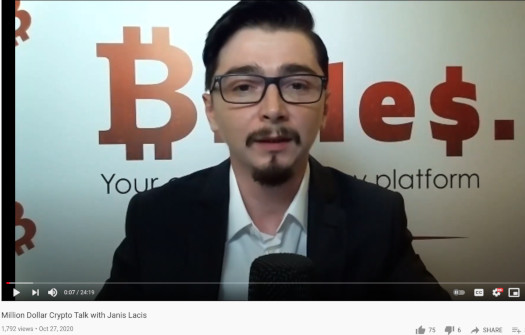 The actor playing Lacis has a distinctive eastern European accent.
Bitles' Twitter account is purportedly managed from Estonia. Putting all of this together, Bitles is likely the work of Estonian, Ukranian and/or Russian scammers.
At the time BehindMLM reviewed Bitles, the scam was soliciting investment from Japan, India and Vietnam.
Bitles appears to have collapsed in those markets. According to Alexa web traffic analysis, today Bitles' top sources of new investment are the US (46%), Malaysia (20%) and Jersey (20%).
According to reader comments on our Bitles review, the scam stop paying out around January 2021.