Craig Grant hauled before Middle District Attorney's Office of Florida?

A November 16th post on Craig Grant's Steemit account suggests he's been hauled before the Middle District Attorney's Office of Florida.
Details of why Grant was at the office at this stage are sketchy.
All we have to go on is a Steemit post by Grant, uploaded a few hours ago.
The November 16th dates post contains a series of photos that suggests Grant attended the AG's Office recently (either Thursday or Friday would be my guess).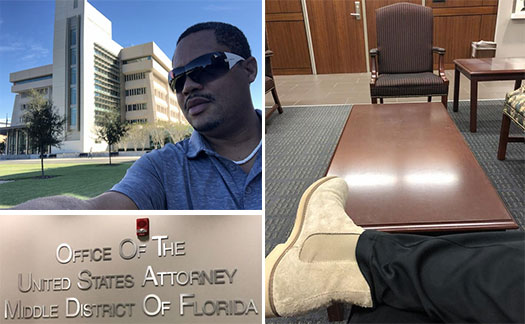 Grant is believed to be a top net-winner in the BitConnect Ponzi scheme.
Both the FBI and SEC have been confirmed to be investigating BitConnect, but this is the first we've seen from authorities in Florida.
The Middle District Attorney's Office of Florida website states the
district we serve includes 35 of the state's 67 counties.

More than 11.5 million Floridians reside in our district, making the Middle District of Florida the second most populous district in the nation.

We investigate and prosecute violations of federal criminal law and represent the United States' interest in civil litigation
Outside of his Steemit post, Grant has offered no public comment as to his dealings with the Florida Attorney's Office.