Bitcoin Zones Review: 150% ROIs via bitcoin

Bitcoin Zones launched in February 2013 and claims to be
supported by Bitcoin core developers and managed by bitcoin community members around the world, with the input of bitcoin communities.
Other than mentioning Bitcoin Zones was 'founded to help people make and save Bitcoin in a sustainable way' on their "about us" website page, the company fails to disclose who owns or runs the opportunity.
The Bitcoin Zones website domain was registered on the 7th of February 2014, however the domain registration is set to private.
As always, if a MLM company is not openly upfront about who is running or owns it, think long and hard about joining and/or handing over any money.
The Bitcoin Zones Product Line
Bitcoin Zones has no retailable products or services. The company's Terms and Conditions states that
Bitcoinzones.com is not available to the general public and is opened only to the qualified members of Bitcoinzones.com.
The company offers affiliates investment in one of three plans, each of which come bundled with advertising credits. These credits can be used by affiliates to display advertising on the Bitcoin Zones website.
The Bitcoin Zones Compensation Plan
The Bitcoin Zones compensation plan revolves around affiliates directly investing into one of three offered plans and/or purchasing matrix positions.
Bitcoin Investment ROIs
Bitcoint Zones accepts investments from affiliates under three plans, with each paying out a 90 day ROI.
Bonus Plan ($10) – 1.7% ROI over 90 days (153% total)
Mining Plan ($11 to $500) – 1.5% ROI over 100 days (150% total)
Trading Plan ($501 or more) – 1.7% ROI over 90 days (153% total)
Note that the Bitcoin Zones website states these deposit amounts are in Bitcoin (BTC), however $1 BTC is currently equal to $607 USD, so I believe the deposit amounts are actually USD ($6000 USD as an entry investment amount makes little sense).
Referral commissions are paid out on investments made in the Mining and Trading plan, with Bitcoin Zones affiliates who have invested themselves receiving 5% and free members 1%.
Matrix Commissions
When a Bitcoin Zones affiliate upgrades to paid membership status for $10 USD, they receive a position in a 2×2 matrix.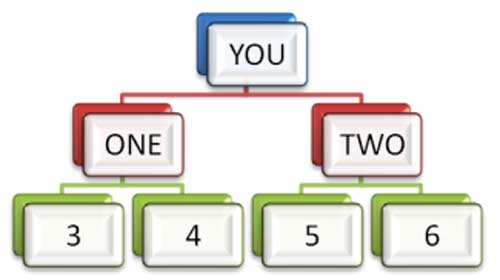 A 2×2 matrix places an affiliate at the top of six positions which, once filled permit the affiliate position at the top to "cycle" out. Upon cycling out an affiliate is re-entered into another 2×2 matrix and paid 50 cents.
Referral commissions are available when personally recruited affiliates cycle out of matrices, paying out $1 each time.
VIP Matrix
In addition to the 2×2 matrix above, all paid Bitcoin Zones affiliates are also put into a company-wide 2×10 matrix. A 2×10 matrix looks the same as a 2×2 matrix, except that it extends down ten levels rather than just two.
Affiliates are paid $0.2 BTC per filled position in their 2×10 matrix.
Revenue-Sharing
Bitcoin Zones claim to put '50% of our revenue into monthly profit sharing pool', which is then shared with paid affiliates. The only pre-requisite for receiving a share in the company's revenue-sharing pool appears to be paying the $10 monthly affiliate membership fee.
Joining Bitcoin Zones
Affiliate membership to Bitcoin Zones is $10 a month. Free members can earn referral commissions on recruited affiliate's investments, however they themselves must make an investment if they wish to be paid.
Conclusion
Bitcoing Zones combines the familiar "advertising credits" Ponzi scheme model with Bitcoin. That's pretty much the gist of it.
Affiliate money goes in and is then paid out according to the rules of the investment plans or money game matrices the company has set up – typically being paid out to those who invested/deposited earlier.
As is typical with these schemes, the admin does their best to hide the fact that these are simply enough Ponzi schemes. Taken from the Bitcoin Zones FAQ:
Is this sytem (sic) called a kind of HYIP?

Absolutely No. We work and we make profit 24/7 without these plans. We just have an idea of helping others to make bitcoin in a sustainable way.
Of course Bitcoin Zones don't disclose where this other "profit" comes from, but I'll let you in on a little not-so-secret secret – it doesn't exist.
Investment terminology such as "compounding" and "mature" appear frequently throughout the site. Additionally the Bitcoin Zones Terms and Conditions states:
You agree to hold all principals and members harmless of any liability. You are investing at your own risk and you agree that a past performance is not an explicit guarantee for the same future performance.
And if you're still not convinced, well… this pretty much sums it up: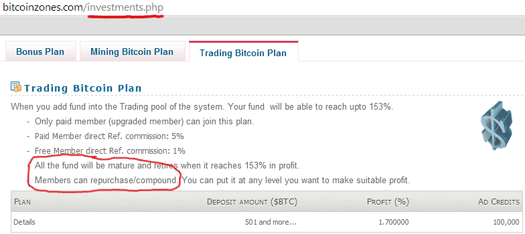 As with all Ponzi schemes, once new affiliate investment slows down the company runs out of funds to pay existing investors with.
What happens then?
We reserve the right to change the rules, commissions and rates of the program at any time and at our sole discretion without notice.
Whether bitcoin is used or not doesn't matter, once that new investor money runs out… kaboom!