Joby Weeks denied "alone time" with wife Stephanie

Earlier this month BitClub Network defendant Joby Weeks requested some "time alone" with his wife Stephanie.
He didn't get what he wanted.
Weeks' request was filed via attorney letter on December 9th.
We respectfully move to modify (Weeks') bail conditions to allow Mr. Weeks to travel within the state of Colorado over the holidays, to spend time alone with his wife Stephanie in the family condo.

Stephanie Weeks is a third party custodian and Mr. Weeks will be in her presence at all times.
To secure permission, Weeks offered to provide Pretrial services with "detailed travel itineraries", only travel by car and "continue to wear his GPS device at all times".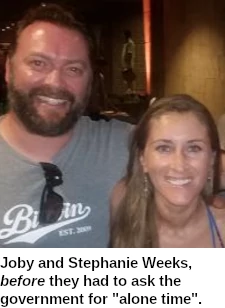 The DOJ objected to the request, arguing that Weeks was subject to "house incarceration".
On December 17th Magistrate Judge Hammer agreed, writing 'the bail conditions ordered by the Court specify that Mr. Weeks is to remain on home incarceration at a designated family residence.'
Given Weeks' history of anti-government rhetoric, one imagines he found the decision humiliating.
The same government Weeks rallied against for years just denied him "alone time" with his wife. Ouch.
Joby Weeks pled guilty to conspiring to offer and sell unregistered securities and tax evasion in November 2020.
Following two delays, Weeks is now scheduled to be sentenced in September 2022.