Berry trading Ponzi collapses, IPO exit-scam & recovery fees
The Berry Ponzi scheme has collapsed.
Withdrawals have been disabled, and investors are being fed multiple exit-scams.
Berry went by a few names; Blueberry, Berry Trading App, Fertile Soil Global (FS Global), Berry FS Global, Berry Exchange and, more recently, Berry Max.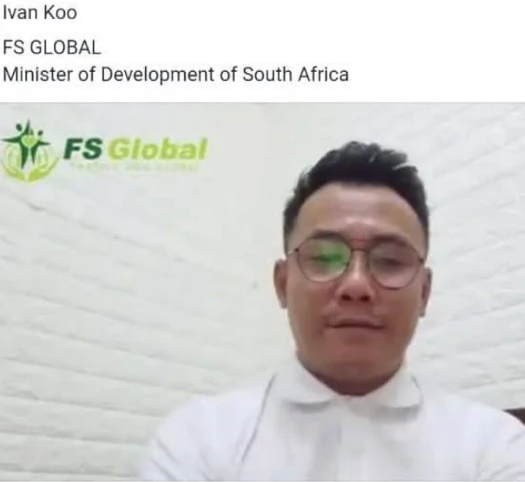 Known website domains associated with Berry include:
berry.im – privately registered in or around June 2022
berry.band –  privately registered on June 11th, 2022
berry.tips – privately registered on June 11th, 2022
From what I've been able to put together, Berry affiliates invested cryptocurrency on the promise of passive returns.
Berry had affiliates log in and click buttons, which corresponded with crypto trading.
In reality this was all an elaborate farce. Logging in to click buttons at specific times within Berry wasn't attached to actual trading.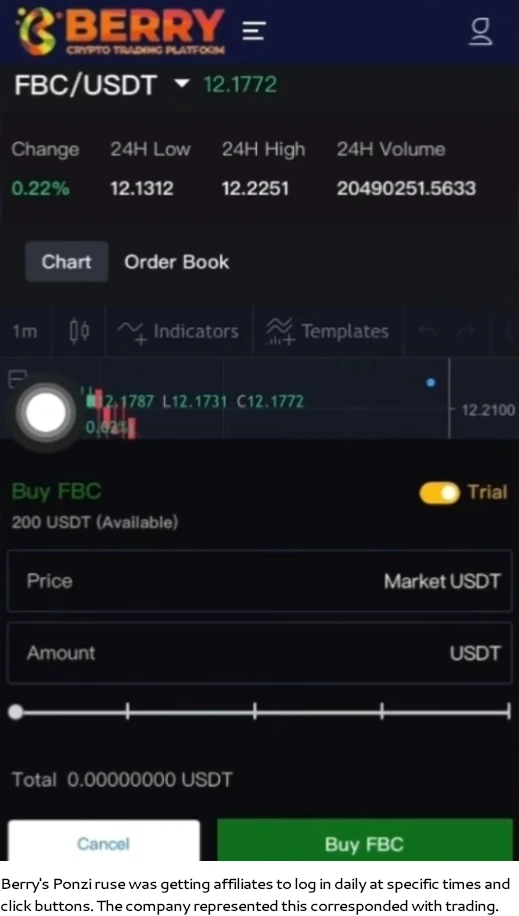 Berry had a commission structure tied to "VIP" tiers. This is similar to "click a button" Chinese Ponzi schemes.
Berry affiliates could also qualify for periodic bonuses, tied to either personal recruitment or how much they convinced others to invest.
Berry collapsed on or around May 2nd by disabling withdrawals.
In the lead up to Berry's collapse, the Ponzi scheme launched FDPT tokens and an investment promo.
April 18th – 4D printing technology will open a special purchase session on April 24, 2023, and the project combining artificial intelligence and 4D printing will be launched soon!

April 19th – In order to give back to new and old users and become the mainstream of the world, the Exchange grandly launched the [5+5 Promotion Plan] a referral promotion program that means "Win-Win Activity" !

Activity Bonus Pool: 20,000,000 US dollars (closed when the amount have been given out)

Invite your new friends – work together to create profits and lighten hope!
On May 3rd, 24 hours after withdrawals were disabled, Berry trotted out an "acquisition" exit-scam:
The latest update for BERRY is full of positive news, indicating a bright future ahead!

We are thrilled to announce that the BERRY exchange has received an acquisition invitation from a globally renowned institution (world renowned institution).

This is a testament to the hard work and dedication of our team, as well as the trust and support of our users.

As the current new coins had attracted attention and popularity , the current valuation of the platform has increase 3.3 times of the original value.

The preliminary review of the acquisition will be conducted regarding the assets management , equity , assets circulations within the Berry Exchange.
Later that same day a 100% cashback on new investment ("recharging") was also announced:
To show our gratitude for your support and attention, we are launching a 100% cash back ( rebate activity ) on your recharge within a specific time.
This was followed up with a BRY token launch on May 5th;
BERRY Token (BRY) is the platform token of BERRY Exchange, serving as the backbone of the entire BERRY ecosystem.

It will be used to support various functions within the platform, such as transaction fee, risk reserve fund, token-to-token exchanges, and as a means of participating in platform activities such as voting for new token listings and participating in pre-sales.

In order to meet the IPO listing requirements of the Nasdaq Global Market, the world's second-largest securities trading market, BERRY Exchange must meet strict financial, capital, and joint management indicators.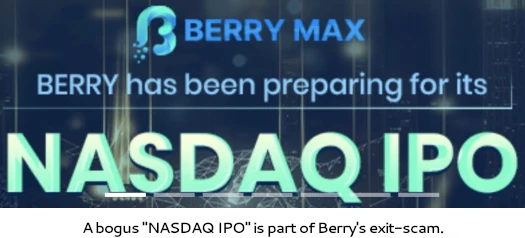 To ensure the smooth progress of the merger, we have decided not to disclose the identity of the partner company at this stage. However, we will restore the withdrawal channel after the valuation is completed.
This is of course all baloney. It is very similar to QZ Asset Management's recent exit-scam, minus the SEC filing filled with bogus information.
On May 12th, Berry informed users it was rebooting as Berry Max;
We are happy to announce Berry Exchange has reached a preliminary agreement with international institutions for Mergers and acquisitions , and now the exchange is officially fully upgraded !

Our official platform name has been re-branded to 'Berry Max,' which reflects our renewed commitment to providing top-notch trading services.
This was nothing more than an in-house recovery scam. Berry demanded 50 USDT from its investors, under the guise of "ensuring accurate user volume data".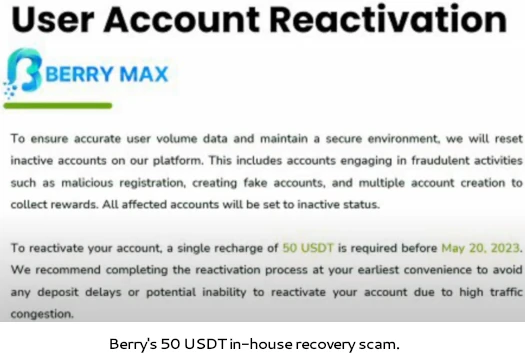 Berry affiliates who failed to pay up were threatened with account termination.
A new "loyalty program" was also announced, with the aim of screwing gullible investors out of  an additional 500 USDT.
Berry's loyalty program is scheduled to end on May 20th. That'll probably be extended (the cashback reload scam was extended), after which Berry's website will be taken down.
Basically it comes down to diminishing returns. Berry's admins will continue to pump out new scams as long as enough gullible investors hand over more money – mostly because they think doing so will unlock withdrawal of money that doesn't exist in their backoffices.
When that dries up, 404 website not found.
From what I'm seeing on social media it's gradually being accepted that Berry was a Ponzi scheme. Certainly the recovery scams and IPO baloney have contributed to investors realizing they've been had.
As tracked by SimilarWeb, traffic to Berry's primary .IM website climbed throughout early 2023. April 2023 peaked at 3.8 million visits, enough of a pot for Berry to pull the plug.
The majority of Berry website traffic originates from Africa; South Africa (36%), Botswana (16%), the UK (12%), Rwanda (11%) and US (8%).
The language used by Berry certainly has an Asian engrish feel to it. I feel like this might be an evolution of the basic "click a button" Ponzi schemes run by Chinese scammers, but I haven't seen variations of Berry emerge.
Bit of a novel idea, getting affiliates to log in and click buttons at certains times to get them to think they're trading – but ultimately still theatrics to hide a Ponzi scheme.
Other than the aforementioned scam updates and Berry's website eventually disappearing, not anticipating any substantial updates on this one.
Update 24th May 2023 – Berry appears to have dropped its IPO nonsense and wrapped up the recovery fees exit-scam.
As of May 23rd, gullible investors Berry remaining are now being subject to a forced conversion to BRY token.
On May 23, 2023, all the unlocked assets held in BERRY MAX will be automatically converted to BRY.
BRY is worthless outside of Berry Trading, effectively making investors bagholders of a dead Ponzi token.
I don't have a timeline but once the BRY dump exit-scam is complete, there's no reason for Berry to keep the exit-scam ruse up. Expecting they'll disappear over the next few weeks.
Update 31st May 2023 – After forced conversion to BRY token, Berry has now locked everyone's tokens for 90 days.
The institution involved in the M&A requires all users to lock their BRY tokens for 90 days to ensure the stability of BRY's value.

If we achieve a 50% increase in our platform's performance for two consecutive months, we will unlock all the BRY tokens ahead of schedule.
The recovery scam hinges on gullible investors handing over more money. Usually this is done on an individual basis, Berry are doing it company-wide.