Benjamin Herzog's ex-girlfriend testifies in EXW Wallet trial

Benjamin Herzog's 23 year old ex-girlfriend has testified in the EXW Wallet criminal trial against him.
Herzog was indicted and arrested on EXW Wallet related fraud charges in August. His criminal trial in Austria began in September.
As reported by Der Standard on November 15th, Herzog's ex-girlfriend claims EXW Wallet came about in 2019, following
meetings on a Klagenfurt roof terrace where her ex and his cronies made plans for "one last thing" to get rich together.
When asked if EXW Wallet was designed to be fraudulent from the start, Herzog's ex-girlfriend answered, "Yes."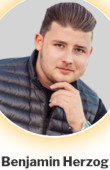 Herzog (right) would later rebut his ex-girlfriend's testimony, claiming EXW Wallet's
idea and the implementation were not planned as a fraud … but at some point he realized that "it can't work that way and it will end in fraud."
EXW Wallet was an MLM crypto Ponzi scheme that pitched daily returns of up to 0.32%.
Following securities EXW Wallet fraud warnings from Germany and Austria, Herzog categorically lied to investors to keep the Ponzi scheme going.
It's also unclear how one can launch a mathematically unsustainable Ponzi scheme and then retrospectively claim it wasn't "planned as fraud".
Testifying on what life was like with Herzog during EXW Wallet's run, his ex-girlfriend
talked about a luxury life with parties, champagne, luxury watches and cars, flights, hotels, restaurants, but also desks worth 15,000 euros each for the Klagenfurt office or EXW events to attract new customers.

She then lived with the main defendant in a villa in Thailand. Monthly rent: 15,000 euros.

She also testified how the main defendant enriched himself from the money invested by customers: "He always had access to the accounts and wallets, and when he needed money, he simply transferred it to his own wallet."

To do this, he would have used a kind of "Bitcoin mixer" .
Yeah, definitely not planned fraud though.
Following European EXW Wallet regulatory fraud warnings, Herzog and his ex-girlfriend fled to Dubai.
Her partner at the time became more and more nervous, he was afraid of the financial market regulator and the police.

He persuaded her, then seven months pregnant, to move with him to Dubai, where they lived again in a large luxury villa.

Despite the move, the situation remained tense because payments stalled: "The customers were breathing down his neck."

There were bad reviews on the Internet and initial negative media reports. "At some point he said there wasn't much of the money left and he was getting out now."

The relationship finally broke down on a vacation together in Bali.
Austrian authorities claim Herzog and his accomplices stole at least 17.6 million euros through EXW Wallet. Herzog's ex-girlfriend has pegged investor losses at closer to 80 to 120 million euros.
Herzog's questioning is scheduled to continue in early December.