Baccarat Staking collapses, Baccarat Academy reboot?

Baccarat Staking has collapsed. At time of publication the company's website returns a "connection refused" error.
Owner Michael Sander doesn't appear to have addressed the collapse on social media. Instead, he's pushing Baccarat Academy.

Baccarat Academy's website domain registration was last updated on February 19th, 2022. The website has been up for a few years and hasn't changed.
In light of Baccarat Staking's collapse, Sander is looking to revamp the opportunity as a money-spinner.
Whether this reboot will feature an MLM opportunity is unclear.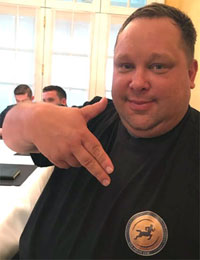 Baccarat Staking saw Sander (right), as "Michi Sander", solicit $500 or more in investment on the promise of "daily winnings".
Sander (right) kept up to 80% of returns, purportedly generated via gambling.
Sanders ran Baccarat Staking from Las Vegas. At no point was Baccarat Staking or Sanders registered with the SEC.
The number of Baccarat Staking victims and how much they've lost is unknown.