Awakend launches recruitment promo, no retail customers

Awakend went into prelaunch around two months ago.
Earliert his month co-founder Danelle Meoli boasted about Awakend making "record breaking sales".

The problem with that claim is Awakend has yet to ship a single product – to recruited affiliates or retail customers.
And despite having no retail customers, Awakend has now doubled down with a recruitment promo.
The FTC classifies any MLM company without significant retail sales as a pyramid scheme.
There is some leeway with MLM prelaunches on this but, as stated, Awakend is about to cross over into more than two months of prelaunch.
And during that time, the only thing distributors are able to do is recruit new distributors. And despite no products being shipped, earn commissions on that recruitment.
To drive home a point: Awakend is literally operating as a productless pyramid scheme.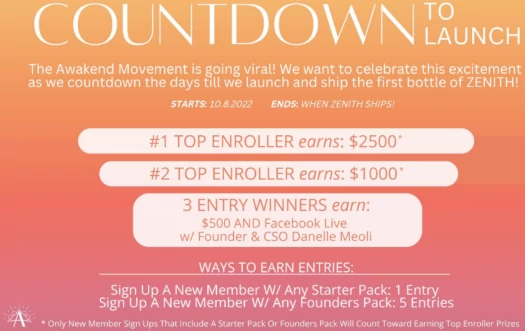 As per the promo slide above, Awakend will reward
its top recruiter with $2500
its second top recruiter with $1000 and
three additional "winners" with $500
Note that Awakend's promo begins on October 8th but doesn't have an end date. Awakend's flyer simply states it ends "when Zenith ships!"
Zenith is Awakend's flagship weight loss supplement. Zenith is currently at the center of ongoing patent dispute litigation, which is expected to be resolved next March.
Zenith currently does not have a shipping release date.
Winning Zenith's recruitment promo requires recruitment of Starter Pack and Founders Pack affiliates.
recruiting a Starter Pack affiliate ($260 to $500) = 1 share
recruiting a Founders Pack affiliate ($1295 to $3495) = 5 shares
Outside of a prelaunch tied 100% to recruitment and supposedly fleecing consumers out of millions, Awakend's post-launch business model is no better.
BehindMLM recently reviewed Awakend and noted a mandatory 100 PV monthly order.
Active – This means you maintain at least 100 PV within a 5-week rolling period.

This 100PV must be a personal order (does not include Customer CV).

Having a 100 PV Subscribe and Save order is the best way to maintain active status.
This sets Awakend up to operate as an autoship recruitment scheme post-launch, whenever that is.
Going balls to wall on recruitment for months on end with a prelaunch, and having an autoship recruitment focus post-launch, isn't the foundation of a legitimate MLM opportunity.
It's a pyramid scheme business model that directly violates the FTC Act.
Furthermore it sets up the majority of Awakend affiliates who sign up, hoping to make money on recruitment, for a financial loss.
Between Elomir pulling this stunt a few months back with their Axis Klarity bungled launch, I'm hoping this "we have no product to ship" prelaunch isn't a new MLM trend.
If so, the FTC might need to reevaluate how long it goes about doing nothing about pyramid schemes before launching an investigation.
Update 20th January 2023 – The March 28th patent trial has been rescheduled to November 14th, 2023.