Asirvia and Royaltie partnership terminated, both sides claim initiation?

The notion of one MLM company building its business around the products of another MLM company was always a strange one. Yet such was the relationship between Royaltie and Asirvia.
Or at least was up until now. Citing numerous contractual obligation failures, on September 14th Asirvia terminated their business relationship with Royaltie.
In a nutshell, Royaltie sourced Bluetooth marketing devices from a third-party manufacturer.
Asirvia sourced the same devices through Royaltie, with both companies operating competing MLM opportunities.
In a "termination notice" sent to Justin Belobaba, founder and CEO of Royaltie, Asirvia alleges Royaltie failed to honor product fulfillment and product warranty, customer support and billing.
Asirvia allege these issues resulted in delivery delays, lost shipments and unfulfilled ordered.
On multiple occasions Royaltie failed to send replacement goods to customers in receipt of defective products.

Asirvia also made repeated requests for Royaltie to fulfill its obligation of customers support.

Not only did these requests and corresponding responsibilities go unnoticed, but resulted in the continuous degradation of customer support.
The financial arrangement between the two companies is also brought into question, with Asirvia alleging Royaltie's billing was "replete with accounting discrepancies".
Audits conducted at the behest of Asirvia 'suggest payment … would be largely in excess of what Royaltie claims it's owed'.
Citing this discrepancy, Asirvia advise Royaltie they refuse to make future payments, but at the same time demand Royaltie 'provide continued message broadcasting' till October 14th, 2017 (presumably the date Asirvia believe they are paid up to).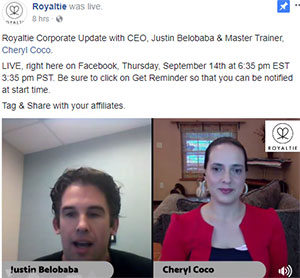 In response to Asirvia's termination notice, Royaltie held an emergency corporate update on Facebook.
Referring to the termination as an "important issue", Justin Belobaba stated
For the last couple of months we've had some issues with one of our partners.

Specifically payment issues and today, about an hour and a half ago, we had to take the regrettable step of shutting down the Asirvia account due to non-payment.

In this case there wasn't really any other option but we do with the Asirvia team all the best in their next venture.
Royaltie's decision to pull the plug on Asirvia's beacon functionality is interesting, because Asirvia's termination notice threatens "recovery of damages" if broadcasting is shut off prior to October 14th.
Also interesting is Belobaba's claim that Asirvia only sent their termination notice after Royaltie cut them off.
They actually sent that letter after we shut them down. Probably just to save face with their affiliates.
Without beacon functionality, Asirvia is dead in the water. A fact the company knows and appears to be remedying behind the scenes.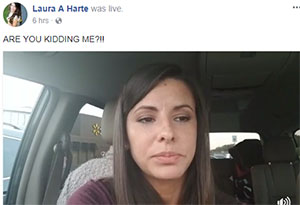 Laura Hart identifies herself as a "Master Representative" of Asirvia and held a Facebook like event of her own a few hours ago.
In it Hart claims Royaltie did "some things that were pretty shady".
Part of that is changing the programming on us so some of the beacons didn't work, and they didn't tell us that they did that.

So it kind of made us feel like, you know what? We might need to be looking for something else.

And so we decided to go ahead and make a manufacturer and produce our very own (beacons).

So we had been working on something like that and thinking that we were going to have to be moving into this direction.

Well, so we did. Because we had other issues going on and they (Royaltie) owed us quite a bit of money.

They (Royaltie) owed us over a hundred thousand dollars in credits because of so many things that have gone wrong.

So many things that were not told to be true.

We have our beacons that are going to be released this week and they're gunna be sent out.
Directly addressing the Royaltie Facebook like broadcast that took place a few hours earlier, Harte states
We did that (sent the termination notice) and expected to hear from them.

But what we heard instead was a live that was just done a little bit ago.

And what this live said was that Justin, the founder or owner or whatever he is with that company Royaltie, decided to make a slandering remark and say something about our company.

I'm gunna make sure that this Justin guy knows, that everybody else is gunna know that they're lying.
Harte also claims of widespread raiding attempts by Royaltie affiliates claiming Asirvia has shut down.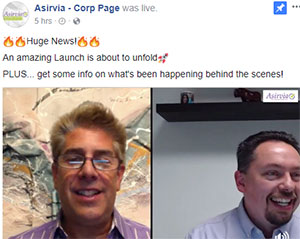 Asirvia management took to Facebook to broadcast their own "huge news" update" two hours after Harte went live.
Co-founder Kevin Marino essentially repeats what Asirvia stated in their termination notice.
The audit he began pushing for in July was completed earlier this week on Monday or Tuesday.
Marino claims Asirvia overpaid Royaltie by over $46,000.
Marino disputes Asirvia owed Royaltie any money due to credit owed for failure to provide services and support.
They (Royaltie) refused to give us the credits we were owed. They held us up and said "No, we want money. We want money or we're turning you off."

We knew they were going to turn us off today.

Because we don't owe the money, so even though they were trying to bully us into paying the money, we stood our ground and we said "no".
He also disputes Asirvia's termination notice was sent in response to Royaltie cutting Asiriva off.
We kinda saw what was coming. We realized at times that when you're dealing with a bully, there's a definite time when you need to stand your ground.

And you need to put something in place. We didn't just start putting things in place today.

We've been planning for a while because when you're dealing with folks who bully you at every turn, you have to realize at some point in time you're gunna have to take a stand.

So we began working on an insurance policy a while ago. And when everything came to a head last week, we accelerated that insurance policy.
Also on the broadcast is Asirvia co-founder Don LaPlume, who corrects Harte's information regarding Asirvia's in-house beacons.
LaPlume states the release of Asirvia's own beacons is still "many months away".
In the meantime Asirvia appears to have sourced beacons from an unnamed third-party.
I suppose technically even if Asirvia did see them being cut off coming, their termination notice was still sent in reaction to Royaltie's actions.
Whether it was sent prior to Royaltie cutting them off or after, who knows.
What we do know is the relationship between Royaltie and Asirivia appears to have been toxic for some time.
What that means for Asirvia and Royaltie affiliates while this continues to play out, remains to be seen.