AntUSDT Ponzi scheme collapses, withdrawals disabled

The AntUSDT Ponzi scheme has collapsed.
Withdrawals have been disabled and AntUSDT has deleted its social media accounts.
Reports of AntUSDT disabling withdrawals reached BehindMLM on October 25th.
As covered in BehindMLM's AntUSDT review, the Ponzi scheme initial intended to exit-scam via an internal shitcoin.
At some point withdrawals were to be switched to ANTC, an internal shitcoin with no value.
Cue AntUSDT scammers doing a runner, leaving affiliates bagholding a worthless Ponzi token.
Instead of that AntUSDT pulled the plug on withdrawals. Then they immediately launched a reload scam, aiming to fleece victims out of even more money.
AntUSDT's reload scam saw them demand affiliates invest the same amount in their disabled wallet, but in a newly set up TRON wallet.
This was done on the promise of a bonus 1% daily ROI on new investment.
Once new funds had been invested, AntUSDT promised access to funds held in the original disabled wallet.
Analysis of the TRON wallet AntUSDT affiliates were directed to invest funds into, shows 30,107 TRX deposited between October 21st and 22nd.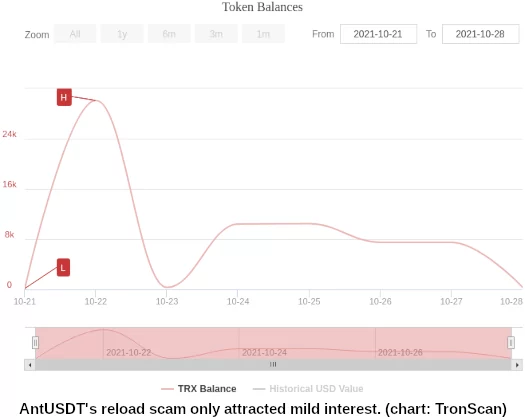 That balance was promptly cleaned out. On October 23rd 10,406 TRX was deposited, most of which was cleaned out on October 27th.
These balances represent only a few thousand dollars, suggesting AntUSDT's reload scam wasn't as profitable as they'd hoped.
That likely prompted the Ponzi scheme to pull the plug altogether.
As of 24 hours ago, AntUSDT disabled withdrawals from the newly set up wallet.
AntUSDT ran their Ponzi scheme through an app, which allows them to disable and enable withdrawals at whim.
AntUSDT is believed to be the work of Ukrainian/Russian Boris CEO scammers. AntUSDT website source-code suggests they may have been working with scammers in south-east Asia.
Alexa traffic analysis for AntUSDT's website only notes Pakistan as a significant source of traffic.
At the time of BehindMLM's September AntUSDT review, recruitment was taking place in Russia, Ukraine and Sri Lanka.