ACN quietly acquires Team National

ACN has quietly acquired Team National.
The announcement was made on ACN's FaceBook page on January 8th: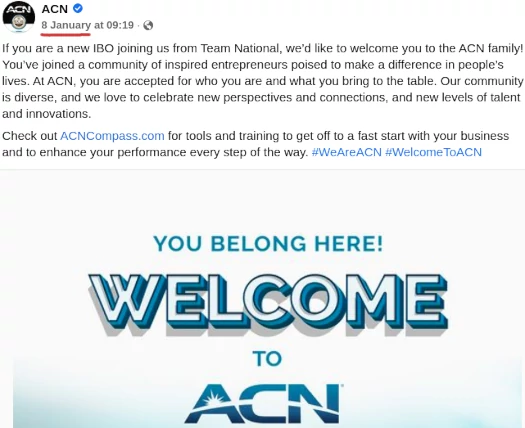 What's immediately unclear is what this means for Team National distributors going forward.
I first learned of ACN's acquisition of Team National from a reader earlier today.
In an attempt to confirm, my first port of call was Team National's website. Nothing there, so I moved onto their social media pages.
Team National's YouTube channel hasn't been updated since March 2019. Team National's Facebook page is regularly updated, however there's no official announcement.
Rather the first mention of ACN was a "Super Saturday" event on January 14th:

When following Team National's January FaceBook posts, this comes out of the blue.
Similarly there's nothing about Team National on ACN's website. The only acknowledgement of the acquisition is the previously referenced ACN FaceBook post.
One interesting discussion about the merger I found comes from Justin Weeks and John Melton.
Weeks is a former Team National distributor. He left the company in August 2020.
Melton is a former ACN distributor. Both Weeks and Melton are now Modere distributors.
Weeks' and Meltons' discussion took place in a video titled, "The TRUTH about ACN absorbing Team National".
The video was uploaded to Weeks' YouTube channel on January 7th, 2022.
Keeping in mind there's a bit of marketing going on, here's some relevant commentary between the two;
Justin Weeks (speaking on Team National): Long story short, one of the things (Melton) asked me that really hit home was, "Justin, I understand you've had success … but how many people on your team are winning?

And you know it was embarrassing to say. I could count on one hand how many people, out of thousands of team members, y'know were having success.

There wasn't a lot of duplication happening. It was like pulling teeth to get someone started in (Team National).

We were doing the old school home presentations. We started doing some Zoom meeting but it was a lot of travelling, three-way calls, just a lot of stuff that no one wants to do. And it just isn't easy to do.

John Melton: Let me guess Justin, most of those calls and meetings revolved around the opportunity to make money?

Justin Weeks: Yes, that's exactly what it was.

John Melton: There wasn't a whole lot of emphasis on customers and it was all about making money, recruiting, recruiters to recruit recruiters. And it was all about y'know, the hype and the possibility to get rich.

Meanwhile most of the people are spending more than they're making. And they're frustrated.

They're trying to stay positive, but at the end of the day it was hard to make money (Team National's) compensation plan.

Which is funny, because your company (Team National) just partnered up with my old company (ACN) – which was the same way!

It was all three-way calls, home parties, home meetings, hotel meetings. And it was all about making money.

At the end of the day if you were just getting customers, there really wasn't much compensation.
Not to go off on a tangent, but I found Melton's comments somewhat ironic given how he markets himself on his personal website: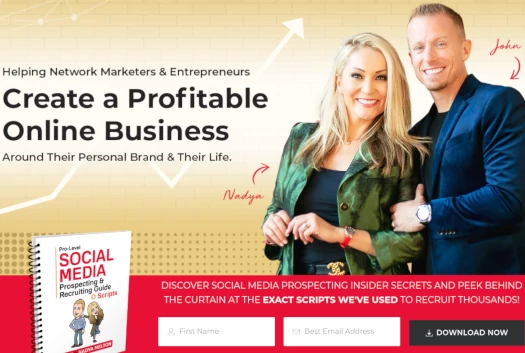 Justin Weeks: Right, exactly. And that's what it was all about.

Y'know recently … as of yesterday or the night before last, I heard that the company that John, actually I was with my company about the same time John was with his company, he walked away for similar reasons, and then his old company just absorbed my old company.

And y'know I'm hearing all these stories from all these people. And I just feel like there's a lot of people out there John, that are confused, potentially being misled.

There's a lot of people that I care about right now, that's [sic] being told one thing; that, y'know basically their company is gone.

Their company is gone. It was absorbed. But they're saying, "Oh, now it's… this is the "2.0" version of your company", which … that's not the case.

Their company's gone, as of in a few weeks.

They're being told all these things and being hyped up about this new opportunity that was always in existence, before their company was absorbed.

But now it's this new big thing, and they're being told all these things … because obviously they want to keep their genealogy structure. They want to keep their business going.
John Melton goes on give a spiel about ACN. He states that the company is "struggling with recruiting".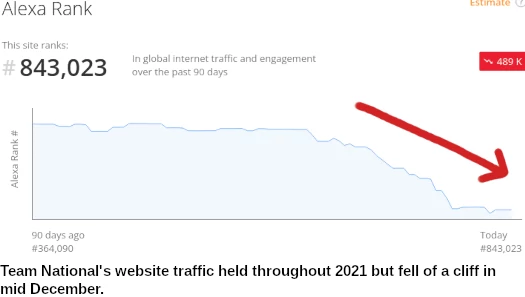 BehindMLM reviewed Team National in April 2013. While we found a confusing compensation plan, there wasn't anything overtly suggesting recruitment was a focus over retail.
Our ACN review revealed a similarly confusing opportunity, mostly due to its sprawling size.
Team National marketed discount memberships. I suppose those will just be integrated into ACN's product range.
At time of publication Team National's website and social media pages are still online. Justin Weeks' comments suggest this won't be the case for long.
CEO Angela Chrysler made an appearance on Team National's FaceBook page on January 11th.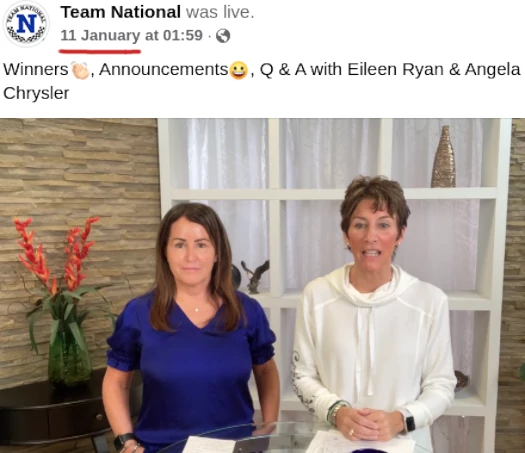 In the livestream, Chrysler shows off her "ACN gear". She goes on to explain what's happening going forward;
One week ago Team National announced that we've entered into a business relationship with ACN.

So TN and ACN are coming together … what does that mean?

That means we're gonna continue to serve our customers for the month of January, but then in February you'll have access to ACN perks if you are a member.
Chrysler does state she'll be around to "support" Team National distributors, but doesn't clarify whether she'll have an executive role within ACN.
Team National was founded by Richard (Dick) Loehr in 1997 and eventually launched as a standalone MLM company in 1999.
ACN's acquisition effectively brings an end to the twenty-two year old company.
Team National is the second MLM company acquisition by ACN in six months. It follows Kynect Energy last August.
Update 24th January 2022 – Justin Weeks has deleted his "The TRUTH about ACN absorbing Team National" video.
I did have a link to the video in the article but as such I've disabled it.