15winks Prelaunch Review: Securities concerns

Announced in early January, 15winks went into prelaunch using the campaign name "BeaFirstMover".
The 15winks opportunity revolves around the sale of a mobile dating app subscription, although the app and subscriptions have not yet been released.
That said, 15winks prelaunch marketing material states that the value of a 24 month subscription to 15winks' "Premium Service" is $384 ($32 a month).
From what I've been able to gather, users of the site upload 15 second video clips, which are then shared with other subscribers of the service (via GPS tracked dating profiles).
That side of the business looks perfectly fine, it's an app service that can be sold to retail subscribers.
Complete details of the 15wins MLM compensation plan (as far as I can see) are yet to be released. The 15wins Terms and Conditions claims a service launch date "on or before March 31st", so I imagine more details about the 15winks compensation plan will be released before then.
In the meantime, 15winks are currently soliciting capital investment from what they're referring to as "Firstmovers".
And that's where the problems begin…
Heavily pushing the comparisons to crowd-sourcing platforms IndieGogo and Kickstarter, 15winks are all too eager to sell the concept of "getting in on the ground floor".
This is repeatedly emphasised in all the 15winks promotional material I reviewed in my research, and is evident in the capping of Firstmover positions made available to the general public.
One key difference exists between regulatory compliant crowd-sourcing platforms and what 15winks are attempting to do. And it's something the company actually is all too keen to use as a marketing point.
In a 15winks promotional video, Nick Clark openly explains the difference between 15winks and well-known crowd-sourcing platforms.
Here's your chance to contribute to something new and truly the next big thing.

You may have heard of companies like KickStarter and IndieGogo that allow people to contribute money to new and sometimes even awesome ideas… but they offer no potential financial reward.
That last line attempts to portray the lack of financial reward for crowd-sourcing a business idea as a downside. Like it's something that nobody has ever thought of before.
Credited as 15winks President, in the same video Jeff Wilson goes on to explain the company's Firstmover campaign in more detail: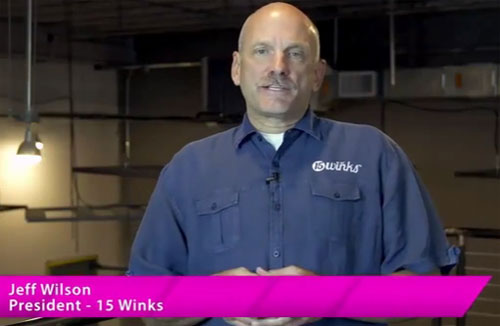 For a limited time and in very limited numbers, you're invited to become a 15winks Firstmover.

All over the world you'll find people contributing to crowd funding projects on the internet for no other reason that to see that project become a reality, or to get their hands on an early-release version, a mention in the credits or maybe a tshirt.

Now compare that to the 15winks Firstmover launch partner program that allows you to participate in a revenue-share of all future subscriptions.
Again, people who fund "projects" on the merits of the project they are funding (typically a product) are portrayed as morons.
The reality however is that there's an explicit reason crowd-sourcing platforms do not financially reward those who contribute – unregistered securities.
Typically covered on BehindMLM in regards to Ponzi schemes, with 15winks it's a little different. Here we're talking an open venture capital raising campaign for an MLM company – promising a direct financial reward based on how much money a Firstmover launch "partner"… well, invests.
Before we get into why the SEC take a dim view of this type of capital investment campaign, here are the specifics of 15winks Firstmover investment options:
Bronze Level Firstmover ($250, 5000 positions available) – 1 share in a "Bronze Reward Pool", funded with 25 cents of every 15winks monthly app subscription
Silver Level Firstmover ($500, 4000 positions available) – 1 share in a "Silver Reward Pool", funded with 50 cents of every 15winks monthly app subscription
Emerald Level Firstmover ($1000, 2000 positions available) – 1 share in an "Emerald Reward Pool", funded with 50 cents from every 15winks monthly app subscription
Gold Level Firstmover ($2500, 800 positions available) – 1 share in a "Gold Reward Pool", funded with 50 cents of every 15winks monthly app subscription
Platinum Level Firstmover ($5000, 400 positions available) – 1 share in a "Platinum Reward Pool", funded with 50 cents from every 15winks monthly app subscription
Now typically there's an issue with such startups in whether or not the revenue being paid out (or projected to be paid out in this case), is sourced from affiliates (participants) or retail customers. Here I don't see that as an issue as the money being raised is going towards startup costs, not the revenue sharing pools themselves.
Much hinges on retail customers paying ~$30 a month to use the 15winks app, but that's a separate issue.
The issue here is 15winks offering shares in revenue pools to people who do nothing more than deposit money with them.
And we're not talking chump change either. If 15winks "filled" all their Firstmover positions, that's a total of $9,250,000.
Specifically, the regulatory issues apparent here are the raising of capital via unregistered securities.
Firstly there is absolutely no indication on the 15winks website that the company has registered their Firstmover offering with the SEC.
Additionally I punched both "15winks" and "15 winks" into the SEC's Edgar database of registered companies and turned up nothing.
Why is this a problem?
From the SEC:
A small business can raise capital in a number of different ways, including borrowing money from banks, other financial institutions or friends/family and by selling securities.

If a small business is offering and selling securities, even if to just one person, the offer and sale of the securities must either be registered with the SEC or conducted in accordance with one of the many registration exemptions under the Securities Act.
Selling unregistered securities in the US is a felony.
And just to reiterate the reason why crowd-sourcing explicitly avoids offering financial returns on funds invested, from the SEC page linked above:
Crowdfunding

The JOBS Act requires the SEC to develop new rules permitting capital raising by "crowdfunding."

Crowdfunding is a means to raise money by attracting relatively small individual contributions from a large number of people. In recent years, crowdfunding websites have proliferated to raise funds for charities, artistic endeavors and businesses.

These sites did not offer securities, such as an ownership interest or share of profits in a business; rather, money was contributed in the form of donations, or in return for the product being made.

The JOBS Act creates an exemption from the registration requirements of the Securities Act that provides for a form of securities crowdfunding.

The SEC must first write rules that govern how companies can use JOBS Act crowdfunding to raise money from investors and set out the responsibilities of intermediaries.

Companies cannot use JOBS Act crowdfunding to raise funds from investors until the SEC adopts these rules.
Yet here we have 15winks asking the public to pump $250 – $5000 into the company, on nothing more than the expectation of a >100% ROI through the advertised revenue-sharing pools.
They don't have to do anything further, just hand over the money.
And things get even more murkier when you consider 15winks are paying referral commissions on Firstmover investment deposits.
Now we're well and truly getting into hybrid pyramid scheme and unregistered security Ponzi scheme territory.
In addition to shares in revenue-sharing pools that promise an eventual >100% ROI, 15winks' Terms and Conditions states:
Two-tiered Affiliate Launch Partner Commission

There are no required product purchases to participate in the 15winks Firstmover two-tiered affiliate launch partner commissions.

Persons must register and refer others who participate in the 15winks launch partner campaign at one fo the five levels provided: Platinum, Gold, Emerald, Silver or Bronze.

15winks will pay a two-tiered affiliate launch partner commission for the referral of persons who participate one (sic) of the five levels as a launch partner.

The first tier will pay a referring affiliate thirty percent (30%) for all personally referred launch partners regardless of which level (Platinum, Gold, Silver or Bronze) they choose to participate.

15winks will pay a referring affiliate an additional second-tier ten percent (10%) commission for the personally referred launch partners of personally referred affiliates of the first referring affiliate regardless of which level (Platinum, Gold, Emerald, Silver or Bronze) the launch partner chooses to participate.
In a nutshell, 15winks pay launch partners a 30% level 1 and 15% level 2 referral commission on funds deposited by launch partners they recruit.
I buy my way in for $250 to $5000, and I get paid 30% on any funds deposited by people I recruit, and 15% on any funds deposited by people I've recruited recruit.
On its own, 15winks' two-tier system has a mountain of regulatory compliance issues of its own. Add to that it's tacked onto a crowd-sourcing capital raising scheme that's offering shares in revenue-sharing pools for hard cash and well, are they serious?
You don't appear to be registered with the SEC, you're looking to raise nearly 10 million dollars in venture capital from the public on nothing more than the promise of shares in future revenue-sharing pools (an implied >100% ROI over time), and you're paying people to bring new capital investors on board – down two levels of recruitment.
Longtime readers of BehindMLM will recall Funky Shark were fined $40,000 by Montana's CSI in late 2012 for 'illegally selling investment opportunities'.
Funky Shark had announced a prelaunch campaign which offered founding member positions to the general public for $1000. The company also paid out a $500 referral commission each time an existing founding member recruited a new one.
Funky Shark didn't reveal it at the time, but the regulatory action against them by Montana was the reason they abruptly shut down, offered refunds to investors and were never heard from again.
Other than upping the amount able to be deposited to $5000 and offering two levels of referral commissions, how is what 15winks are doing any different?
If 15winks somehow don't attract regulatory attention (doubtful considering there's potentially $10 million at play here), I'll revisit the opportunity with a formal review when they officially launch in March.
Till then, the mind truly boggles.