Yu Klik Review: App-based crypto arbitrage Ponzi scheme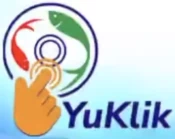 Yu Klik provides no company ownership or corporate information on its website.
Yu Klik's website domain ("yuklik.id"), was privately registered on March 21st, 2022.
After its website domain was registered, Yu Klik appears to have launched on or around April 5th.
At time of publication, Yu Klik's website domain is nothing more than an affiliate login form: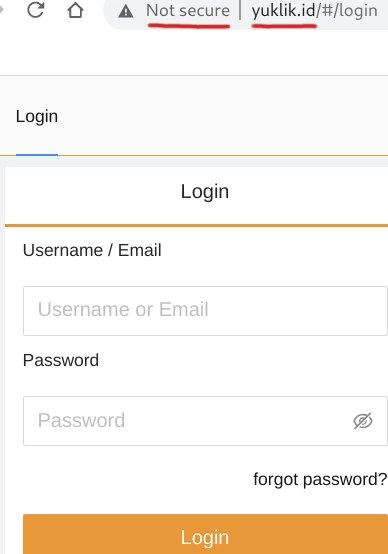 When I put together my preliminary research notes for Yu Klik, I'd also flagged the domain "yunetwork.id" as relevant.
That domain appears to have been abandoned, but not before it was rebranded as "Arbitgo":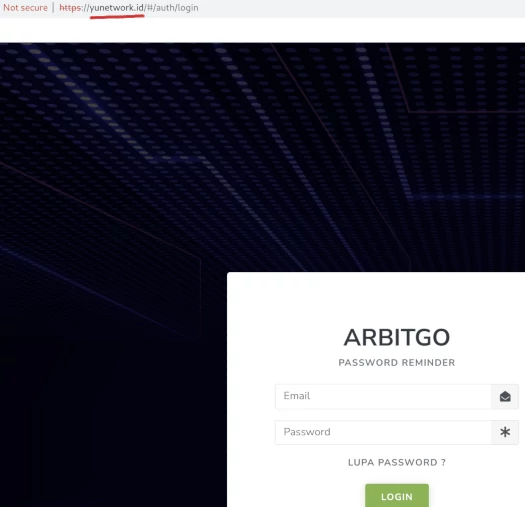 I'm not sure what the story is there.
On social media Yu Klik promoters are naming "Mr. Ardiansyah" and "Mr. Samuel" as Commissioner and CEO of the company respectively.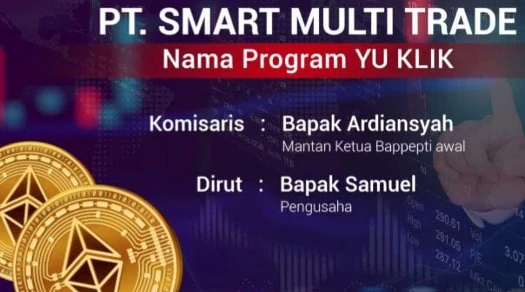 This lead me to Yu Klik's April 2022 launch event, where both Ardiansyah and Samuel put in an appearance (source 1, source 2):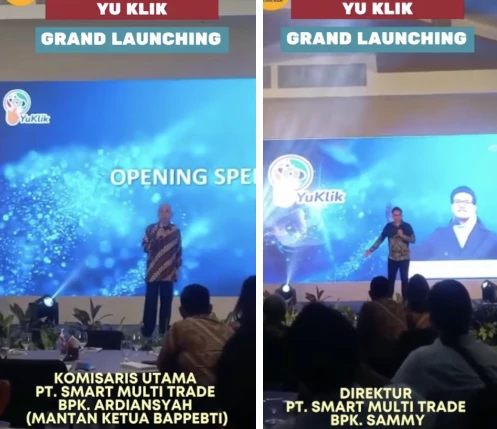 Beyond that I wasn't able to ascertain anything further on the two.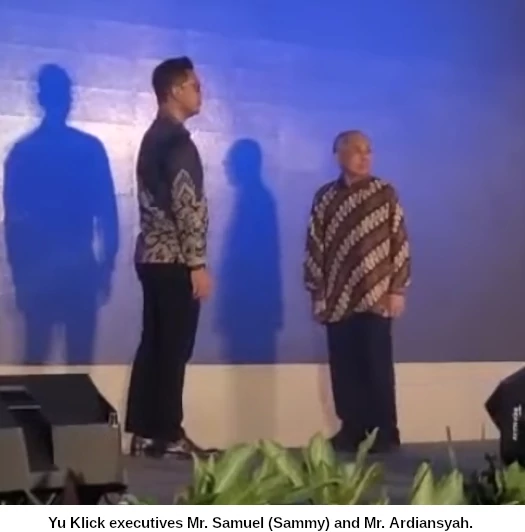 As you might have surmised from the use of Indonesian domains, Yu Klik is primarily marketed to Indonesian speakers.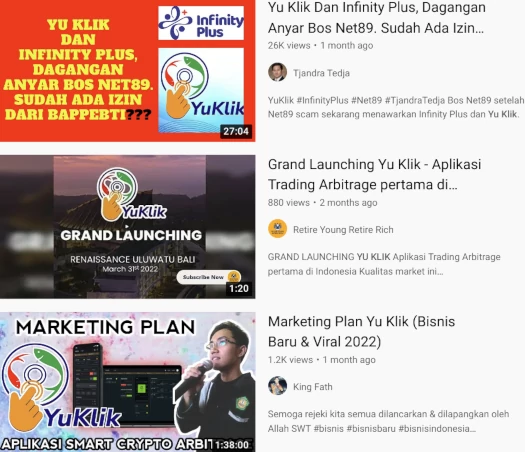 Although it's only been around for a short time, Yu Klik has already attracted the attention of Indonesian authorities.
On March 21st 2022, Yu Klik was incorporated in Indonesia as "PT Smart Multi Trade".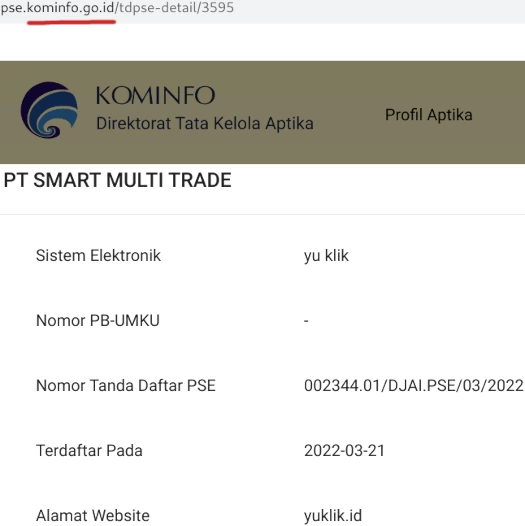 Kominfo is Indonesia's Ministry of Communication and Information Technology.
In April 2022 Indonesia's Financial Services Authority (OJK), added Yu Klik to its illegal investments list (direct link to listing).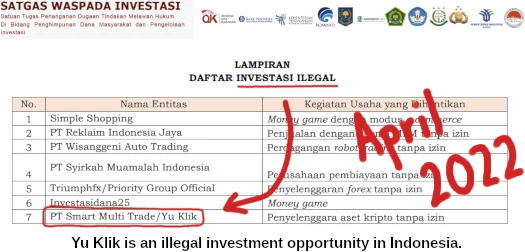 Whoever is running Yu Klik at a minimum has ties to Indonesia. Its highly likely they are based out of Indonesia itself.
As always, if an MLM company is not openly upfront about who is running or owns it, think long and hard about joining and/or handing over any money.
Yu Klik's Products
Yu Klik has no retailable products or services.
Affiliates are only able to market Yu Klik affiliate membership itself.
Yu Klik affiliate membership provides access to a cryptocurrency trading bot.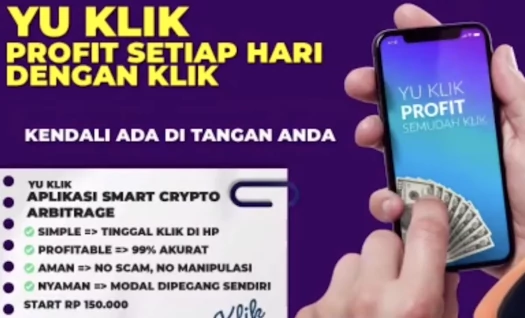 Yu Klik claims their bot
works in the spot crypto market where it is safe from price manipulation
has no daily profit limit
has 99.99% trading accuracy
runs 24/7
Yu Klik's Compensation Plan
Due to its Indonesian origins, the Yu Klik marketing material I'm working off cites the Indonesian rupiah (Rp).
Yu Klik affiliates sign up for either Regular or Premium affiliate membership:
Regular membership costs Rp 150,000 (~$10.40 USD)
Premium membership costs Rp 200,000 (~$13.90 USD)
The difference between the memberships isn't explained.
The MLM side of Yu Klik pays on
affiliate recruitment; and
trading activity by downline affiliates.
To qualify for MLM commissions, Yu Klik affiliates must have an active investment balance.
Yu Klik Affiliate Ranks
There are six affiliate ranks within Yu Klik's compensation plan.
Along with their respective qualification criteria, they are as follows:
Member – sign up as a Yu Klik affiliate
Sapphire – recruit ten affiliates, generate 1,500,000 BV
Topaz – have five Sapphires in your downline counted from at least five recruitment legs and generate 15,000,000 BV
Ruby – have eight Topazs in your downline counted from at least four recruitment legs and generate 150,000,000 BV
Emerald – have six Rubys in your downline counted from at least three recruitment legs and generate 750,000,000 BV
Diamond – have four Emeralds in your downline counted from at least two recruitment legs and generate 1,500,000,000 BV
BV is generated via recruitment:
recruiting a Regular affiliate generates 100,000 BV
recruiting a Premium affiliate generates 125,000 BV
Recruitment Commissions
Yu Klik pays recruitment commissions via a unilevel compensation structure.
A unilevel compensation structure places an affiliate at the top of a unilevel team, with every personally recruited affiliate placed directly under them (level 1):

If any level 1 affiliates recruit new affiliates, they are placed on level 2 of the original affiliate's unilevel team.
If any level 2 affiliates recruit new affiliates, they are placed on level 3 and so on and so forth down a theoretical infinite number of levels.
Yu Klik caps recruitment commissions at fifteen unilevel team levels.
How many levels recruitment commissions are earned on is determined by rank:
Members earn 15% on level 1 (personally recruited affiliates) and 5% on level 2
Sapphires earn 15% on level 1, 5% on level 2 and 4% on levels 3 and 4
Topazs earn 15% on level 1, 5% on level 2, 4% on levels 3 and 4 and 3% on levels 5 and 6
Rubys earn 15% on level 1, 5% on level 2, 4% on levels 3 and 4, 3% on levels 5 and 6 and 2% on levels 7 and 8
Emeralds earn 15% on level 1, 5% on level 2, 4% on levels 3 and 4, 3% on levels 5 and 6, 2% on levels 7 and 8 and 1% on levels 9 and 10
Diamonds earn 15% on level 1, 5% on level 2, 4% on levels 3 and 4, 3% on levels 5 and 6, 2% on levels 7 and 8 and 1% on levels 9 to 15
Note that specific residual recruitment commission rates are not provided.
Trading Commissions
Yu Klik take 10% of purported trading revenue and use it to pay trading commissions.
Trading commissions are paid 2% down five levels of recruitment.
This is the same unilevel team used to pay recruitment commissions (see above).
Joining Yu Klik
Yu Klik affiliate membership costs either Rp 150,000 for Regular or Rp 200,000 for Premium.
The difference between the two membership is not clarified.
Yu Klick accepts Indonesian rupiah, as well as bitcoin and ethereum equivalents.
Yu Klik Conclusion
Yu Klik is an app-based Ponzi scheme targeting Indonesia.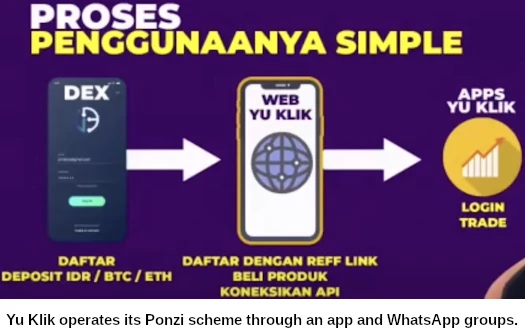 Affiliates sign up and pay fees through an app. They then invest funds through the app.
Yu Klik represents trading takes place when affiliates log into the app and click a button.
Yu Klik scammers represent this generates a 19.3% monthly ROI
This is very similar to the COTP Ponzi scheme, which also originated out of south-east Asia.
Yu Klik fails to provide any evidence actual trading is taking place. Or that external revenue of any kind is being used to pay affiliate withdrawals.
Furthermore, as confirmed by OJK, Yu Klik is committing securities fraud in the country it primarily operates in.
In addition to securities fraud, the MLM side of Yu Klik operates as a pyramid scheme.
MLM companies commit securities fraud because they aren't doing what they say they are. In Yu Klik's case, that'd be trading to generate returns.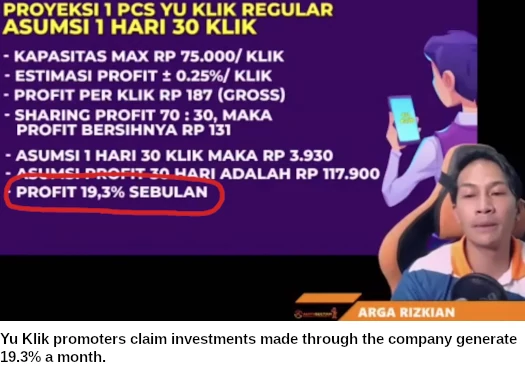 As it stands the only source of revenue entering Yu Klik is new investment.
Using new investment to pay returns through its app makes Yu Klik a Ponzi scheme.
One additional note is Yu Klik appear to be working with Digital Exchange, an Indonesian cryptocurrency exchange.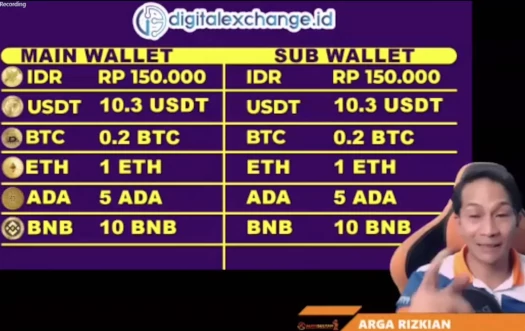 Digital Exchange is commonly referred to as "DEX" in Yu Klik marketing.
As with all MLM Ponzi schemes, once affiliate recruitment dries up so too will new investment.
This will starve Yu Klik of ROI revenue, eventually prompting a collapse.
The math behind Ponzi schemes guarantees that when they collapse, the majority of participants lose money.