Your Online Survival Kit Review: Five-tier $5 cash gifting

There is no information on the Your Online Survival Kit website indicating who owns or runs the business.
The Your Online Survival Kit website domain ("youronlinesurvivalkit.com") was first registered on November 25th, 2011.
The domain registration details were recently updated on July 10th, 2016, suggesting this is when the current owner took possession of the domain.
Johnny Baxter is listed as the owner of the Your Online Survival Kit domain, with an address in the US state of Georgia also provided.
In 2009 Baxter launched 7 Dollar Matrix, an ebook library pyramid scheme.
Read on for a full review of the Your Online Survival Kit MLM opportunity.
The Your Online Survival Kit Product Line
Your Online Survival Kit has no retailable products or services, with affiliates only able to market Your Online Survival Kit affiliate membership itself.
The Your Online Survival Kit Compensation Plan
Your Online Survival Kit sees affiliates purchase $5 positions in a 3×5 matrix.
A 3×5 matrix places an affiliate at the top of the matrix, with three positions directly under them: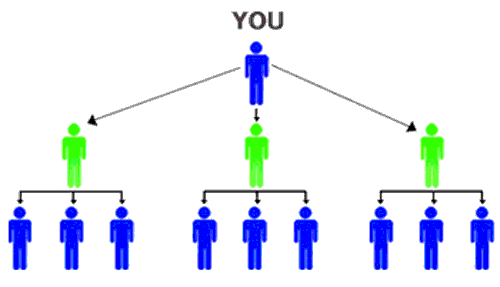 These initial three positions form the first level of the matrix, with the second level generated by splitting each of the three positions into another three positions each (9 positions).
The third level of the matrix is generated in the same manner, by multiplying the nine second level positions by three (27 positions).
The fourth and fifth levels of the matrix add an additional 81 and 243 positions respectively.
Positions in the matrix are filled via position purchases by new and existing Your Online Survival Kit affiliates.
Commissions are paid out as positions in the matrix are filled, with how much of a commission paid out determined by what level of the matrix a position is filled:
level 1 (pay $5 to the affiliate who recruited you) – receive $5 from three affiliates, $10 used to unlock level 2
level 2 – receive $10 from nine affiliates, $20 used to unlock level 3
level 3 – receive $20 from twenty-seven affiliates, $40 used to unlock level 4
level 4 – receive $40 from eighty-one affiliates, $100 used to unlock level 5
level 5 – receive $100 from two hundred and forty-three affiliates
Joining Your Online Survival Kit
Affiliate membership with Your Online Survival Kit is tied to the purchase of at least one $5 matrix position.
Conclusion
Your Online Survival Kit operates as a five-tier cash gifting scheme.
A member to member payment system is when you make a sale, the customer will pay you directly to your payment processor of your choice.

Payments are made member to member, we never handle that money- it is paid directly to our members.
Affiliates buy in for $5, which qualifies them to receive $5 from subsequently recruited affiliates.
The rest of the compensation plan is just funneling of $5 payments from new affiliates to existing affiliates, with fees tacked on along the way to increase gifting amounts.
Gift $10 to receive $10, gift $20 to receive $20 and so on and so forth.
As with all cash gifting schemes, once recruitment dries up so too will gifting payments within Your Online Survival Kit.
At that point the scheme has collapsed, with affiliates who haven't recruited at least two people into Your Online Survival Kit losing out.
Owing to the mechanics of cash gifting, this is guaranteed to be the majority of participants.