World Bitcoin Gift Review: 2×1 bitcoin gifting cycler
There is no information on the World Bitcoin Gift website indicating who owns or runs the business.
The World Bitcoin Gift website domain ("worldbitcoingift.com") was privately registered on the 21st of December, 2016.
The official World Bitcoin Gift Facebook group is operated by a dummy account bearing the profile name "Worldbtc Gift". The account was created on January 3rd, 2017.
Alexa currently estimate that France (34%) and the US (13%) are the two primary sources of traffic to the World Bitcoin Gift website.
The official World Bitcoin Gift Facebook group is also titled "World bitcoin gift official fr-en", suggesting whoever is running the company is probably based out of either France or the US.
As always, if an MLM company is not openly upfront about who is running or owns it, think long and hard about joining and/or handing over any money.
The World Bitcoin Gift Product Line
World Bitcoin Gift has no retailable products or services, with affiliates only able to market World Bitcoin Gift affiliate membership itself.
The World Bitcoin Gift Compensation Plan
The World Bitcoin Gift compensation plan sees affiliates gift bitcoin to eachother via a 2×1 matrix.
A 2×1 matrix places an affiliate at the top of a matrix with two positions directly under them: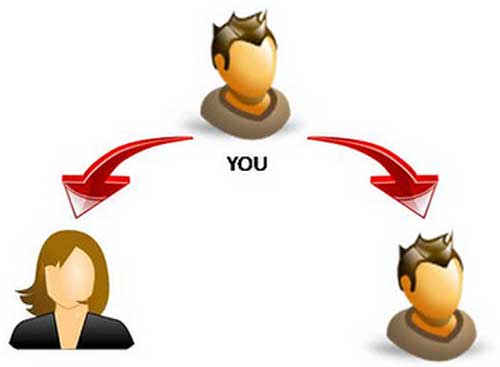 A World Bitcoin Gift affiliate starts by gifting 0.1 BTC to the affiliate who recruited them.
Once the two positions in the matrix under them are filled, either via recruitment of new affiliates of payments by existing affiliates, a 0.2 BTC payment is received.
Joining World BitCoin Gift
World Bitcoin Gift affiliate membership is tied to a minimum 0.1 BTC gifting payment.
Conclusion
World Bitcoin Gift is about as simple as you can get with a cash gifting scheme.
Sign up, gift money to the person who recruited you and collect two payments from either new or existing World Bitcoin Gift affiliates.
Gift another 0.1 BTC into the scheme and off you go again.
As with all cash gifting schemes, once affiliate recruitment dies down so too will payments within the system.
Eventually payments slow to the point World Bitcoin Gift collapses entirely, leaving the majority of affiliates out of pocket.
Refunds are not possible, we don't manage money, it's a user to user system.
One payment in and two payments out might sound attractive but it's deceptively simple.
It doesn't take many payments out before the system gets backed up and people are left stuck waiting indefinitely for payments that never come.