WelFunding Review: 4×7 matrix bitcoin cash gifting

WelFunding provide no information on their website about who owns or runs the business.
The WelFunding website domain ("welfunding.com") was first registered on the 5th of March, 2016. The registration was recently updated on the 13th of March, 2017.
The WelFunding domain has been registered privately and doesn't provide any information on who owns it.
At the time of publication Alexa estimate the top two sources of traffic to the WelFunding website are Japan (69%) and Germany (14%).
It is highly likely that whoever is running WelFunding is also based out of Japan and/or Germany.
As always, if an MLM company is not openly upfront about who is running or owns it, think long and hard about joining and/or handing over any money.
WelFunding Products
WelFunding has no retailable products or services, with affiliates only able to market WelFunding affiliate membership itself.
The WelFunding Compensation Plan
The WelFunding compensation plan sees affiliates gift bitcoin to eachother via a 4×7 matrix.
A 4×7 matrix places a WelFunding affiliate at the top of a matrix, with four positions directly under them: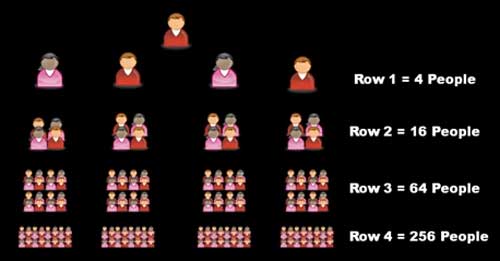 These four positions form the first level of the matrix. The second level of the matrix is generated by splitting these first four positions into another four positions each (16 positions).
Levels three to seven of the matrix are generated in the same manner, with each new level housing four time as many positions as the previous level.
Each matrix level in WelFunding operates as an individual gifting tier.
A WelFunding affiliate begins by signing up and gifting 0.07 BTC to the affiliate who recruited them.  This payment in turn qualifies the affiliate to receive 0.07 BTC from from four affiliates recruited into the first level of their matrix.
This process is repeated to unlock higher matrix levels, with gifting amounts paid and received increasing at each level.
level 1 – gift 0.07 BTC to the affiliate who recruited you and receive 0.07 BTC from four subsequently recruited affiliates
level 2 – gift 0.14 BTC and receive 0.14 BTC from sixteen affiliates
level 3 – gift 0.28 BTC and receive 0.28 BTC from sixty-four affiliates
level 4 – gift 0.56 BTC and receive 0.56 BTC from two hundred and fifty-six affiliates
level 5 – gift 1.12 BTC and receive 1.12 BTC from one thousand and twenty-four affiliates
level 6 – gift 2.24 BTC and receive 2.24 BTC from four thousand and ninety-six affiliates
level 7 – gift 4.48 BTC and receive 4.48 BTC from sixteen thousand and eighty-four affiliates
Joining WelFunding
WelFunding affiliate membership is tied to a 0.07 BTC gifting payment.
Full participation in the WelFunding income opportunity costs 8.89 BTC.
Conclusion
WelFunding presents itself as yet another bitcoin-based cash gifting scheme.
Nothing is marketed or sold to retail customers, with new WelFunding affiliates paying existing affiliates so that they can receive payments from affiliates who join after them.
In an attempt to justify gifting fraud, WelFunding refer to payments as "donations". A legitimate donation however does not entitle the donor to receive "donations" from other participants in a business opportunity.
At the top of the company matrix is/are the anonymous WelFunding admin(s). Through preloaded position(s) and gifting pass-ups at each matrix level, they will receive the lion's share of deposited funds.
The easiest way to visualize this is the seventh level of the matrix, which has 16,084 positions to fill.
Preloaded admin positions are generated post-launch, inject no money into the system and have all matrix levels unlocked.
Nobody is getting anything at the upper WelFunding matrix tiers until the admin's matrix levels are filled.
Needless to say affiliate recruitment will die down long before that happens, leaving the majority of WelFunding affiliates with a loss.
The use of bitcoin meanwhile means victim fund recovery is next to impossible. Great for WelFunding's anonymous admin(s), terrible for the affiliates they're scamming.