United Capital Investments Review: 10,000% ROI in 40 weeks?

United Capital Investments operates in the MLM cryptocurrency niche. The company fails to provide contact details on its website.
Listed as CEO of the company is Antoun Toubia.
No information about Toubia is provided on United Capital Investments' website. His Pinterest profile suggests he's based out of the UK.

Persual of Toubia's LinkedIn profile reveals he's knee-deep in cryptocurrency, primarily via advisory roles to various projects.
As per Toubia's LinkedIn profile bio;
As a knowledgeable and dedicated investment services professional with a Middle Eastern background, Antoun Toubia is founder and Chief Executive Officer at UCI, a private equity company launched in 2008.

In addition to his unique insights, Antoun has extensive experience in private trading and equity investment, venture capital, hedge funds, blockchain technology and crypto-currencies.
I wasn't able to independently verify any of that.
What I was able to verify is that United Capital Investments' website domain was first registered in March 2016.
The incomplete address used to register the domain is in Charlestown, Nevis.
Nevis is a scam-friendly jurisdiction with little to no regulation.
There is no legitimate reason for an MLM company to incorporate itself there (note there is no evidence of United Capital Investment having incorporated in Nevis).
As far as I can tell, Antoun Toubia does not have an MLM history.
Read on for a full review of United Capital Investments' MLM opportunity.
United Capital Investments' Products
United Capital Investments has no retailable products or services, with affiliates only able to market United Capital Investments affiliate membership itself.
United Capital Investments' Compensation Plan
United Capital Investments affiliates invest $500 or more on the promise of a 10,000% ROI, paid out after 40 weeks.
Referral commissions on invested funds are paid out via a unilevel compensation structure.
A unilevel compensation structure places an affiliate at the top of a unilevel team, with every personally recruited affiliate placed directly under them (level 1):

If any level 1 affiliates recruit new affiliates, they are placed on level 2 of the original affiliate's unilevel team.
If any level 2 affiliates recruit new affiliates, they are placed on level 3 and so on and so forth down a theoretical infinite number of levels.
United Capital Investments offer a 5% referral commission on invested funds, paid down five levels of recruitment.
Joining United Capital Investments
United Capital Investments affiliate membership it ties to a minimum $500 investment via bitcoin, ethereum or bank wire.
Conclusion
One of the first thing visitors to United Capital Investments' website see is this:
How is $500 turned into $50,000 in 40 weeks?
United Capital Investments represents that they generate this advertised return via trading.
Your trading account balance will be compounded for 40 weeks.

Your pay out will be One Hundred (100x) times your pre-trade balance at the time trading begins.

This is a Time Sensitive, and Strictly Limited opportunity.
Naturally the first thing that comes to mind is that if Antoun Toubia was able to generate a 1000% ROI every 40 weeks, why isn't he doing that already.
Furthermore if we accept United Capital Investments has been around since 2016 (the 2008 claim is bullshit), where is the trading history?
As I was going through older versions I noticed something called Pebex Coin.
Investors owning PEBEX coin receive on going dividends from UCI profits.

Investors owning PEBEX can also trade their coin into other crypto currencies or Fiat.
That appeared on United Capital Investments' website last  year but has since been scrubbed.
In the "projects" section of United Capital Investments' website, Pebex is mentioned along with SprinkleBit.
An ICO website for Pebex was set up at some point, although it appears to have since been abandoned.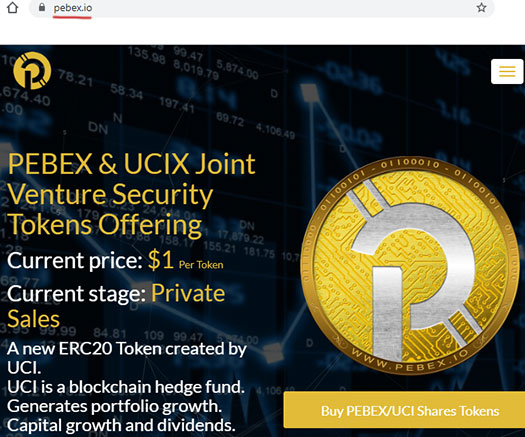 As above, United Capital Investments hoped to flog Pebex off to gullible investors for $1 a token.
SprinkleBit is/was attached to SprinkleCoin, another token ICO that also went nowhere.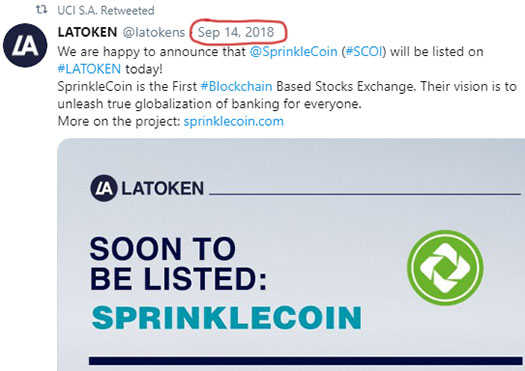 I was also able to tie Antoun Toubia to "UCI Coin", which he marketed as follows: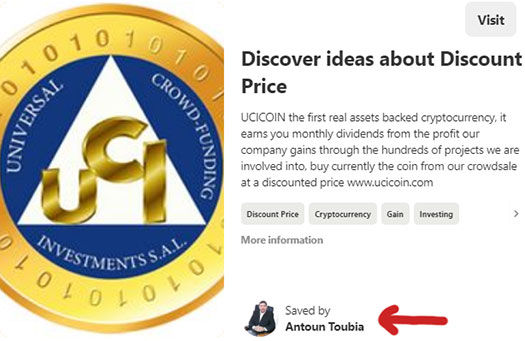 UCI Coin has its own website, on which the company is referred to as Universal Crowd-funding Investments.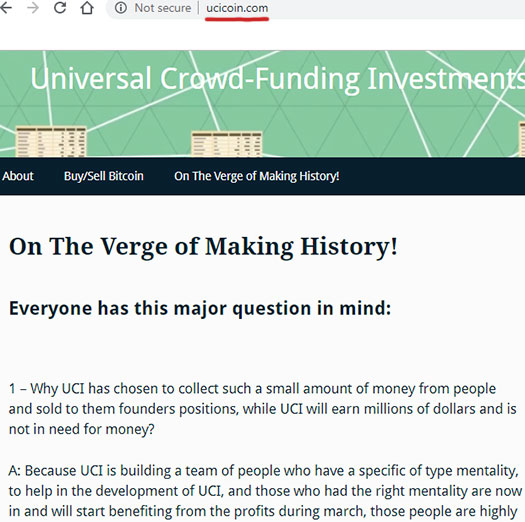 This suggests an already collapsed scheme that Antoun Toubia has rebranded as United Capital Investments.
Putting this altogether we have a bunch of unknown crypto cowboys with at least three failed token ICOs under their belt.
Anyone gullible enough to have invested in either Pebex, SprinkleCoin or UCI Coin lost money, as all three projects have gone nowhere.
And now Antoun Toubia and his gang are promising 1000% returns in 200 days out of the blue.
Riiiiiiiiiiiiiiiiiight.
At best United Capital Investments will take your money, keep it and pull an exit-scam after 200 days.
That's only if they cut off new investment as promised. I've seen no evidence of that, so for now United Capital Investments is likely operating as a Ponzi scheme.
Is this a PONZI Program?

NO, not in any form. A Ponzi Program or HIYP (sic), by nature needs to have more participants entering the program to maintain itself.

Ponzi programs generally work from the basis that it requires new investors funds to "pay" existing investors.

Whilst UCI Global encourages Investors, UCI Global will close the doors to all Investors once the required Capital is raised. It is not an ongoing Platform.

The capital will be raised by investors such as "Mum and Dad investors", Companies, SMSF's, Private equity groups and Individual wealthy Investors (whales).
Certainly the company has provided no evidence of trading or any other source of external revenue.
Nor has United Capital Investments registered its 1000% ROI investment opportunity with financial regulators in any jurisdiction it solicits investment in.
Due to the passive nature of the returns advertised, registration with regulators is mandatory in order for United Capital Investments to operate legally.
Given the company's past ICO failures and lack of verifiable information surrounding its purported trading activities, investing in United Capital Investments comes off as a sure-fire way to throw away your money.
Update 18th April 2021 – A reader wrote in regarding The Swedish Trust, querying whether it was a potential UCI Global reboot.
It's 2021 as I write this and United Capital Investments and UCI Global have long-since collapsed.
The Swedish Trust's website domain, "theswedishtrust.com", was privately registered on July 14th, 2020.
Details on The Swedish Trust's website are pretty sketchy.
As a professional trustee company we can manage any type of asset held in trust.

We manage this by creating a trust for each client through a trust deed.

As Trustee obviously, we are focused on managing assets, whether these are cash, diamonds, cryptocurrency, real estate or a pile of rocks, also we can send and receive payments on behalf of customers holding trust accounts with our institution.
The first reason provided as one of the "benefits of a trust" is to "better protect your assets from creditors and lawsuits".
Slightly ironic given United Capital Investments and UCI Global collapsing.
Beyond that nothing about The Swedish Trust's actual business operations is provided. All visitors can do is register or log in.
Antoun Toubia is credited as The Swedish Trust's founder and CEO. The company claims to be "officially registered in Sweden".
Such to the extent there's a business opportunity behind The Swedish Trust, MLM or otherwise, it's not disclosed.
I'm leaving my research into The Swedish Trust there for now as, at least as far as I can tell, there's no related MLM opportunity.
Update 26th March 2022 – I've revisited how The Swedish Trust is going as part of an effort to keep tabs on UCI Global victim losses.