Tradeco Global Review: "Damn experts" promise 211% bitcoin ROI

Tradeco Global provide no information about who owns or runs the company on their website.
The Tradeco Global website domain ("tradecoglobal.com") was privately registered on March 23rd, 2018.
As always, if an MLM company is not openly upfront about who is running or owns it, think long and hard about joining and/or handing over any money.
Tradeco Global Products
Tradeco Global has no retailable products or services, with affiliates only able to market Tradeco Global affiliate membership itself.
The Tradeco Global Compensation Plan
Tradeco Global affiliates invest bitcoin on the promise of a 211.5% ROI in 261 days.
Basic – 0.1 BTC
Starter – 0.3 BTC
Advance – 0.5 BTC
Elite – 1 BTC
Ultra – 2 BTC
Premium – 3 BTC
Mega – 5 BTC
Note that an 8% fee is charged on all ROI and commission withdrawal requests.
Referral Commissions
Tradeco Global pay a 10% referral commission on funds invested by personally recruited affiliates.
Residual Commissions
Tradeco Global pay residual commissions via a binary compensation structure.
A binary compensation structure places an affiliate at the top of a binary team, split into two sides (left and right):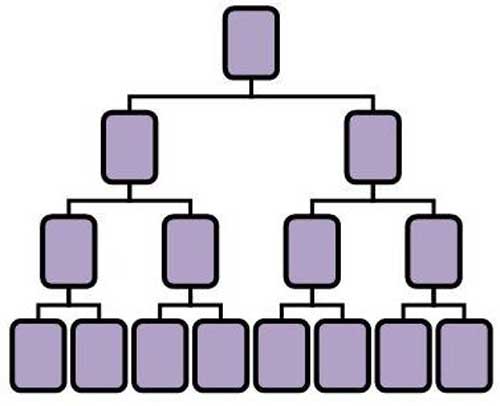 The first level of the binary team houses two positions. The second level of the binary team is generated by splitting these first two positions into another two positions each (4 positions).
Subsequent levels of the binary team are generated as required, with each new level housing twice as many positions as the previous level.
Positions in the binary team are filled via direct and indirect recruitment of affiliates. Note there is no limit to how deep a binary team can grow.
At the end of each day Tradeco Global tally up new investment volume on both sides of the binary team.
Affiliates are paid a 5% commission on matched volume.
Matched volume is flushed, with leftover volume on the stronger binary side carried over.
Rank Achievement Bonus
Tradeco reward affiliates with the following Rank Achievement Bonuses:
Team Leader – convince others to invest 50 BTC and receive $5000
Executive – convince others to invest 150 BTC, have one Team Leader on both sides of the binary team and receive $15,000
Supervisor – convince others to invest 300 BTC, personally recruit one Executive ranked affiliate and receive $30,000
Manager – convince others to invest 500 BTC, personally recruit one Manager ranked affiliate and receive $50,000 and an "international family vacation"
Note that the Rank Achievement Bonuse is a one-time bonus per rank achieved.
Joining Tradeco Global
Tradeco Global affiliate membership is tied to a 0.1 to 5 BTC investment.
Conclusion
Tradeco Global claim to be a team of "damn experts";
WE ARE DAMN EXPERT!

Tradeco Global is a perfect amalgamation of experience, skill and technology.

We have made our system such fool proof that even in a bearish trend in market we make profit through short term day-trades and there's a constant up gradation in the system in terms of technology and data which helps us make our trading more efficient and profitable.
Although a residential address in the UK is provided on the Tradeco Global website, the use of broken English suggests whoever is running it is probably from a non-English speaking background.
Here's another example;
Crypto is taking a mass adaptation from over 4 years and it is no longer from now when we will see lesser interest of people in paper money.
To be fair the owners of Tradeco Global could be based in the UK but it's more likely they're operating out of western Europe or Asia (based on the style of broken English).
On the business side of things Tradeco Global claim to generate ROI revenue through cryptocurrency trading.
Despite the its website domain being only two months old and the company launching on May 1st, Tradeco Global falsely represent they launched in 2014.
From 2014 we have started trading slowly we grew bigger and bigger with more members joining us every day.

Constant growth – We never lack in making money, we have given consistency to our clients so far.

Consistent everytime – We never lack in making money,we have given consistency to our clients so far.

Always win – We never lose money.
First off there is no evidence of Tradeco Global generating revenue through trading.
Secondly if the anonymous owners of the company had indeed been making 100% successful trades in cryptocurrency since 2014, surely they're able to retire quietly on a private island somewhere by now?
Simply put, none of Tradeco Global's claims add up.
Meanwhile the only verifiable source of revenue entering Tradeco Global is new affiliate investment.
Using newly invested funds to pay existing affiliates a 211% ROI makes Tradeco Global a Ponzi scheme.
As with all Ponzi schemes, once affiliate recruitment slows down so too will the ROI reserve.
When it bottoms out, Tradeco Global collapses and the anonymous admins do a runner with your money.