Tonoit Review: Python Signals pyramid scheme rebooted

Python Signals ran its two year pyramid course and has been rebooted as Tonoit.
Tonoit was launched on or around January 2020. The company is still headed up by co-founders Marius Landman, Gavin Victor and Enakirerhi Ejovwoke.

As with Python Signals, Tonoit provides incomplete corporate addresses in Mauritius and Australia on its website. Any corporate ties to these countries are believed to be superficial (shell companies).
On Facebook Marius Landman represents he is in New Zealand. Enakirerhi Ejovwoke was briefly going by "Eric Jason", before deleting his social media profiles altogether. He's believed to have ties to Nigeria.
I couldn't find anything on Gavin Victor, although from our research into Python Signals we know he has a Ponzi past.
Read on for a full review of Tonoit's MLM opportunity.
Tonoit's Products
Tonoit has no retailable products or services, with affiliates only able to market Tonoit affiliate membership itself.
Tonoit affiliate membership provides access to cryptocurrency trading signals.
Tonoit's Compensation Plan
Tonoit Signals affiliates purchase 2×18 matrix position subscriptions.
Gold – $150 (90 day subscription)
Platinum – $250 (180 day subscription)
Galaxy – $500 (12 months subscription)
Diamond – $950 (24 months subscription)
Lifetime Galaxy – $2000 (one-time subscription)
Recruitment Commissions
Tonoit affiliates are paid to recruit new affiliates.
Recruitment commission rates are determined by how much a Tonoit affiliate themselves spent on membership:
Gold, Platinum, Galaxy and Diamond affiliates earn 10%
Lifetime Galaxy affiliates earn 15%
Recruitment commissions are paid on subscription fees of personally recruited affiliates.
Residual Commissions
Tonoit pays residual commissions via a 2×18 matrix.
A 2×18 matrix places a Tonoit affiliate at the top of a matrix, with two positions directly under them:

These two positions form the first level of the matrix. The second level of the matrix is generated by splitting each of these first two positions into another two positions each (4 positions).
Levels three to eighteen of the matrix are generated in the same manner, with each new level housing twice as many positions as the previous level.
How many matrix levels a Tonoit affiliate can earn on is determined by how much they spend on their subscription:
Gold position affiliates earn on up to nine matrix levels
Platinum position affiliates earn on up to twelve matrix levels
Galaxy and costlier position affiliates earn on all eighteen available matrix levels
Positions in the matrix are filled via direct and indirect recruitment of Tonoit affiliates.
Commissions are paid as positions are filled, based on the following percentages (paid out on subscription fees):
levels 1, 4, 7, 10 and 13 of the matrix pay out 5%
levels 2, 5, 8, 11 and 14 of the matrix pays out 4%
levels 3, 6, 9, 12 and 15 of the matrix pays out 3%
levels 16 and 17 of the matrix pays out 2%
level 18 of the matrix pays out 1.5%
Rising Star Bonus
To become Rising Star qualified a Tonoit affiliate must buy in at Gold and recruit two Gold affiliates.
Once Rising Star qualified, an affiliate earns $5 or $20 each time anyone they personally recruit becomes Rising Star Bonus qualified.
$20 is paid out if the affiliate qualified for the Rising Star Bonus within their first 30 days
$5 is paid out if the affiliate qualified for the Rising Star Bonus after their first 30 days
Joining Tonoit
Tonoit affiliate membership is tied to a rolling subscription:
Gold – $150 for 90 days
Platinum – $250 for 180 days
Galaxy – $500 for 12 months
Diamond – $950 for 24 months
Lifetime Galaxy – $2000 for unlimited access
The more a Tonoit affiliate spends on membership the higher their income potential.
Conclusion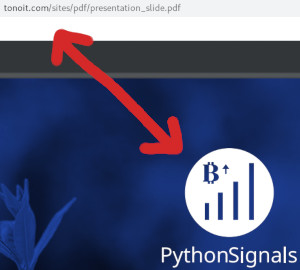 Tonoit is a 1:1 reboot of Python Signals. So much so that nobody even bothered to update the Python Signals branded presentation available on Tonoit's website.
There doesn't appear to be any reason for the name change, other than to rebrand a "fresh" opportunity to new victims.
As with Python Signals, Tonoit operates as a pyramid scheme.
Affiliates sign up, pay a fee and get paid when others are recruited who do the same.
Our Python Signals review was published in January 2020, around the time Tonoit marketing was being pushed out (although we didn't know the name).
At the time Python Signals' website traffic had stalled for a few months, which for a pyramid scheme is the road to collapse.
As to Marius Landman's cryptocurrency signals, what I wrote in regards to Python Signals applies to Tonoit;
I can't speak to the quality of cryptocurrency trading signals Python Signals provides. Suffice to say any gains are likely to eventually be wiped out by ongoing subscription fees.

Let's face it, if the signals were profitable Python Signals wouldn't be rebooting.
That was true in January 2020 and remains true with Tonoit and any future reboots.
Update 26th April 2022 – Tonoit now appears to be marketed primarily under "MoonAcade" branding.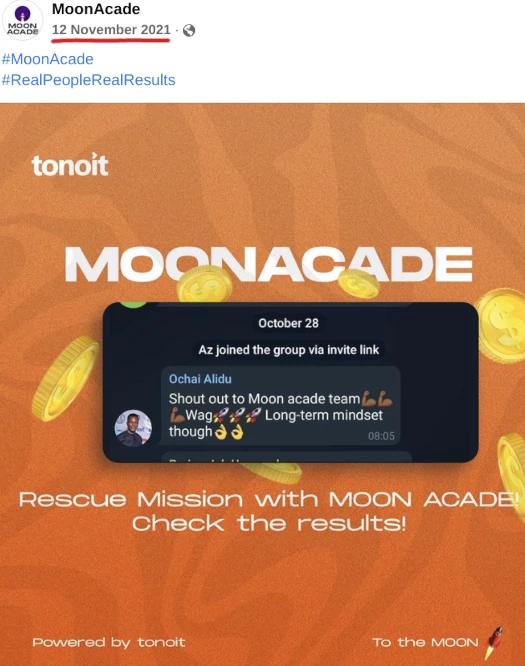 MoonAcade bills itself as
the last crypto research community you will ever need.

Get access to diligent & unbiased deep-dives on bluechip cryptos for 2x – 100x profits.
Outside of rebooting without an official reboot, why Tonoit launched MoonAcade is unclear.
MoonAcade surfaced in November 2021. Although it's part of Tonoit, MoonAcade has a stand-alone website.
Alexa currently estimates 100% of traffic to MoonAcade's website originates from South Africa.
Update 26th January 2023 – Tonoit has collapsed. What's left of the pyramid scheme has been merged into BitcoinTAF.