Tapestri Review: Monetize your anonymized cell location data?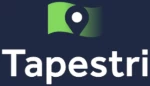 Tapestri operates in the mobile app MLM niche.
The company doesn't provide a corporate address on its website. Tapestri's website Terms & Conditions however list a PO Box address in Naperville, Illinois.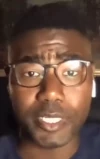 Heading up Tapestri is founder Walter Harrison (right).
As per Harrison's Tapestri corporate bio, he has "over a decade of experience monetizing data".
I couldn't find anything MLM related on Harrison outside of Tapestri, so I believe this is his first MLM venture.
Read on for a full review of Tapestri's MLM opportunity.
Tapestri's Products
Tapestri markets a free app that passively tracks and collects location data once installed.

This data is purportedly anonymous and, as per Tapestri's marketing material;
allows consumers … to understand their own location behavior, and the movement patterns of people and placed around them.

How many people are in Whole Foods right now? Is my gym crowded? Is there a line at the Taco truck?
Tapestri claim use of their app will earn users "an estimated $5 to $25 a month".
Tapestri's Compensation Plan
Tapestri app users earn $1 a month per active user of the app they refer.
The MLM side of the business requires payment and maintenance of a $9.99 monthly fee.
Tapestri's MLM compensation plan extends commissions down one level of recruitment.
This is the equivalent of earning on two unilevel team levels (ignore the third level on the diagram below).

The first level of the unilevel team are the app users and affiliate app users you refer/recruit.
The second level of the unilevel team are app users and affiliate app users that affiliates on your first unilevel team refer/recruit.
Tapestri affiliates who are up to date with monthly fees earn an extra $1 per app user on level 2 of the unilevel team.
This includes both app users and affiliate app users.
Note that recruited Tapestri affiliates are not required to install the Tapestri app.
If a Tapestri affiliate isn't using the app, no monthly $1 commission is generated from their position in the unilevel team.
Matching Bonus
Tapestri "Super Affiliates" earn a 50% matching bonus on earnings of affiliates on levels 1 and 2 of their unilevel team.
To qualify as a Super Affiliate, a Tapestri affiliate must recruit and maintain ten active affiliates.
An active affiliate is an affiliate who is up to date with fee payments.
Super Affiliate Pool
Tapestri enrolls affiliates who sign up without a referral link to Super Affiliates (see Super Affiliate qualification in "Matching Bonus" above).
Tapestri does not disclose how non-referral link affiliates who sign up are specifically distributed.
Joining Tapestri
Tapestri affiliate membership is $9.99 a month.
Tapestri Conclusion
Tapestri represents it generates revenue via selling anonymous location data to buyers unknown.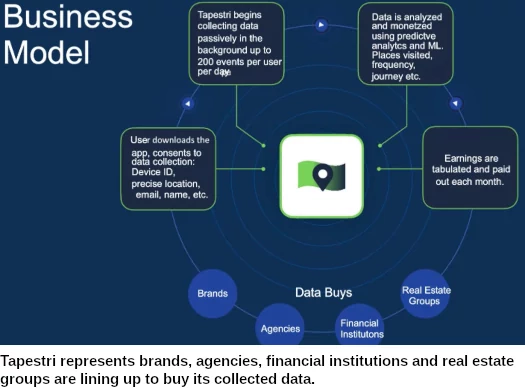 The lack of transparency behind who is purportedly buying Tapestri's collected data is the business' weak point.
From a competitive standpoint, I get why this information is not disclosed.
As an MLM opportunity however, Tapestri has to be in compliance with the FTC Act.
The only way for consumers (both affiliates and non-affiliate app users) to be confident external revenue is being generated, is for Tapestri to offer some level of transparency.
This could be as simple as an audited monthly report providing generalized revenue figures. No specific buyers or marketplaces need be identified.
Personally I'm not an expert on monetization of location data. But it does seem far-fetched to offer up to $25 a month on anonymized location tracking data.

How valuable is that data to presumably businesses who Tapestri plan to pitch the data to?
If I've missed something and there's a use-case that a business couldn't otherwise obtain and keep track of, let me know in the comments below.
The reason I'm questioning the represented value of Tapestri's collected data is the $9.99 affiliate fee charged. I'm aware there's a "founder's promotion" currently available that waives the fee for a year, but I haven't included it as it's not part of the regular offering.
What I can say with confidence is it doesn't cost Tapestri $9.99 a month per affiliate to present backoffice data. In fact I'd be surprised if it was anywhere near $1 a month.
That puts a big question mark on whether collected affiliate fees are being used to fluff up money paid to app users, supposedly on data sales to undisclosed third-parties.
If Tapestri winds up topping up commissions paid out because buyer revenue is either non-existent or peanuts – that's not only a violation of the FTC Act, it's functionally a Ponzi scheme.
I'd be a lot more concerned about this if regular app users were charged anything. They aren't, but recycling of affiliate fees beyond stated commissions is still recycling of affiliate revenue.
One thing I haven't addressed yet is Walter Harrison's position as Chief Revenue Officer of Complementics.
Complementics is the result of a merger between Harrison's former company, Growth Systems, and eContext in 2015.
As of 2018, Complementics claims it "manages data from more than 1B devices".
Complementics Location Analytics offers advanced features for mobile data tracking.

Using cellular triangulation, we can track up to 25+ events per day with foreground tracking, and up to 100 events per day with background tracking.

Data collected is enriched via eContext, the world's largest semantic text classification engine, and features deterministic matching, as well.
Admittedly none of that means anything in particular to me.
What I do know though is Complementics isn't mentioned anywhere on Tapestri's website. I have to presume there's some cross-over though – which begs the question:
With access to one billion devices already as of three years ago (how Complementics has access to these devices is a mystery), why the need for a separate Tapestri app?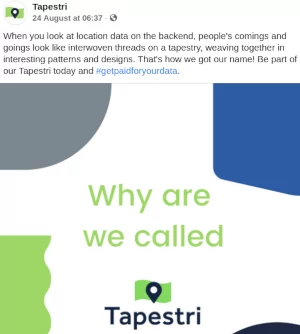 The good news is given regular commissions are tied to use of the Tapestri app, Tapestri pyramid scheme concerns are ruled out.
That said I'd still hate to see a ton of app users roped into Tapestri, only for the FTC to come in at a later date and find sales of data weren't happening.
Or if they were, not to the extent they were funding app commissions paid out.
To that end Tapestri needs to address its current lack of transparency. Approach with caution.