Swapnex Review: Russian Boris CEO crypto Ponzi scheme

Swapnex provides no information on its website about who owns or runs the company.
Swapnex's website domain ("swapnex.io"), was privately registered back in December 2020.
The company itself appears to have launched on or around August 2021.
In an attempt to appear legitimate, Swapnex provides Australian incorporation details for "Swapnex PTY LTD". A corresponding corporate address in NSW, Australia is also provided.
One of the businesses operating from this address is a virtual office address merchant.
For the purpose of MLM due-diligence, basic incorporation in any jurisdiction is meaningless of for the purpose of MLM due-diligence. This is primarily due to the lack of verification of submitted data.
Swapnex's official YouTube channel was created on August 2nd, 2021. The channel features marketing videos with cast actors.
In an October 30th 2021 video, an unnamed "product director" appears in a typical rented office setup: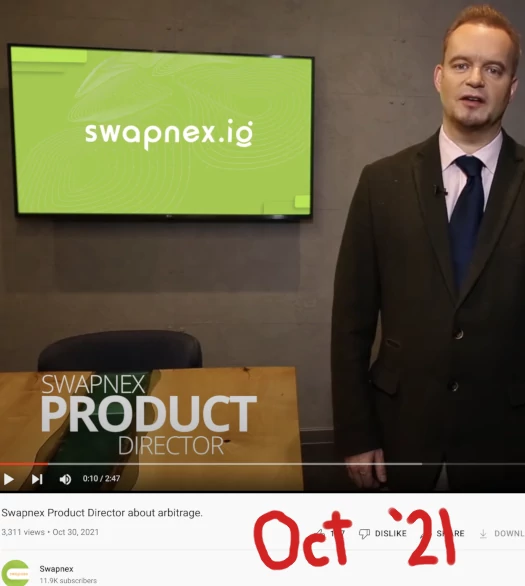 In a second video uploaded on February 6th 2022, Swapnex names its Product Director as Marcus Huber;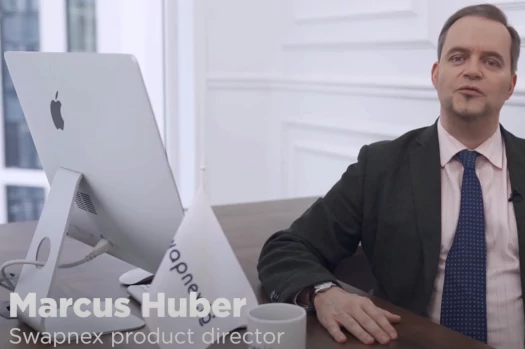 "Marcus Huber" is in fact Rupert Godman, a UK citizen living in Russia for two decades.
Godman is fluent in French, Spanish, German and Russian. As per an interview Sam Gerrans, circa 2012 Godman was
in real estate and teaches business English. He is also writing a novel and plays drums in a band.
On March 20th, Godman marked a recent Swapnex acting gig with an Instagram post:
My last role in Moscow playing a spivvy cryptocurrency dealer in a corporate video.

I remain open to opportunities in the UK.
I believe the video Godman refers to is the February 2022 Swapnex marketing video cited above.
Swapnex's official FaceBook page is managed from the Ukraine.
From this we surmise "Marcus Huber" is a Boris CEO. Who exactly is running Swapnex is unclear but it's very obviously the usual eastern-European scammers.
As always, if an MLM company is not openly upfront about who is running or owns it, think long and hard about joining and/or handing over any money.
Swapnex's Products
Swapnex has no retailable products or services.
Affiliates are only able to market Swapnex affiliate membership itself.
Swapnex's Compensation Plan
Swapnex affiliates invest cryptocurrency on the promise of a passive return.
Start – $200 (locked for 30 to 90 days)
Personal – $500 (locked for 120 days)
Professional – $1500 (locked for 180 or 360 days)
Note that while the above amounts are quoted in USD, Swapnex only solicits investment in cryptocurrency.
The MLM side of Swapnex pays on cryptocurrency invested by recruited affiliates.
Referral Commissions
Swapnex pays referral commissions via a unilevel compensation structure.
A unilevel compensation structure places an affiliate at the top of a unilevel team, with every personally recruited affiliate placed directly under them (level 1):

If any level 1 affiliates recruit new affiliates, they are placed on level 2 of the original affiliate's unilevel team.
If any level 2 affiliates recruit new affiliates, they are placed on level 3 and so on and so forth down a theoretical infinite number of levels.
Swapnex caps payable unilevel team levels at five.
Referral commissions are paid as a percentage of cryptocurrency invested across these five levels as follows:
level 1 (personally recruited affiliates) – 10%
level 2 – 2%
level 3 – 1%
levels 4 and 5 – 0.5%
Representative qualified Swapnex affiliates receive "higher commissions and bonuses".
level 1 – 20%
level 2 – 10%
level 3 – 6%
level 4 – 2%
level 5 – 1%
Specific Representative qualification criteria is not provided.
Monthly Bonus
The Monthly Bonus is calculated on "total profit" paid to personally recruited affiliates.
The Monthly Bonus starts at $10. Swapnex does not provide complete Monthly Bonus details.
Leadership Bonus
The Leadership Bonus is a monthly bonus paid on downline investment milestones.
generate $1000 in downline investment and receive $10
generate $2000 in downline investment and receive $20
generate $5000 in downline investment and receive $50
generate $10,000 in downline investment and receive $100
generate $50,000 in downline investment and receive $500
generate $500,000 in downline investment and receive $5000
Joining Swapnex
Swapnex affiliate membership is free.
Full participation in the attached income opportunity requires investment.
Swapnex solicits investment in bitcoin, tether, ethereum, litecoin and dogecoin.
Swapnex Conclusion
Swapnex is a simple Boris CEO Ponzi scheme.
The marketing ruse of choice is the cliche trading bot:
Let Artificial Intelligence work for you! Just choose a currency pair, enter a sum for trading and watch the bot making profits for you!

Our AI-based solutions automatically monitor prices on different exchanges and choose the most suitable time for creating orders.
This is of course baloney. Like any Ponzi scheme, all Swapnex does is recycle invested funds to pay ROI withdrawal requests.
As with all MLM Ponzi schemes, once affiliate recruitment dries up, so too will new investment.
This will starve Swapnex of ROI revenue, eventually prompting a collapse.
The math behind Ponzi schemes guarantees that when they collapse, the majority of participants lose money.
At time of publication Alexa ranks top sources of traffic to Swapnex's website as Azerbaijan (14%), Italy (10%) and Vietnam (6%).
Update 10th May 2022 – Shortly after this review was published Swapnex deleted its Boris CEO YouTube videos.
I didn't realize because I didn't link to any of them.
At time of this update Swapnex has deleted all YouTube videos up to September 2021.
Rupert Godman also appears aware of his association with a Ponzi scheme. Since publication of this review he's marked his Instagram account as private.
Update 16th May 2022 – Swapnex has collapsed.
Update 20th May 2022 – Swapnex has completed its behind the scenes exit-scam.
The Ponzi scheme has advised investors its website will be pulled offline shortly.