SuperOne Review 3.0: Ponzi adds football to failed trivia app

SuperOne launched in 2018 as a simple smart-contract Ponzi scheme.
Said Ponzi scheme was run through SuperOne tokens (SRX), of which 2 billion were created out of thin air.
SuperOne owner Andreas Christensen owns half of the two billion SuperOne tokens created. Needless to say he has a vested financial interest in getting the tokens to pump so he can cash out.
SuperOne's original iteration collapsed shortly after launch. In 2020 the Ponzi scheme was rebooted with a mobile trivia app.
This was essentially an integration of Mowjow, a failed quiz app development company Christensen launched in 2013.
To summarize, the idea was that new trivia app users would eventually spend money, allowing Christensen and the original SuperOne token bagholders to cash out.
That didn't happen. SuperOne's reboot was as much a failure as the original smart-contract Ponzi.
Since 2020, SuperOne rode the NFT and metaverse grift trains by integrating both into its Ponzi scheme.
We have released 150,000 NFTs, which will be integrated into the game and the community. And now, we are building up our Fandom Metaverse, where fans can interact, connect, and compete with each other.

The vision is to have a Fan Metaverse where all the different fan communities can see and visit each other and to gather as many fans as possible to construct a virtual city.
The above is quoted from a June 2022 article published on SuperOne's website.
Fast forward to 2023 and metaverse and NFT grifts are as dead as a doornail.
As per yet another reboot in mid May 2023 (deceivingly being pitched as a "prelaunch"), SuperOne is returning to their failed trivia app roots.
The hope now is to pump SRX by specifically targeting football players.
The Company
Back in 2020 SuperOne was incorporated as SuperOne Limited, a UK shell company.
As of 2023 SuperOne is set up through two layers of shell companies in Gibraltar; SuperOne Limited and SuperLabs Limited;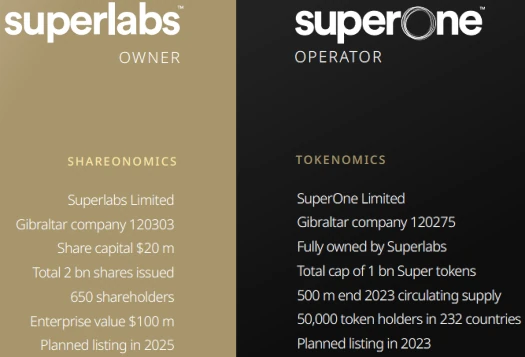 In actuality SuperOne is and always has been run by owner Andreas Christensen out of Norway:

SuperOne's Products
SuperOne's trivia app is free to play with microtransactions.
The latest marketing ruse is tailoring the trivia to sports. The idea is that football fans will be manipulated into thinking answering trivia questions and buying NFTs equates to supporting their club.
It should be noted that SuperOne has no direct partnerships with any of the players or sporting clubs in their marketing material.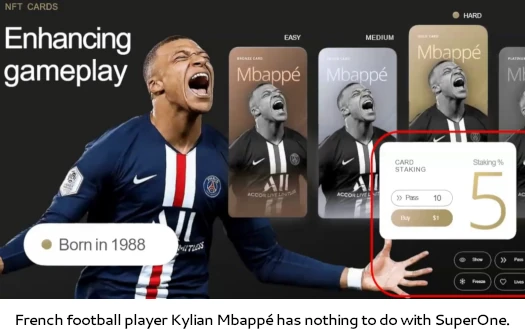 Photos of players are purportedly stock images licensed through ShutterStock: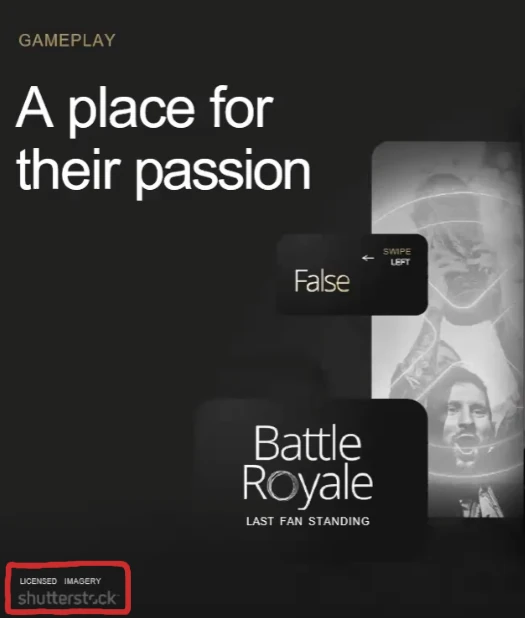 This is something Andreas Christensen has been doing for over a decade: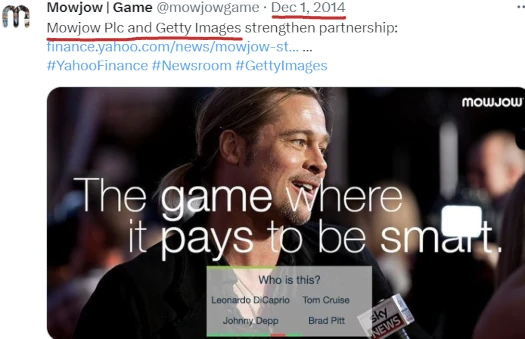 SuperOne hopes to recruit new SRX token bagholders through Goal.com, who it claims can provide them exposure to "800 million fans".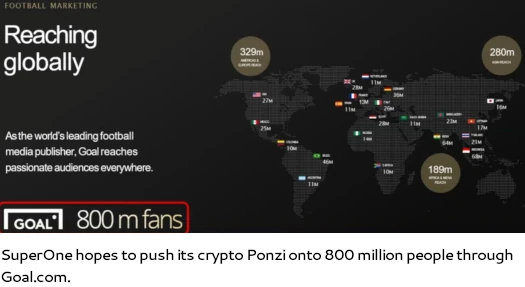 In an attempt to verify this I ran a search for "superone" appearing on Goal.com's website:
Oddly enough when I clicked through on any results SuperOne wasn't mentioned on the linked pages. I think this is just SuperOne buying advertising but I'm not sure.
In any event, I've reached out to Goal.com for comment on SuperOne claiming to be in partnership with them for their latest Ponzi reboot. I'll report back if I get a response.
Additional individuals SuperOne claims to have partnered with include Jeff Burton, John Wright and John Arne Riise.

SuperOne's Compensation Plan
SuperOne's second reboot sees them reduce investment from $100 to $100,000 to $10 to $25,000.
Entry – invest $10 and receive 100 SRX
Bronze – invest $50 and receive 500 SRX
Silver – invest $250 and receive 2500 SRX
Gold – invest $500 and receive 6000 SRX
Platinum – invest $5000 and receive 65,000 SRX
Diamond – invest $25,000 and receive 350,000 SRX
As far as SRX tokens go, it's the same play. Onboard new bagholders in the hopes of generating enough investment such that Christensen and earlier SRX bagholders can cash out.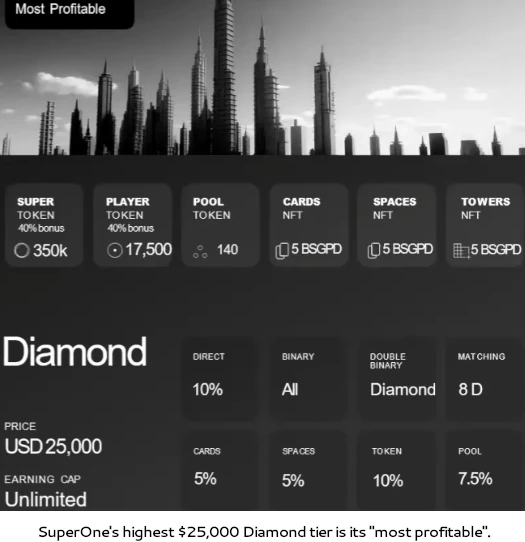 There's also "player tokens", "pool tokens" and NFT positions, which as I understand it are each attached to smaller passive ROI streams (recycling invested funds one way or another).
Tower NFT positions, for example, appear to be attached to a "staking" Ponzi model: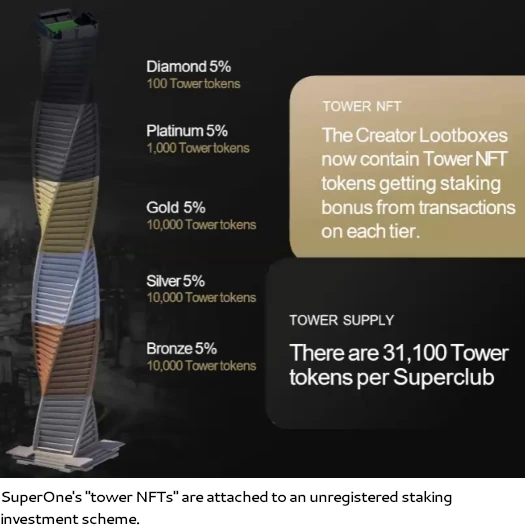 The MLM side of SuperOne pays on recruitment of affiliate investors.
Earning Restrictions
SuperOne restricts earnings based on how much an affiliate has invested:
Entry tier affiliates can earn up to $100
Bronze tier affiliates can earn up to $500
Silver tier affiliates can earn up to $2500
Gold tier affiliates and higher don't have an earning cap
Although not explicitly clarified, I believe SuperOne's earning caps are daily.
Referral Commissions
SuperOne affiliates receive a 10% referral commission on investment by personally recruited affiliates.
Residual Commissions
SuperOne pays residual commissions via a binary compensation structure.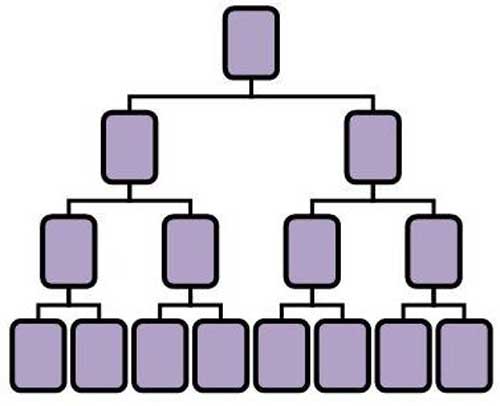 I wasn't able to suss out specific percentages and what now because SuperOne hides that information from consumers.
Back in 2020 SuperOne's residual commissions paid 10% on new weaker binary team side investment. I don't imagine that will have changed too much, if at all.
SuperOne's marketing also references a "double binary". No idea what that's about as again the information is hidden from consumers.
Joining SuperOne
SuperOne affiliate membership is costs between $10 to $25,000.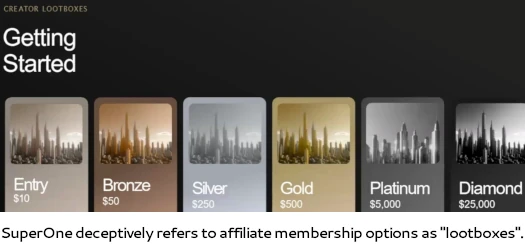 The more a SuperOne affiliate spends on membership the higher their income potential.
SuperOne Conclusion
You'd think after ten years Andreas Christensen would give up on beating a dead horse. Yet here we are.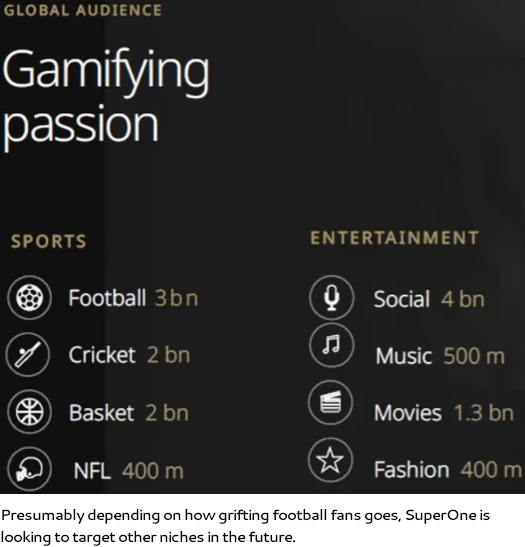 Trivia apps are a dime a dozen and all SuperOne has going for it is its SRX token. One could argue given the bagholder baggage over four years, SRX is actually a detriment to the opportunity.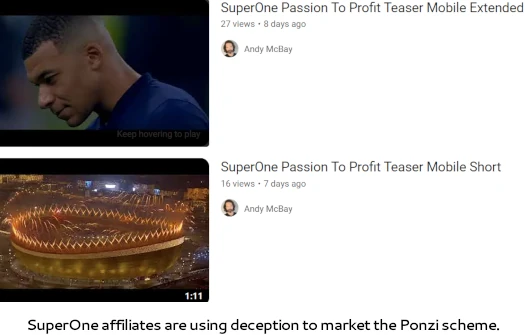 Bottom line is if you want to play sports trivia, even crypto sports trivia, there are already a bajillion options. With that in mind, SuperOne's app is likely to remain in the same failed state as when it first launched in 2020.
That leaves us with a gutted MLM compensation plan (that is mostly hidden from consumers), and a bunch of bagholders still unable to cash out.
SuperOne's May 2023 "prelaunch" might lure some new suckers in, but that's not going to last once they stop pretending remodelling their trivia app around football is a new launch.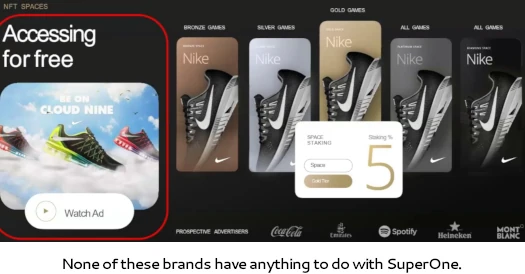 On the regulatory front SuperOne remains unregistered to offer securities in any jurisdiction.
Norway does have an active financial regulator in the Financial Supervisory Authority of Norway (Finanstilsynet).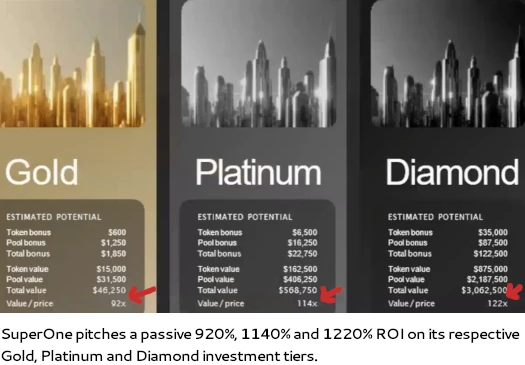 Finanstilsynet have been known to go after MLM pyramid and Ponzi schemes actively targeting Norway over the years – so it's a bit strange they haven't gone after SuperOne and Christensen yet.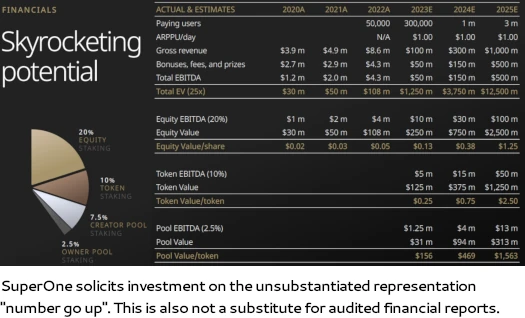 I'm putting that down to SuperOne mostly going nowhere and not really ever being active in Norway. And certainly Norway's inaction thus far doesn't detract from SuperOne committing securities fraud and operating illegally.
As with SuperOne's first two iterations, the only verifiable source of revenue entering the scheme is new investment.
Recycling newly invested funds to fund "passive income streams" paid to existing affiliates makes SuperOne a Ponzi scheme.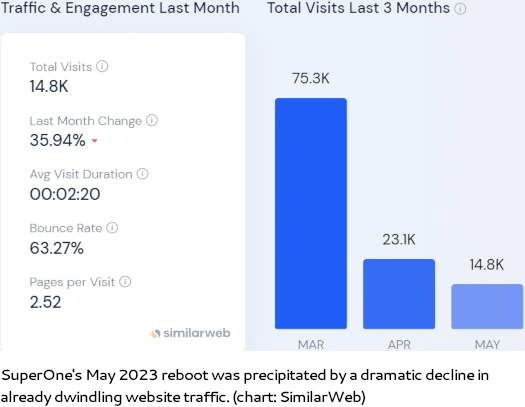 As with all MLM Ponzi schemes, once affiliate recruitment dries up so too will new investment.
This will starve SuperOne of ROI revenue, eventually prompting a collapse.
The math behind MLM Ponzi schemes guarantees that when they collapse, the majority of participants lose money.