Star Crypto Mine Review: Perenco backs 1.5% daily ROI Ponzi?

There is no information on the Star Crypto Mine website indicating who owns or runs the business.
The company does however claim to be a
sister concern [sic] company of Perenco. Perenco, a Leading Independent Exploration and Production Company for Oil and Gus [sic].
Perenco is a legitimate oil and gas exploration company founded in 1975. Other than Star Crypto Mine copying the Perenco website (both in design and content), there is no verifiable information suggesting Perenco and Star Crypto Mine are related in any way.
The Star Crypto Mine website domain ("starcryptomine.com") was privately registered on October 21st, 2016.
At the time of publication Alexa estimate that India is the largest source of traffic for the Star Crypto Mine website. This suggests that whoever is running Star Crypto Mine is likely also based out of India itself.
As always, if an MLM company is not openly upfront about who is running or owns it, think long and hard about joining and/or handing over any money.
Star Crypto Mine Products
Star Crypto Mine has no retailable products or services, with affiliates only able to market Star Crypto Mine affiliate membership itself.
The Star Crypto Mine Compensation Plan
Star Crypto Mine affiliates invest $1 to $10,000 on the promise of a 1.5% daily ROI for 100 days.
If a Star Crypto Mine affiliate "completes a task", the daily ROI is bumped up to 3%.
Star Crypto Mining affiliates can also "complete a task" every hour to receive 0.00001 BTC.
The nature of the tasks Star Crypto Mine has its affiliates undertake is not disclosed.
A direct referral commission of 5% is paid on funds invested and hourly task-based payments.
Residual Commissions
Star Crypto Mine pay residual commissions via a binary compensation structure.
A binary compensation structure places an affiliate at the top of a binary team, split into two sides (left and right):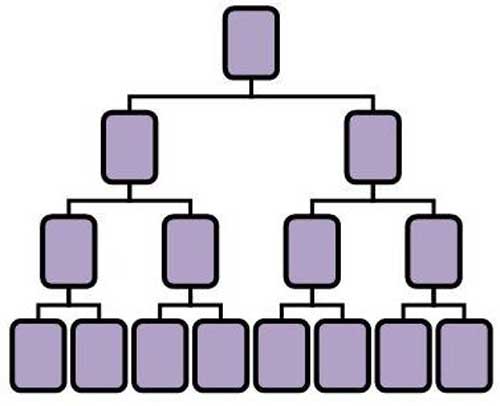 The first level of the binary team houses two positions. The second level of the binary team is generated by splitting these first two positions into another two positions each (4 positions).
Subsequent levels of the binary team are generated as required, with each new level housing twice as many positions as the previous level.
Positions in the binary team are filled via direct and indirect recruitment of affiliates. Note that there is no limit to how deep a binary team can grow.
At the end of each day Star Crypto Mine tally up new investment volume on both sides of the binary team.
A Star Crypto Mine affiliate is paid 15% of new investment volume matched on both sides of the binary.
Leftover volume on the stronger binary side is carried over the following day.
Note that 50% of binary earnings must be reinvested.
Joining Star Crypto Mine
Star Crypto Mine affiliate membership is tied to a minimum $1 investment.
Conclusion
The ruse behind Star Crypto Mine is that it's somehow related to Perenco, inferring that ROI revenue is generated via oil and "gus" production.
Naturally there's no proof provided of any such relationship, with the only verifiable source of revenue entering Perenco being affiliate investment.
The use of newly invested funds to pay off existing investors makes Star Crypto Mine a Ponzi scheme. That's on top of referral commissions paid out on funds invested by recruited affiliates, which adds an additional pyramid layer to the scheme.
As with all Ponzi schemes, once affiliate recruitment dries up Star Crypto Mine will collapse.
The daily ROI is monopoly money until affiliates place a withdrawal request. A far more timely indicator of a collapse will be a decline in residual binary commissions.
When Star Crypto Mine does collapse, mathematics guarantees the majority of affiliates will lose money.