SpeedFlow Review: Six-tier 2×2 matrix cycler Ponzi

SpeedFlow provide no information on their website about who owns or runs the business.
The SpeedFlow website domain ("speedflow.org") was privately registered on March 16th, 2018.
At the time of publication Alexa estimate Brazil (24%) and Russia (17%) are the two largest sources of traffic to the SpeedFlow website.
A corporate address in Gibraltar is provided on the SpeedFlow website, however further research reveals it to be virtual in nature.
Marketing copy on the SpeedFlow website and in the compensation plan suggest that whoever is running the company is not a native English speaker.
Due to a generous reward, even a lazy person will earn money here. Here will happen powerful spillover.
One possibility is Italy, with the URL slug "supporti" used for SpeedFlow's website contact page.
As always, if an MLM company is not openly upfront about who is running or owns it, think long and hard about joining and/or handing over any money.
SpeedFlow Products
SpeedFlow has no retailable products or services, with affiliates only able to market SpeedFlow affiliate membership itself.
The SpeedFlow Compensation Plan
SpeedFlow affiliates purchase $20 positions in a six-tier 2×2 matrix cycler.
A 2×2 matrix places a SpeedFlow affiliate at the top of a matrix, with two positions directly under them: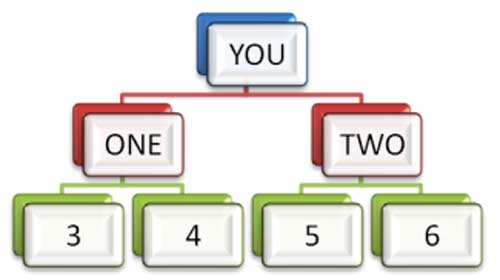 These two positions form the first level of the matrix. The second level of the matrix is generated by splitting these first two positions into another two positions each, for a total of six positions.
Positions in the matrix are filled via $20 position purchases by subsequently recruited and existing SpeedFlow affiliates.
When all six positions in a matrix are filled, a "cycle" is generated.
A cycle generates a commission for the top position in the matrix and moves it into the next cycler tier.
Commission payments across SpeedFlow's six-tier cycler are as follows:
Tier 1 – $20 cycle commission, generates a new Tier 1 matrix position and cycles into Tier 2
Tier 2 – $30 cycle commission and cycles into Tier 3
Tier 3 – $50 cycle commission and cycles into Tier 4
Tier 4 – $100 cycle commission and cycles into Tier 5
Tier 5 – $500 cycle commission and cycles into Tier 6
Tier 6 – $6000 cycle commission
A 100% matching bonus is paid on cycle commissions earned by personally recruited affiliates, starting from Tier 2:
Tier 2 – $30 matching bonus
Tier 3 – $50 matching bonus
Tier 4 – $100 matching bonus
Tier 5 – $500 matching bonus
Tier 6 – $6000 matching bonus
Joining SpeedFlow
SpeedFlow affiliate membership is tied to the purchase of at least one $20 matrix cycler position.
Conclusion
SpeedFlow markets itself as an opportunity through which affiliates can 'turn $20 into permanent income source!'
The problem is SpeedFlow's advertised "permanent income source" is fraudulent.
All SpeedFlow's six-tier cycler does is shuffle new money to pay existing affiliates, with those who recruit the most given a matching bonus.
In that sense SpeedFlow's compensation plan can be broken down into a $20 in, $6700 out Ponzi scheme.
To put that into perspective, 335 $20 payments are required for one complete $6700 ROI payout.
Once the matching bonus is factored in, that figure jumps to 670 payments.
Pretty standard cycler Ponzi model:
The anonymous SpeedFlow admin's preloaded positions cycle first and receive the majority of invested funds.
A few early adopters also receive payouts, ultimately leaving the majority of SpeedFlow affiliates with a loss when recruitment slows down.