SolaRoad Review: AI blockchain grift "staking" crypto Ponzi

SolaRoad fails to provide ownership or executive information on its website.
SolaRoad's website domain ("solaroad.io"), was privately registered on March 16th, 2023.
SolaRoad do provide executive information offsite on their GitHub page: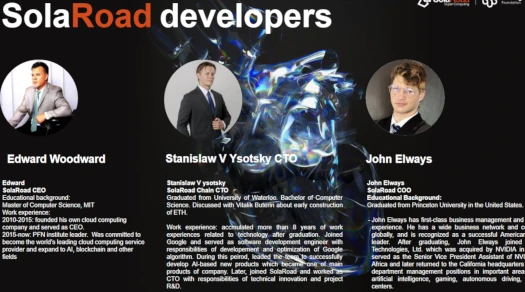 SolaRoad's three featured executives are all purportedly based in the US. Naturally none of them exist outside of recently created LinkedIn profile.
"John Elways" is presented as having held "senior management positions" at Hewlett Packard.
This ties into SolaRoad claiming HewLett Packard is "one of the initiators of" their SolaDigital Foundation.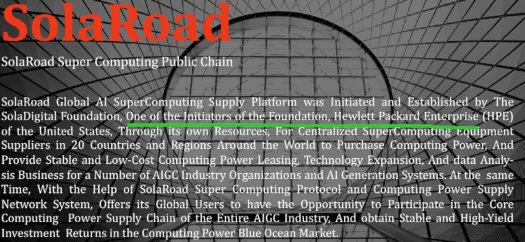 I couldn't find any links between Hewlett Packard and SolaRoad or SolaDigital Foundation.
Hewlett Packard isn't the only company name SolaRoad falsely claims association with: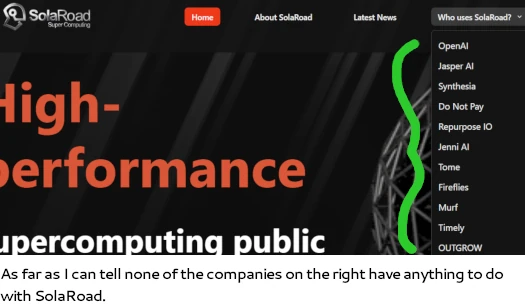 While I wasn't able to get names for the actors playing SolaRoad's executives, I did land a few hits tying "John Elways" to Thailand.
This corresponds to SolaRoad holding a staged marketing event in Thailand last month (keep in mind the company has only existed for less than 3 months):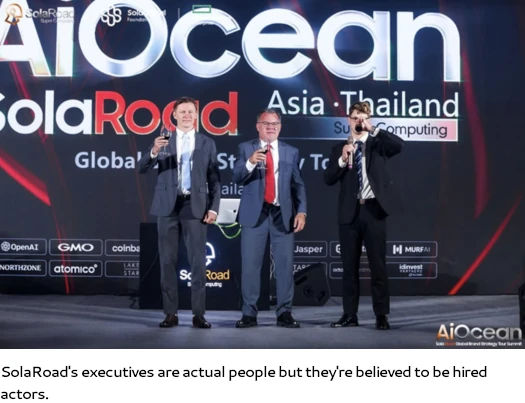 SolaRoad's three executive actors were all present at the event, which seemed to be aimed at south-east Asian investors.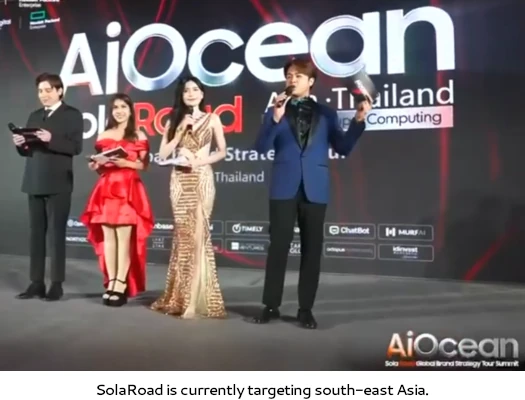 SolaRoad's marketing videos feature "AI Ocean", although this branding isn't present on their website.
One clue as to who's actually behind SolaRoad can be found in this staged influencer marketing video:

The two actors in the video, presented as social media influencers with millions of followers, both have distinct eastern European accents. So do all the extras.
Notably, again none of SolaRoad's presented three executives are in the video. Bit odd considering it's supposed to be a a "visit to Sola Digital Foundation Headquarters".
I can't say for sure but SolaRoad is likely being run by Russians and/or Ukrainians – either from Thailand or working with associates in Thailand.
Said associates likely have ties to China, as evidenced by SolaRoad's May 15th Macau marketing event registration form: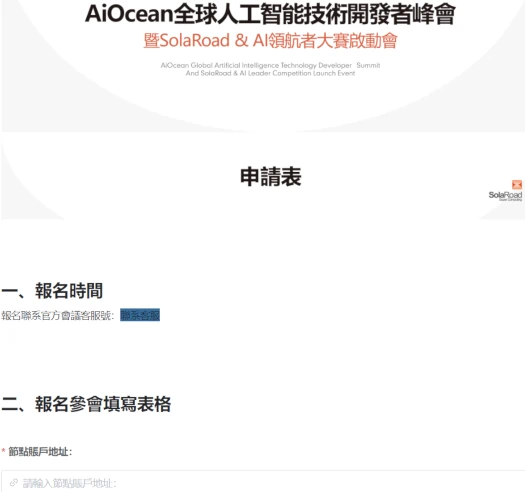 This is available on the domain "solaroad.pro", privately registered on April 25th.
As always, if an MLM company is not openly upfront about who is running or owns it, think long and hard about joining and/or handing over any money.
SolaRoad's Products
SolaRoad has no retailable products or services.
Affiliates are only able to market SolaRoad affiliate membership itself.
SolaRoad's Compensation Plan
SolaRoad affiliates invest $100 or more worth of tether (USDT) in ACoin.
SolaRoad converts ACoin into SOD token, which it then pays out a 1.5% daily return on.
The MLM side of SolaRoad pays on recruitment of affiliate investors.
SolaRoad Affiliate Ranks
There are seven affiliate ranks within SolaRoad's compensation plan.
Along with their respective qualification criteria, they are as follows:
Community Node 1 – convince others to invest 5000 USDT
Community Node 2 – convince others to invest 30,000 USDT
Community Node 3 – convince others to invest $150,000 USDT
Community Node 4 – convince others to invest $500,000 USDT
Community Node 5 – convince others to invest $1,500,000 USDT
Community Node 6 – convince others to invest $4,500,000 USDT
Community Node 7 – convince others to invest $13,500,000 USDT
Referral Commissions
SolaRoad pays an 8% referral commission down two levels of recruitment.
Referral commissions are paid on tether invested by recruited affiliates across these two levels.
Rank Achievement Bonuses
SolaRoad rewards affiliates for qualifying at Community Node 1 and higher with the following Rank Achievement Bonuses:
qualify at Community Node 1 and receive a 10% daily ROI
qualify at Community Node 2 and receive a 20% daily ROI
qualify at Community Node 3 and receive a 30% daily ROI
qualify at Community Node 4 and receive a 40% daily ROI
qualify at Community Node 5 and receive a 50% daily ROI
qualify at Community Nofe 6 and receive a 60% daily ROI
qualify at Community Node 7 and receive a 70% daily ROI
What I'm not 100% clear on is whether the return is paid as a percentage of downline returns, or specified amounts attached to the ranks.
This isn't going to help much but here's SolaRoad's convoluted crypto jargon explanation;
In SolaRoad community system, SolaDigital foundation establishes super computing system community contribution award.

Every computing of community member link will generate a contribution value. When the community member owns the identity of community node 1, the member can obtain the super computing system contribution award.

The larger the community system contribution value is, the greater the return is.
I know, my eyes glazed over after the first sentence too.
In the event the specified returns are paid on the attached USDT amounts, here they are for each rank:
Community Node 1 – 500 USDT
Community Node 2 – 1000 USDT
Community Node 3 – 3000 USDT
Community Node 4 – 6000 USDT
Community Node 5 – 10,000 USDT
Community Node 6 – 15,000 USDT
Community Node 7 – 20,000 USDT
Be it a percentage of downline "staking" returns or the above amounts, there doesn't appear to be any limit to the Rank Achievement Bonus.
Rank Matching Bonus
Community Node 1 and higher ranked SolaRoad affiliates earn a 2% match on Rank Achievement Bonus earnings on their downline.
The Rank Achievement Bonus Match is paid out via a unilevel compensation structure.
A unilevel compensation structure places an affiliate at the top of a unilevel team, with every personally recruited affiliate placed directly under them (level 1):

If any level 1 affiliates recruit new affiliates, they are placed on level 2 of the original affiliate's unilevel team.
If any level 2 affiliates recruit new affiliates, they are placed on level 3 and so on and so forth down a theoretical infinite number of levels.
SolaRoad caps the Rank Matching Bonus at ten unilevel team levels.
Joining SolaRoad
SolaRoad affiliate membership is free.
Full participation in the attached income opportunity requires a minimum $100 investment in tether.
SolaRoad Conclusion
SolaRoad is a simple 1.5% a day "staking" model Ponzi scheme.
This is wrapped up in copious amounts of AI marketing waffle.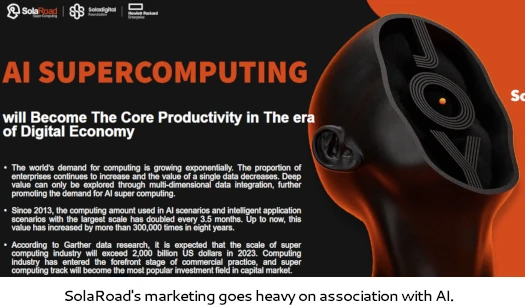 It's an obvious attempt to grift onto the recent AI explosion.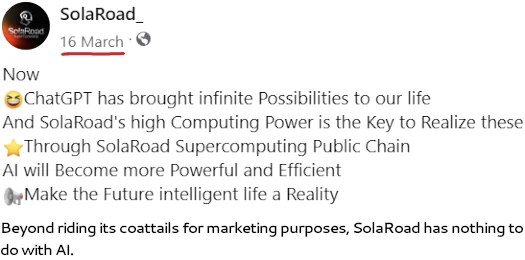 The reality however is SolaRoad has nothing to do with AI. In fact their marketing material states they won't have anything to show until 2025.
SolaRoad main network is expected to be launched in 2 years. It will become the most important infrastructure in the era of computing, develop API interface and connect to global computing cluster server.
Breaking down SolaRoad's Ponzi scheme, we have a shitcoin and a shittoken.
There are 1 billion ACoins, which serves as a way of measuring investment in and withdrawals. Then you have SOD, through which investment balances and returns are calculated on.
SolaRoad's fraudulent investment scheme works until invested tether is exhausted, at which point SolaRoad collapses.
The math behind Ponzi schemes guarantees that when they collapse, the majority of participants lose money.
Update 26th May 2023 – SolaRoad has collapsed.